I Love This Ringtoss Afghan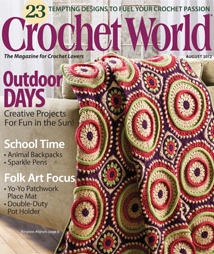 It's rare for me to get excited over a magazine cover, especially when I have seen so many patterns in my creative journey over the last few years. The cover of Crochet World for August 2012 has really got me excited. Gawd, I am so sick of doing squares because I have been doing way too many of them.
I love this design on the cover. I love the colours and I love the 3D Effects of the circles themselves. I'm not sure I will be able to make this pattern as it's a written pattern and not a diagram laid out pattern that I prefer to follow. Having said that, I think I am just going to sit in my crochet chair and follow it slowly as I think it will totally be worth the time.