Share the Crochet Love: Valentine Heart Scarf Challenge
Share the Crochet Love: Valentine Heart Scarf Challenge
Introducing the Valentine Heart Scarf, our feature for this February's Challenge.
We hope you are ready for a new challenge that is designed to be featured for February but also skill building. Generally, our challenge are about learning new skills. Challenging in some ways but not impossible.
For this challenge, we choose the stand off hearts as a form of showcasing stitches that stand off the project.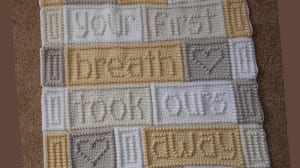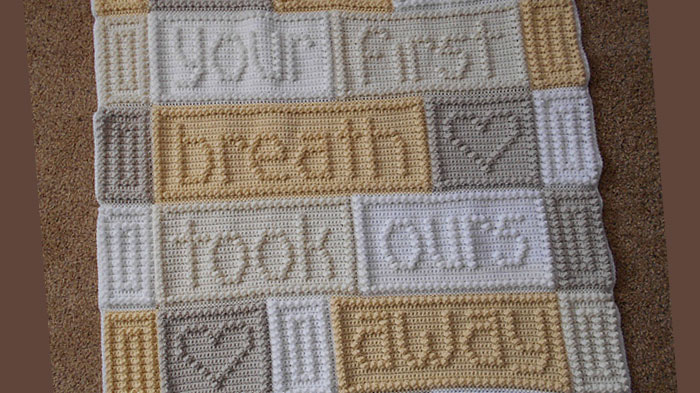 Have you ever seen those afghans with words put into three dimension bobbles to spell names or sayings? This Breath Baby Blanket is not a free pattern but is available through Ravelry.
The bobbles are strategically placed to give the incredible look of what you see. The wonderful thing about these particular afghans is that it's done in boxes. So it doesn't feel overwhelming as you do it.
Bobbles can be Double Crochets or even Treble Crochets. In our example, we are using Treble Crochets.
Jody's afghan design is extremely popular and people love this concept. So our challenge to you is to show you how to do this concept. While Jody has the complete project that is available. Our challenge is simple with just using a heart. Obviously, adding letters for words gets a bit more complicated in the pattern but with a great designer, it's easy to follow.
Giveaway
We have official Crochet Crowd Yarn Totes. All coloured red to signify the love month, Valentine, of course.
Inside each bag is a handful of Caron Simply Soft Yarn. Each bag has it's own theme of colours for you to enjoy.
5 Randomly Selected winners will be receiving these when the challenge is over. Yarn, Tote, Crochet Crowd Pin and Shipping to your home is complimentary on behalf of The Crochet Crowd.
Yarn lovers don't usually turn down free yarn. But if you get a colour you don't want inside the tote bag, we hope you will forward it to someone else that you know could love it more than you.
After all, it's the give of Crochet Love.
Please refer to the guidelines below for giveaway challenge details.
Heart Stand Off Colour Option
A fun option that is not part of the pattern is to change the heart to stand off the background by using a different colour. If you are familiar with graphghan work of carrying bobbins up the work, you can do this for this scarf to create the hearts instead of using the same colour as the background.
Using bobbins, you will need to create 4 separate bobbins of the colour you want to stand off the background. One bobbin is used for each side of the heart from the bottom up and two for the middle dropped down section of the heart.
I have provided a tutorial below on how to change colours using the bobbins. The red is not carried across the yellow at any part.
Turn of Hearts Option
Jeanne's version of her scarf is different from the pattern. If you follow the pattern and wear the scarf like this, the one side, the hearts will be facing up and the other side, the hearts will appear upside down.
This is an option that bugs crocheters for being uniform. So to counter act this. Jeanne crocheted 4 hearts as per the pattern starting at the bottom of the heart and working to the top. She then visualized the heart upside down to complete 3 remaining to start the next three hearts from the top first going to the bottom.
I have provided a Diva Dan graphic of what Jeanne's scarf looks like.
Note
The diagram cannot be followed upside down as shown. So you have to think ahead about those Ch-1 Spaces to make spaces for those hearts to be upside down. That is part of your challenge should you wish to do this option. It's not hard, just think ahead.
Jeanne's Scarf Gallery
Tutorial
Your Challenge
Crochet 1 complete scarf using this pattern as directed. Each scarf you complete is a new entry increasing your odds to win.
Use any yarn or hook size that you wish.
You can use any colours you wish. Scarves can be multi-coloured if you prefer.
You can do the optional Stand Off Heart Option if you want.
Your scarf must have a minimum of 7 hearts. The hearts can be as per the pattern or turned around like Jeanne's. You can turn every other heart. Up to you.
When taking a photo, lay out the scarf so we can count the hearts you have done to be far to everyone.
You may add fringe or extra embellishments to your scarf as long as your scarf has 7 bobble hearts.
Submitted Photos
Once you email us your photo, we will take up to 4 days to inspect your photo. If there is a problem with the photo or we have questions, we will email you back.
After 4 days, if you don't see your photo in the gallery, just email it to us again. Sometimes the email gets filtered.
You can check to see if your submission is entered into our gallery.
Guidelines and How to Enter
There is no sign up required to participate. Complete the project and email your photo when you are done. This challenge is open to all Crochet Crowd Community Members.
You may use any yarn you wish. You may substitute your yarn for any brand or colors that you desire. You may create any color scheme. Use as many or as little colours as you prefer.
You may do as many projects as you wish. If multiple entries are identical, a picture showing the projects together to prove their are multiple must be included with your submissions.
We require your photo to show the entire project so we know the entire project is done. The project must be showing all of the project for us to count rows in the picture to ensure the projects are complete. Ensure your project is completely finished with yarn tails and etc not showing. It's like giving it out as a gift, we want to the see the photo showing as if you were gifting us the finished product. This way we know you are completely done.
The crocheter must have completed this pattern as is. The work of making these projects are fair and equal to all.
If you are changing your hook size, we are still looking for the pattern to be the same.

The projects must be the same stitching as indicated in the pattern. Do not disqualify yourself by changing the pattern stitching. Submission of a project equivalent to the project but isn't the same will not be accepted.
Crocheters Choice: After your pattern instructions are complete, you may add embellishments, borders and etc to the pattern to push your creativity further.
All photos must be submitted during the challenge time frame only. Entries after this due date will be accepted for our gallery but there are no prize giveaways after the deadline.
Your Choice: Post your finished project on The Crochet Crowd Facebook Page to show everyone your finished work so we can drool over your creativity.
When you email your finished photo to us, we respect your privacy and will only post your first and last name on the picture in our gallery with the photo so we can identify the winner at the end.
Featuring on Facebook is dependent on you. We do not upload your emailed photos to Facebook. You have to do that yourself if you want to Show N Tell your creativity.
One random choice for each will be made at the end to select one winner. It's a lottery system and everyone has a fair chance to win.
We are not responsible for undelivered email and/or late entries to qualify for the prize.
Due to the countless technology platforms and services, we are not responsible for any of our challengers if a mobile devices or technology that isn't compliant to being able to read our website, view our videos and/or get access to the free patterns.
All applicable federal, state and local laws and regulations apply. Void where prohibited or restricted by law.
Please verify your entry is in our gallery prior to our draw. We need up to 4 days to get your entry into our gallery. We upload it ourselves as part of our review process. If you do not see your entry, we most likely haven't received your email. Do not wait until after the draw to check if your entry is in. 
This is intended for a fun community challenge only. We each are deserving of the highest praise possible for our own creativity. Let's have fun.
How to Submit
Please read the guidelines below to understand what we are looking for.
Send your photo to us through email to inquiry@thecrochetcrowd.com.
Use Subject Line: Heart Scarf

In the email leave us the following information.

Your Full Name
Your Mailing Address

We will not be adding your name or email to our database.
We are accepting entries from Jan 28 – February 28, 2017. Winners will be drawn March 7, 2017. 
We will email you if something is questioned in your photo.
You will not hear from us if your email didn't get to us. So if you don't see your entry after 4 days of submission, it means we haven't received it.
Submission Galleries
We require at least 4 days of processing time to accept, review and enter your pictures into our official galleries. Unfortunately, due to things we cannot understand, we don't always receive emails as our server may not receive your email and/or emails can get lost in cyber space. In the event after 4 days you don't see your entry put into our gallery. Kindly email us back with the picture once again. If your entry doesn't qualify, we will contact you. The chances of your picture not in our galleries is most likely your email not being received.
Submission Galleries (Showing Processed Photos)
Galleries are in order of alphabet by the name you have given us. In galleries where submissions are low, you have better odds to win as there is less to do the random draw. Something to think about.