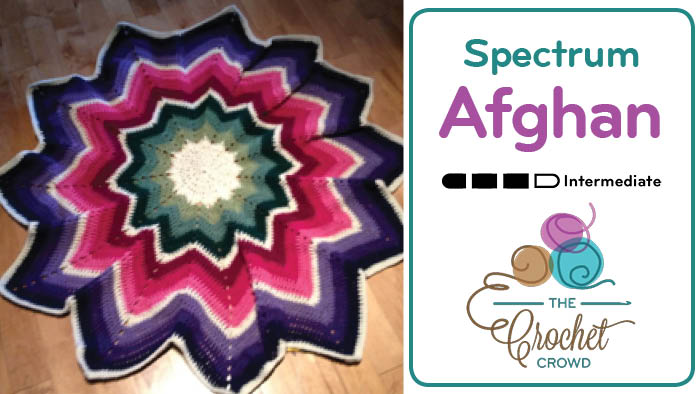 Crochet Spectrum Afghan + Tutorial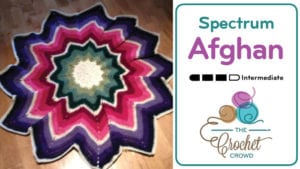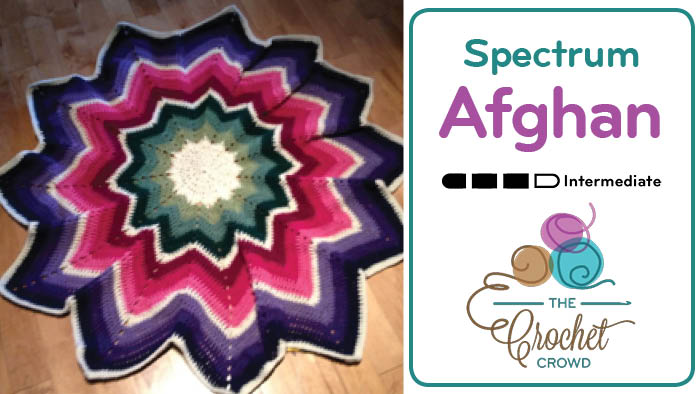 Crochet Spectrum Afghan
Follow along with my Crochet Spectrum Afghan design. It's a 12 Point Afghan that you can make for yourself.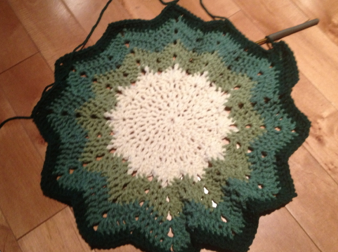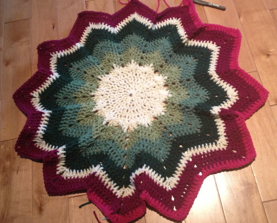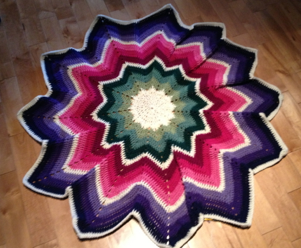 My lastest design is called the Spectrum Afghan Design. Click read more to get inside my head and follow my thought process when designing this afghan.
Get My Free Written Pattern Now
December 9th, 2012 – Starting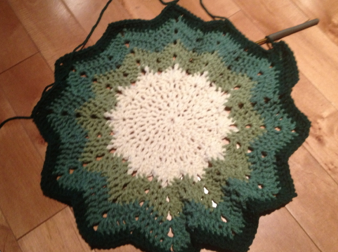 All colours are Red Heart With Love 4 ply Worsted Yarn. Using size 6.0 or J Hook. 

My original concept was to make this afghan into a Christmas theme. I started this at 9 pm and wanted to do different levels of green leading up to a bright red holiday idea. With Christmas so close and people wanting tutorials, I figured I am wasting my time trying to make a Christmas Theme Afghan so late into the holiday season. 

I was really tossed up on what I should do next, I decided to wait until the morning to determine if I was going to keep this a Christmas theme or make it more generic for anytime of the year. 

The white is the centre all the way to the first points created by the pattern. The shades of green are two rounds of each colour before changing my yarn colour
December 10th, 2012 – Decison Made
After sleeping on the idea, I decided to move the afghan into a generic feeling.
Since I had completed 3 different shades of green, I got the idea of getting other colours from my yarn collection to see what levels of shades I have.
I have noticed with other projects that I have done that White / Aran Colours make for good accenting points in afghans. It's like a colouring book where the colour is within a border. The Aran colour allows me to break up the shades into different groups and really creating a visual look with the 12 Point Afghan.
Going forward, each colour will be circling the afghan twice before changing colour.
If you notice the green section, I started off light and then ended in dark green. The next colour up, I started with dark Pinkish Purples and transitioned to lighter pink… The next is lighter to darker. I am going to keep with this idea of starting off each colour group in the same manner.
Tip:
Once you get to the purple tones in this afghan, you need to be very conscientious of the amount of yarn you have on hand. You are growing your afghan in all directions and you may be surprised on how much yarn you will use.