Stitch Stop Canada with The Crochet Crowd
Stitch Stop Canada
For the very first time, we will be on a road tour to meet our fans across Canada. We chose to do Canada first as we are Canadian here at The Crochet Crowd. Technically, the USA is where most of our fans are but we want to iron out the bugs as this is the pre-trial run for Stitch Stop America for next year if all goes well. We are using this to gauge if there is interest in crocheters and knitters to come together for mobile stitch stops within our journey.
What is a Stitch Stop
We are making mobile stitch stops along our journey at various locations throughout Canada as we pass on through.
In cooperation with Yarnspirations, our main sponsor of The Crochet Crowd, we are working together to provide fun and entertaining stops. We are also stopping at pre-selected Michaels Store locations to set up Stitch Socials at their locations with fun things planned for each.
Some of our stops are referred to as Slip Stitch Stops. Meaning, we will pull over quickly, stop and meet fans but not officially set up a Stitch Stop Location. We have only 23 days to get across Canada and would love to stop a lot but we need to keep on moving.
We have two official hashtags for our journey. #TheCrochetCrowd and #StitchStopCanada. Please use those hashtags when posting online so we can see your photos.
The Crochet Crowd Official Pin
At All Stitch Stop Locations, including Slip Stitch Stops, we will be giving our the official Crowd Crowd Pin to those who identify they are a Happy Hooker.
We have rationed each stop with a select number to give out to ensure we can get across Canada and have them to give out by the time we hit Vancouver.
Hook in style with your new pin. They look sharp on lapels or hats. I love them as I can express my love for crochet, even when I don't have a hook in my hands.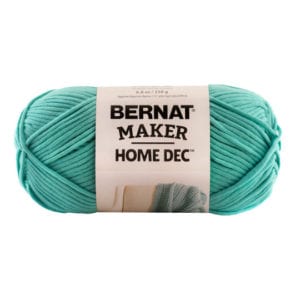 Yarn Tasting
We will be featuring Bernat Maker Home Dec® at the Michaels Stores Location.
As Yarn Tasters, we are looking for your feedback on what you think of the yarn. We will have patterns for you to try. Come with an open mind and your knitting needles or crochet hooks and give this yarn a whirl.
When posting any photos of yarn belonging to Yarnspirations, such as the brands of Bernat, Caron, Lily Sugar'n Cream and Patons, please use the hashtag of #Yarnspirations.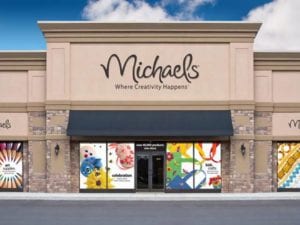 Exclusive Michaels Stores Coupon
In cooperation with Michaels Stores, while at a Michaels Store location, we have 250 coupons per store that can be used at the Michaels Stores.
They are the official Stitch Stop Coupons on select brands of yarn.
The first 250 crocheters or knitters onsite will be gifted a coupon that can be used for a limited time in the store. All of the coupons will expire near the end of the summer at the locations where we have stopped. 
These coupons are not electronic, so you need to present your coupon at time of purchase to be rewarded for coming to a Stitch Stop.
While on location with Michaels Stores and taking photos, they are asking you please use their hashtag of #MadeWithMichaels when posting online.
Meet Pinky Boots
Currently, I am working on Pinky Boots. She is a 6 foot flamingo that was originally a lawn ornament at Home Dept. Over a 6 month time frame, I have been slowly working on creating a custom cover and manipulating her frame and adding things to the frame to create her.
Her name is a play off of a fun movie and amazing broadway show called Kinky Boots. Of course, I had to manipulate her legs and feet to give her to awesome boots.
Pinky will be exploring Canada with us in our RV. She will be brought out, weather permitting, when we are stopped for you to meet her, pose, take pictures. If you are wanting to take photos for your social media, please use the hash tag #PinkyBoots.
If you would like to see the before and pictures of Pinky Boots being made, I have been documenting through photographs all of the step and more. I am a transparent creator when doing my crochet sculptures. See the gallery, in order of the steps here.
Receive an Official Post Card
Daniel and I have our own official post cards. We have limited supply and will be available, for free, at each Stitch Stop Location. We are limiting each stop with a select number to ensure we can get across Canada with our cards.
This is Diva Dan's card, mine will also be available.
What to Bring to a Stitch Stop
Bring your Size 8mm knitting needles or 8 mm crochet hook when at a Michaels Stores Location.
Bring your lawn chair, appropriate clothing, water or beverages with you.
Bring your WIPS (work in progress) to work on.
We will be setting up to create Stitch Socials.
Bring your camera.

Canadream RV
Canadream, a national wide RV Rental is a sponsor of this adventure. We will be in a the Canadream Midi Motorhome throughout our adventure. Canadream allows customers, like you and I, to pick up an RV in one location and drop it off at another location. Very much like U-Haul, this advantages option allowed us to make this journey possible. We are shipping all of our items to Halifax and flying to Halifax. We are picking up our RV and stuff so this journey is possible.
We need to bring things such as yarn, greeting tables, Pinky Boots and much more with us. This size motor home allows us to cruise across Canada in a self-contained environment. Neither of us have ever been in an RV before, so this adventure is new, even for us.
We will have mounted cameras inside to capture us chatting and more. Crocheters aren't just Stitch Stopping with us, they are traveling in cyber with us in our real-time and pre-recorded process.
Tours of the Interior
During Stitch Stops where we are fully set up, we will be giving tours inside the RV. With the help of Yarnspirations, the interior of the RV will be decorated in crochet and knitting examples.
Docu-Reality Series
The main purpose of Stitch Stop, other than meeting fans is based on a Docu-Reality Series. We have a simple question that we are looking to answer as we journey across Canada.
What does yarn mean to Canadians?
Filmed in both real-time and pre-recorded nature, we are documenting our journey through photographic and video recordings throughout.
During Stitch Stop and cameras mounted inside our RV to capture the fun moments in our journey.
We will be photographing and selecting people at each stop, a disclaimer must be signed previous to a formal interview with us. We will be discussing with you about yarn, what it means to you and for you to share your passion. Based on editing and more, we will be piecing together a 12 Part Docu-Reality Series where these interviews will be used to share the story of what yarn means.
We are looking for genuine individuals.
We are looking for crocheters or knitters that have passion and can express themselves in a way that is others can relate.
We are looking for crocheters or knitters that have WIPS or finished projects to show.
Some interviews will be broadcast live directly from the scenes to Facebook / Twitter. Others will be saved for the final editing of the Docu-Reality Series. We cannot promise to use all footage and have to ensure the crocheters and knitters story can be told in an entertaining, insightful and more.
Pre-Interview – Mikey will guide with tips and more before the interview. Stories shared for the first time on camera are the best. It's best not to share surprises or twists to stories before the recording with Mikey as his reaction is genuine and in 'the moment' verses a rehearsed reaction. Mikey doesn't fake being surprised very well.
We cannot guarantee that all footage and interviews will be used.
Photo Gallery
We will be maintaining a photo gallery for each location. Due to being on the road, photos will be saved and then uploaded when bandwidth allows for it. Some areas of Canada are remote and even cell coverage can be compromised. Some recordings will be held until we can get back into cell tower distance.
Schedule
Our schedule is public information. Our locations with Google Maps for each are provided. Our updates are in real-time as we may our way across Canada.
See all details and more information at StitchStop.com
We hope to see you on the road.
Starting and Ending Big Bangs
The first location in Halifax at the Michaels Stores will be our launching to start our Journey. We may have cake and more to kick off our journey, on top of our activities planned at the stitch stop.
Our final location in Langley BC, at the final Michaels Stores will be our finishing line. We have celebrations planned at this location to end our road trip. There will be giveaways at this location and the final farewell to Stitch Stop Canada. Refer to our schedule for times and dates.