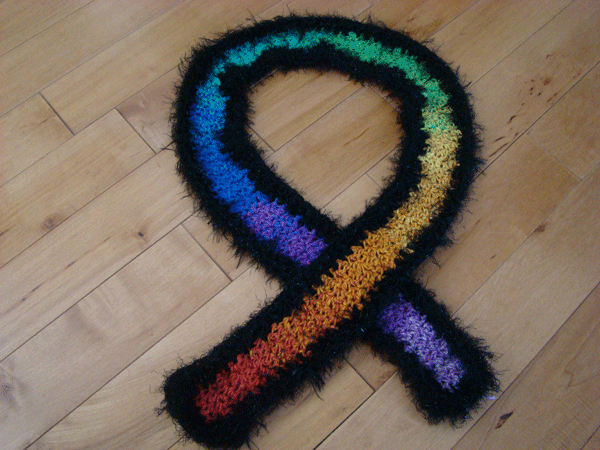 Strap Scarf Crochet Pattern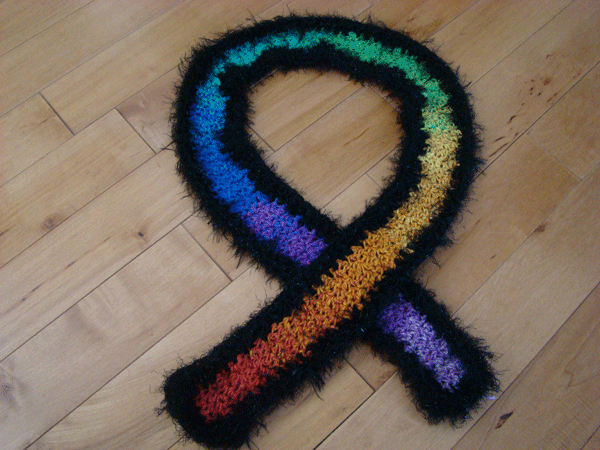 Strap Scarf Scarf-Child & Adult Sizes
Crochet your own Electric Strap Scarf.

Materials:
Size K Crochet Hook or 6.5 MM
Yarn:
Interior
1 Ball = Bernat Mosaic Yarn 100 g or 3.5 oz balls. Psychedelic is the colour of this yarn. This is the child size seen in this photo where the colour will not repeat. 
Edging
1 Ball = Black 4 Ply Worsted Yarn. You can use Bernat Super Value or Red Heart Super Saver.
1 Ball = Yarn Bee Party Girl (Black Eye Lash With Glitter)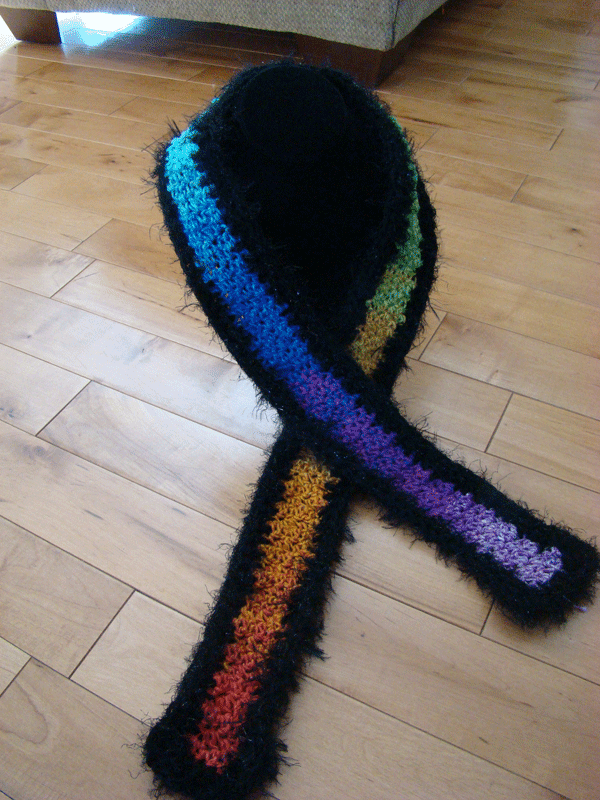 Free Pattern:
Crochet Diagram For Main Body Showing The Colour.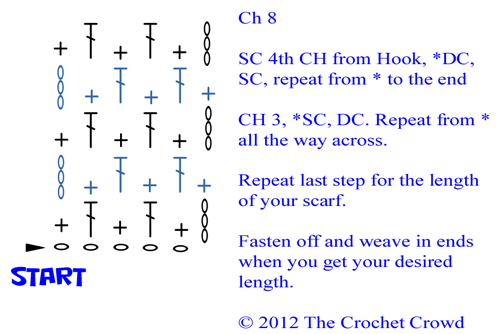 Use Mosaic or colour of your choice for the main colour of your cproject. CH 8
SC in the 4th CH from the hook, then *DC, then SC and repeat from * all the way across. Turn
CH 3, *SC then DC and repat from * all the way across turn.
Repeat Step 3 for the entire length of the project.
For child size, stop when you get to 50″ long. For Adults, stop when you get to 73″ long.
For Edging – Diagram and Written Instructions. The interior of the chart is the same as above but I have added the stitching for doing the perimeter.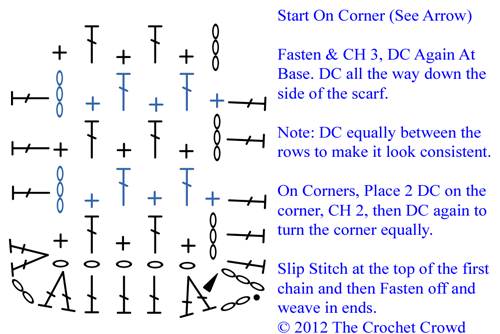 I used Yarn Bee Party Girl and Super Value Black together at the same time to provide a stunning glimmer edging. 
Fasten on the corner and chain 3. DC into the bottom of the same area where you fastened on. DC down the size of the scarf. Try to get equal spacing by strategizing placing 1 DC on the CH and 1 DC on the SC. Repeat all the way down. 
For corners, look at the bottom left of the above chart. See how 2 DC are in the base of one section, CH 2, and then 2 DC into the same section. This provides a perfect corner turn. 
At the end, 2DC into the same section where you fastened on. CH 2, and then SL ST to the top of the BEG CH.