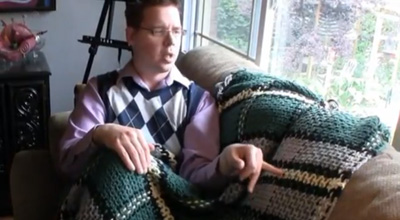 Crochet Tartan Afghan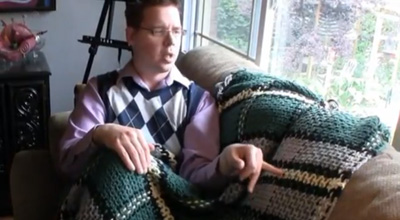 Crochet Tartan Afghans are really easy to complete. Every time I have explained the concept in a live show, the 'Ah Hah' moments are loud and clear because crocheters think that it is complicated.
The afghan is simply just double crocheted. This means you can do a throw size or even a full size bed spread. The sky is the limit. After you have completed your afghan, you will double string weave in and out in the vertical direction using the same colours you used in the afghan.
So what's the trick?
You want to ensure that when you are crocheting your afghan that the colour changes are patient and strategic.
If you see where I am pointing, There are 2 rows of black, 2 rows of cream and 2 rows of black going across.
What is more important that you compare is that the grey and green has more rows. In between each colour change there is 1 or 2 rows of black. This helps define the colour changing.
There is, in fact, a pattern of the same colours working as the entire afghan was crocheted.
After you are done the afghan, it's time to make it into a tartan afghan. Using the exact same colours, you want to weave 2 strands of the same colour in and out of the double crochet stitches in the vertical direction. The secret to this is to ensure you mixing generous size areas with the same colour and using the bright or highlight colours in specific small areas. If you rush the colour transitioning, you will loose the entire effect.
When you weave the same colours through, the colours where the same colours are woven in between will cause it to disappear but then become a highlight in another row. If you see where I am pointing. There are black vertical strands and when it goes through the black it disappears visually but then becomes a highlite in the grey and other colours.
If you need further help, review my free video below to show you how it is done. Enjoy!
Video
 by Michael Sellick – The Crochet Crowd
©2011 The Crochet Crowd