The Disagreement: Mikey Verses Diva Dan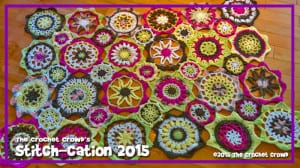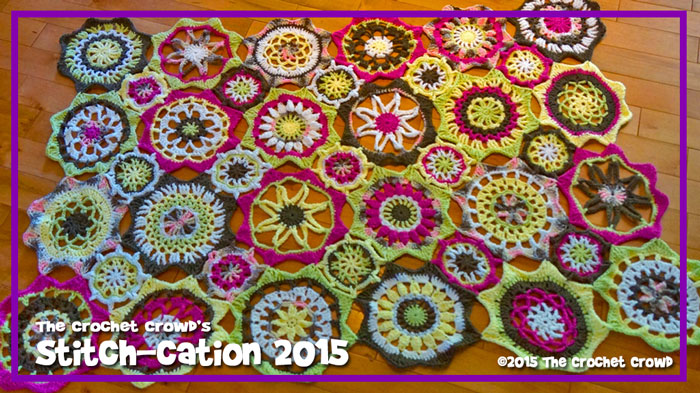 Seeing Both Sides of the Disagreement
Daniel and I live in a creative home. Many of you have seen glimpses of our home. We are surrounded by yarn and appreciate the creative outlook.
Daniel and I struggle with each other over designs as we both have a different concept of design. It's more about what we feel is appealing and from our past that brings our perspectives to the table.
Daniel
Daniel is a professional musician and is most likely using different elements of his brain than I do. It allows him to think, react and see things from a different perspective. During his university days, he worked in garden centres to pay for his education. His love for colour, design and knowing what to accent a design with comes through with this experience.
Michael
Michael studied engineering and went into the field fresh out of college into the automotive industry. With designs, left = right. Designs have uniformity and balance. There's an artistic sense to it but when something doesn't look correct, it's adjusted to bring it back in balance. Mikey designs with uniformity in mind.
The Clash
In coming together in 2009, we have two different design concepts. We have non-conformity colliding with conformity. Truth is, Michael wants to design with trying to break the conformity as he truly loves the look but has a very difficult time to erase the programming of left = right.
Stitch-cation Layout
So here comes Stitch-cation. Daniel usually decides the future projects with colouring and concepts. We really struggled to find a pattern or concept together. I approached Daniel with the concept. To convince Daniel even further, a couple more motifs were developed by myself to add more variety. Daniel prefers to see options verses everyone doing every single motif the same.
I had decided to create a minimum number of motifs which gave a total number of 24 large motifs. This was intentionally done to satisfy two things:
It would allow people to have a randomize look if they wanted.
The number of motifs would allow people who would love to see an intentional design to have their cake and eat it too.
I was going to put together the afghan so it has a uniform look but fought with myself to break my habit of conformity.
I struggled with it as I put it on the ground and started moving around the motifs based on colouring first. Then I moved around the motifs based on the design with each. For someone like me, it's hard.
Below is example from Ka. She decided to go the intentional design around in lining up the motifs.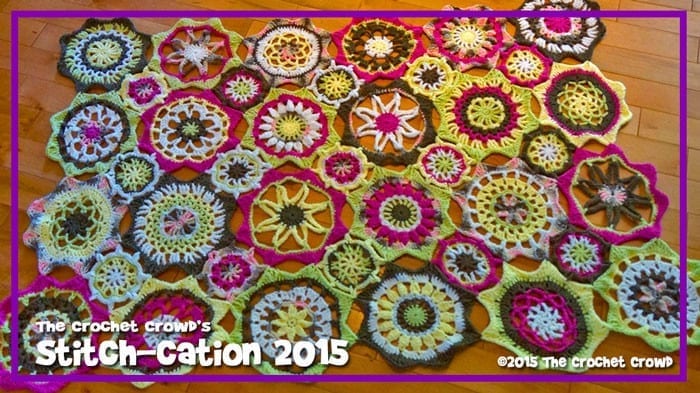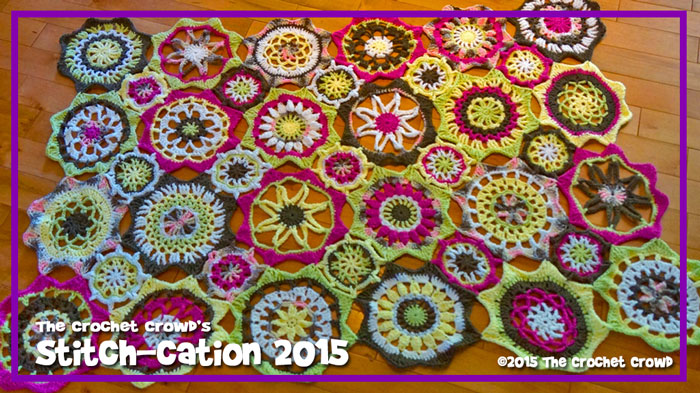 Known Factors
We knew leaving the gate with our launch that there would be backlash or discontentment with Stitch-cation with my presentation haven't a random look to it. Though I used the same colours throughout, the idea of randomly having the motifs in position doesn't sit well with most people. I think it's part of the human condition. It is what it is.
I wanted to encourage people to be random but I think I have to set the example of going outside of the box in creativity by personally demonstrating that. So that's my reason. I figured for those where my example doesn't freak them out and they pick up a hook, they can line up the motifs into an order to satisfy their own personal preferences.
Retrospect
Now that I have seen the afghan all lined up in an order like Ka's version, I am more impressed with the design. Looks pretty sharp. I know I am bias but it really does.
I think it's one of those projects where the random personality and the personality that prefers order can both be satisfied.
We all have our different tastes. There are some people who really don't like the design and that's okay too. It's impossibly to satisfy everyone and we have given up trying to. Some people prefer less stitchwork. Others prefer more solid looking afghans and others have to have the picture speak to them before they attempt it.
Conclusion
Creativity isn't about who is right or wrong. It is about what is in your mind that requires satisfying. We all are unique and have different sense of value and importance for the issues we face. My truth is, our future depends on us being creative as that's where ideas spawn from. If we suppress or criticize each others' way of thinking or personal preferences, we step backward instead of moving forward.
It's from sharing ideas and sometimes colouring outside of the lines that allows us to grow.