Spin the Wheels
Scroll down to read how to use the wheels. For returning game players, the wheels are conveniently on the top so you can quickly come back, spin again and get back to your project.
Wheel 1 – Stitch to Use
Wheel 2 – Colour to Use
Wheel 3 – How Many Repeats to Do
OPTIONAL: Our sample shows 2 rows of white single crochet between each colour. You can opt to do that if you wish before spinning for your next colour. Just use the Single Crochet Instructions for this. Always start the white on the right side (good side) of the blanket and do two rows to ensure the stripe looks consistent all the way through.
See below for stitches and more details.
---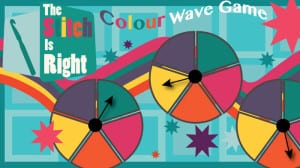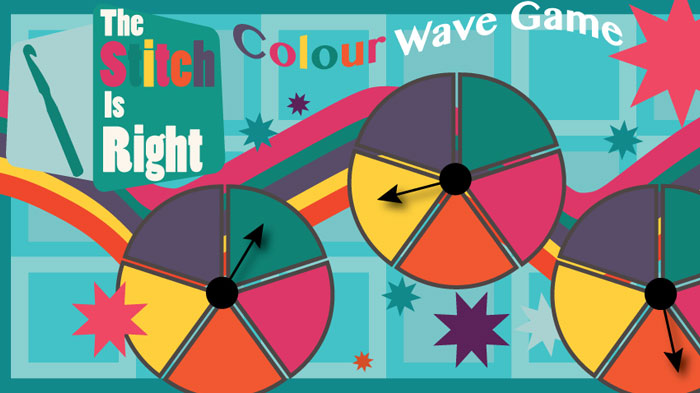 The Stitch is Right Wave Game
Welcome to the interactive game for crocheters where the future of the pattern relies on the spins you make of the wheels below.
We have 3 Sets of Prizes to Make it More Interesting

Scarf Submissions – Yarnspirations Assorted Yarns and Crochet Crowd Official Merchandise.
Baby Afghans – Yarnspirations Assorted Baby Yarns and Crochet Crowd Official Merchandise.
Afghan Submissions – Yarnspirations Assorted Yarns and Crochet Crowd Official Merchandise.
The Stitch is Right Game will run from February 15th – March 31, 2016. All submissions must be submitted by 11:00 pm Eastern Standard Time on March 31, 2016. Draws will take place 7 days later on April 7th and announced in Mikey Magazine, Website and Facebook.
See The Prizes
Yarn sponsored by Yarnspirations.
Depending on which size of project you wish to work on, you have a chance to add this yarn and fun stuff to your collection. All winners are randomly selected. We've increased the package values in recognizing that the more crochet you do, should be rewarded with more stuff.
Before You Start
Choose up to 10 Colours. If you want to use less, you are welcome to do so. Assign each colour a number from 1 -10. For those who use less than 10. You can assign the same colour 2 different numbers or just simply spin the wheel again to hopefully land on a number.
We used Caron Simply Soft due to the array of colours that are available.
If you need help with colour palettes, we have Diva Dan's Trendy Colour Combinations to give you colour ideas.
Let's Get Started
Spin the wheels to begin.
Each one of the 8 stitches has the starting point from beginning After you have started your project, you will always start the next set of instructions on Row 2.
You may just get the same stitch in a row or possibly the same colour… maybe even both. Written instructions, crochet diagram and video tutorials are available for all 8 different stitch choices.
Wheel Definitions
We have 8 stitches. We have listed what each stitch is to complete.
We have 10 colour options. You assign the colours on your own. For example, Colour 1 is Blue. If you don't want to use 10 colours and choose you want to use 6 colours. If you land on 7, 8, 9, or 10. Just simply spin again to get a number that you do have. You can use any yarn or colour. It's up to you.
Good Karma – If you land on Good Karma. You must head directly to Facebook and sincerely compliment two crocheter's projects on The Crochet Crowd. Each wheel has Good Karma and if you land on Good Karma on more than 1 wheel, you need to honour that. So if you land on 2 Good Karmas, you need to compliment 4 crocheter projects. Land on 3, that means you compliment 6 crocheters. Once you have complimented a crocheter, spin the wheel that has Good Karma.
Facebook Photo – If you land on Facebook Photo, it means you should try to take a picture of your current WIP and post a picture immediately to The Crochet Crowd Wall.
Spin Again – Obviously the wheel didn't work out for you, spin the wheel that is telling you to spin again.
Each one of the instructions has a set repeat pattern. For example, Rows 2 and 3 make up the instruction. The repeat wheel will tell you how many times to do the instruction.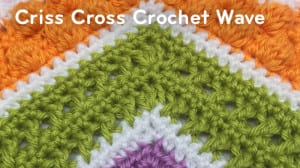 Stitches – 8 Different Stitches
We have 8 different stitches. Here is the stitch assignment. Click on the Stitch to get the written instructions, crochet diagram and video tutorial.
Modified Front Post Treble Wave Stitch
All instructions and crochet diagrams for each show as if starting from the very beginning. Once you get past the starting of your project, you will start the next set of instructions from Row 2. All tutorials show as if starting from the beginning. For the tutorials, you will just fast forward to the start of the stitch that is required.
Photo Gallery – Submissions
We will be gathering photos of your creativity. Once you are done a project, whether it be a scarf and all the way to an king size afghan, we would love to share your project in our official gallery.
We have three different galleries. Your submissions will be put into the appropriate gallery based on our inspection.
How to Submit
Please read the guidelines below to understand what we are looking for.
Send your photo to us through email to inquiry@thecrochetcrowd.com.
Use Subject Line:

The Stitch is Right, Category (use scarf, baby blanket, or afghan)

Leave us your full name and mailing address.
We will not be adding your name or email to our database.
Submission Galleries
See what your fellow crocheters have already submissions. Albums are in alphabetical order. Someone in each submission gallery will be awarded our prize.
Entry Guidelines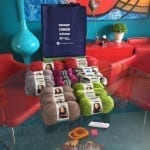 Scarf Entries – Each Scarf Submission is a Chance to Win
You can do you scarf in two different ways:
You can either do one chevron that is a about 65″ long. With the spinning of the wheels, all 8 different stitches should be present. Adult scarves are generally 70″.
You can do a wide chevron scarf that is minimum 10 chevrons wide which will be about 64″ wide. The scarf should be a minimum of 10″ high. Due to the randomness of the spinning of the wheels,, not all 8 different stitches will be present. We will accept scarves that have a minimum of 3 different stitches or more that are in our game.
When photographing your scarf, we want to see the entire scarf to count chevrons and do a check of the size.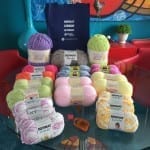 Baby Blanket Entries – Each Blanket Submission is a Chance to Win
Baby Blankets should be 6 chevrons wide. This will about 40″ wide. Your baby blanket should be square in appearance. It should be 40″ square.
Due to randomness of the wheels, at least 6 of the 8 stitches should be present for submission.
You can also do individual stripes like a scarf and sew them together to make one blanket. There should be 4 stripes which includes the side partials on both sides and the afghan must still be square. I have worked out the math that doing four stripes would be 6″x 4 stripes = 24″ plus each strip has an additional 4″ for the sides. This will give you 40″ which is the same.
We will be looking for your baby afghan to be square.
When photographing your baby blanket, we want to see the entire blanket to count chevrons and see that it is square.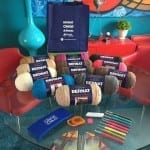 Afghan Entries – Twin, Full/Double, Queen or King Size
We will accept the sizes as indicated in each stitch for the afghan sizes. The sizes minimum are without the drape. You can add the drape if you wish but is not required to have a chance to win. Sizes below are without the drape.
Teenagers Blanket Ch 242 – 8 Chevrons + Sides = 52″ Wide by 60″ Long.
Throw Afghan Ch 298 – 10 Chevrons + Sides = 64″ Wide by 70″ Long.
Lapghans & Wheel Chairs Ch 186 – 6 Chevrons + Sides = 40″ Wide and Length of Legs.
Twin Ch 214 – 7 Chevrons + Sides = 39″ wide x 75″ long.
Full / Double Ch 270  – 9 Chevrons + Sides = 54″ wide x 75″ long.
Queen Ch 298 – 10 Chevrons + Sides = 64″ wide x 80″ long.
King Ch 354 – 12 Chevrons + Sides = 76″ Wide x 80″ long.
You can also do individual stripes like a scarf and sew them together to make one blanket. It should be the size of the afghan dimensions above.
To qualify, all 8 of the different stitches should be present. The entire afghan needs to be seen in the photograph submission to qualify for this gallery. Please be aware that we are accepting Twin – King Size for this category. The choice in the end is random. We know from previous challenges that some people prefer to do larger afghans. Doing larger afghans doesn't increase your odds of winning.
General Guidelines
There is no sign up required to participate. Complete the project and email your photo when you are done. This challenge is open to all Crochet Crowd Community Members. If you are a member of The Crochet Crowd, you may participate.
You may use any yarn you wish. You may substitute your yarn for any brand or colors that you desire. You may create any color scheme. Use as many or as little colours as you prefer.

You may do as many projects as you wish. Each submitted project is considered a separate entry. If multiple entries are identical, a picture showing the projects together to prove their are multiple must be included with your submissions.
We require your photo to show the entire project so we know the entire project is done. The project must be showing all of the project for us to count rows in the picture to ensure the projects are complete. Ensure your project is completely finished with yarn tails and etc not showing. It's like giving it out as a gift, we want to the see the photo showing as if you were gifting us the finished product. This way we know you are completely done.

If you are changing your hook size, we are still looking for the pattern to be the same. Even though your item may be bigger or smaller, we expect the same pattern to be followed. Changing the hook size doesn't add or take away from the work involved in the stitches.

The projects must be the same stitching as indicated in the pattern. Do not disqualify yourself by changing the pattern stitching. Submission of a project equivalent to the project but isn't the same will not be accepted.

Crocheters Choice: After your pattern instructions are complete, you may add embellishments, borders and etc to the pattern to push your creativity further.

All photos must be submitted during the challenge time frame only. Entries after this due date will be accepted for our gallery but there are no prize giveaways after the deadline.

Your Choice: Post your finished project on The Crochet Crowd Facebook Page to show everyone your finished work so we can drool over your creativity. 
When you email your finished photo to us, we respect your privacy and will only post your first and last name on the picture in our gallery with the photo so we can identify the winner at the end.

Featuring on Facebook is dependent on you. We do not upload your emailed photos to Facebook. You have to do that yourself if you want to Show N Tell your creativity.
One random choice for each will be made at the end to select one winner. It's a lottery system and everyone has a fair chance to win.


We are not responsible for undelivered email and/or late entries to qualify for the prize.

Due to the countless technology platforms and services, we are not responsible for any of our challengers if a mobile devices or technology that isn't compliant to being able to read our website, view our videos and/or get access to the free patterns.
All applicable federal, state and local laws and regulations apply. Void where prohibited or restricted by law.
Please verify your entry is in our gallery prior to our draw. We need up to 2 days to get your entry into our gallery. We upload it ourselves as part of our review process. If you do not see your entry, we most likely haven't received your email. Do not wait until after the draw to check if your entry is in. 
This is intended for a fun community challenge only. We each are deserving of the highest praise possible for our own creativity. Let's have fun.