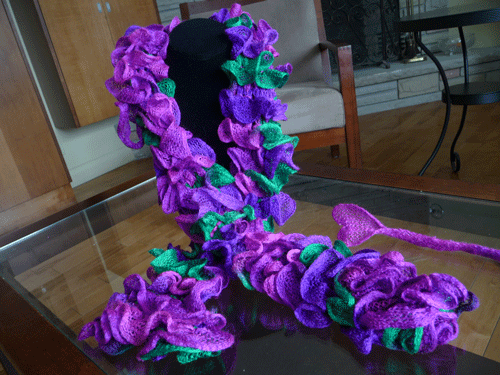 Twist & Twirl Frilly Scarves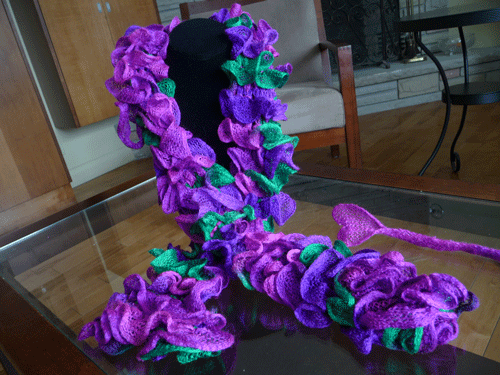 Twist & Twirl Frilly Scarves
Create this cute little frilly scarf using Bernat's Twist & Twirl. This is a 'fish net like' yarn that is interesting to work with. Unlike regular yarn or Paton's Piroutte, you have to use your eyes to determine where the stitches should appear. There really is no science to it as it's up to you. Cast on only 6 – 7 stitches and get knitting! It's really that simple. 1 Ball of Bernat Twist & Twirl equals 1 scarf. 
Free Conventional Knitting Pattern
by Michael Sellick, The Crochet Crowd
©2012 The Crochet Crowd
Distribution of this pattern is appreciated but please copy and post the link. Do not duplicate or charge for the usage of this pattern. You may create your own and sell what you make but this pattern is to remain free. 
Needed Materials
Size 5 mm or 8 USA Size Knitting Needles. I highly recommend wood knitting needles verses plastic or metal. The wood gives it more friction and doesn't slide as easily. 
1 Ball of 100 g or 3.5 oz of Bernat Twist & Twirl. With Bernat packaging, 1 ball = 1 full size scarf. Check your nearest retailer for this line of yarn. Limited selection is available in my online store. 
Scarf seen above (4 Foot Length) can be up to 3″ Wide Solid, with mesh stretch to visually appear 5″ wide. 
Below is what the yarn looks like when it's stretched.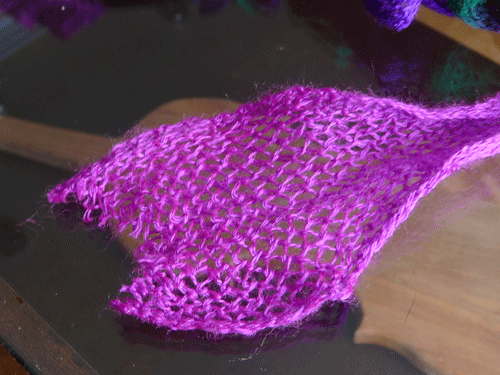 Instructions
Cast on 6 Stitches. To cast on, slip your knitting needles close to one edge about 1/4″ through the mesh. Once you have choosen which side to work on, you will maintain knitting on that side to ensure the frilly will not appear twisted and drape properly. I have a video showing this method. See below for Video.

Knit by sliding on the mesh about 1/4″ away from edge. The distance you choose is a factor on how it will appear. I stretch mesh about 1″ – 1/2″ before sliding it on. This creates a nice size ruffle. Shorter will make the ruffles less puffy and tight looking. 

Knit  back and forth until you get your desired length. 

Cast Off and weave in the ends like you normally would in knitting. The last stitch, slide the remaining yarn through it and tie knot. The ruffle will cover the knot.