Upcycling the Old Garden Hoses for Mats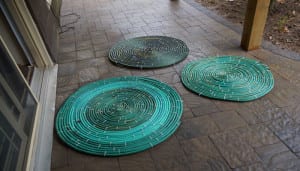 Old Garden Hose Mats
I came across a photo of a rug made out of old water hoses on Facebook, I have no idea where and who posted the idea but eureka! This solved a major problem for me as I have a ton of broken and leaky hoses.
This was an answer to a garbage problem as I have been looking at for a while and not motivated to really try it out. Like a spark just put my red hair on fire, I had a huge garbage bin full of kinked and leaky hoses that we destined to the landfill site. My heart was sickened with the idea of adding to the landfill. Man oh man, us humans know how to be wasteful! The dilemma started to eat me away. What do I do with them and not make an environmental problem?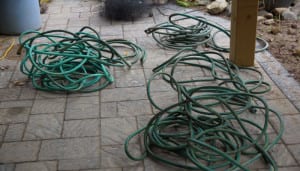 I knew I had zip ties, so I would be able to do this project. It was my motivation that was getting in the way; the idea of untangling the hoses, getting a bit dirty, finding the pliers that were hidden somewhere that an evil little gnome has stashed, and visualizing that this will be a day project that might be just a flop.. or maybe a flip…. Either way… I was game to see what happens!
The Process
This was a simple project, doable… even for a whiner like me! But I must warn you, zipping the ties does wear you fingers out a bit so you can expect to do a bit of whining which suits me just fine. I certainly was using muscles in my hand that I haven't in a while. Wrestling with the hose at times like a Crocodile Dundee wannabe! It took me about a couple of hours to almost finish my first rug. Would you know it too, I ran out ties, just need 6 more! Just my luck… insert more whining here and a pondering decision. Is this worth running to the store to purchase more zip ties? Is this a good idea. I still have lots of old hoses left to do! Suck it up? Give Up? or Buck Up and Gett'r Done!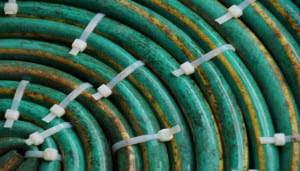 In a way, I was happy and thrilled that I was reusing and creating something I would have otherwise put in the trash. Doing my part environmentally, it felt good. But here is the dilemma of costs to do this.
Financial Decision
It cost $20.00 for 500 plastic zip ties.  If I were to throw the hoses out it would be $2.50 for a garbage tag. Out of sight and out of mind! Do a buy more ties? My environmental morals were strong and I decided to buy more ties to keep on going!
It took all day to do 3 mats. After trimming the ties I realized that I created more garbage with smaller pieces of plastic. Did I do the environment a favour but purchasing more plastic to save on filling the landfill with these hoses? I thought I was helping and saving money in my already tight wallet?
But in the end I have three mats! Three mats that are strong and seriously great for those muddy boots. If I were to purchase three mats at the store, it could average out or even be more coming out of my wallet. So maybe I did save money? Maybe the landfill was spared a bit, for now…
My thoughts in the end, as a society, we find it easy to throw out and buy replacements. The cost to throw it out is almost taken for granted without much thought. Imagine if throwing out product was shamed upon and expensive. Imagine if we as a society had to come up with something creative for everything we bought that has no longer a use for us but to make something new with it. Pinterest would be exploding with ideas! But realistically, we would be collecting and hoarding! Realistically, if products were meant to last, plus be functional and consumers were not tricked to buy buy buy then we will have a stress free landfill. But how do purchase good products and be smart about it? The choices you make makes all the difference. We tend to want it cheap and easy!
Until my next project for the summer.