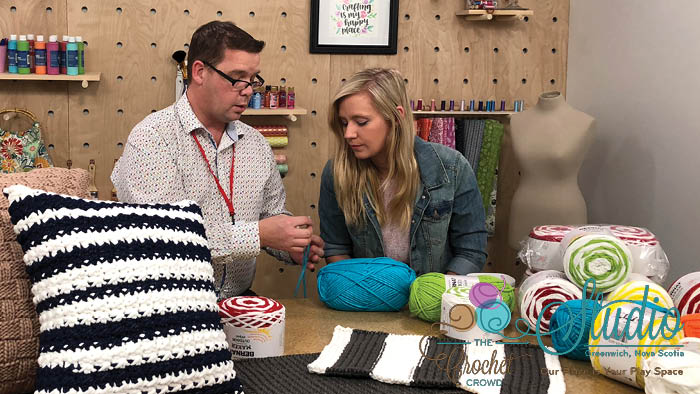 Constantly Tackling the Algorithms
A Canadian article by Eli Glasner was released a couple days ago on CBC News. 'You feel like you're drowning': Why YouTube content creators are burning out
Talk about truth to power. I've never read an article that hits home so hard. To the crocheters who turn to YouTube for learning crochet patterns through video format, this article really lifts off the dark vail on the realities of life as a YouTube Creator. In the world of YouTube, I've got myself, through crocheters who trust in my with my videos, to celebrity status. I'm a global educator.
I started on YouTube back in 2008 and have turned over 10 years old this year on the platform. I was early enough on YouTube as the platform was working itself out. Over the years, the constant changes to the platform have enriched the viewing experiences and I have seen things that I completely disagree with, while other things I am glad innovative programmers identified a need.
I was assigned a YouTube mentor through a network program back in 2015. I was granted one-on-one time with the professional. The professional had sound advice. In fact, my team and I spent a week completely transforming the YouTube Channel and about 1400 videos. The effort of our work was noticeable 6 months down the road.
YouTube is where we started and teaching is my passion. I spend more time on YouTube than any other platform online. I have my routines in checking things, reviewing and analysing things across our networks. While I may not be able to tell you which day of the week it may be, I can tell you statistics at any given moment.
With YouTube, You Are Your Own Competitor
The article talks about burn out. I've not had the burn out but I have had the utter frustration to constantly adjust. This past week, I was given advice that contradicts the sounds advice and differences we did in 2015. So guess what that means? I have to go back through the complete YouTube channel again and address issues. Earlier this week, I told you I'm deleting videos that are time relevant or just not hitting the goals they were intended on achieving. I have 100's more to individually review.
I can give you a list of people who also teach crochet online but I am not worried about these people. The competitor in this realm is myself. I am my worst own enemy for beat downs, disappointment and at times, hard lessons. If you are riding on someone's idea, it's truly never your own. So believe it or not, I rarely visit a competitor's YouTube Channel as a result to stay authentic and true to my own creativity.
The Eye Opening Conference
Daniel and I did a two day YouTube conference back in year ago. It was shocking, not in a positive light. Without being too much of a snob, the advice given, for the most part, didn't apply to us. Industry professionals and YouTube celebs were present who have had successes and have navigated through the platform. Their advice, though worked for them, wasn't relevant in our field.
I learned more from a fellow YouTuber who was there to learn like were. He had sound advice and some of his advice, I still use today.
Your Success Is Determined In Your Next Video
With YouTube, you can never be comfortable. I know the next 5+ tutorials I need to do. So the videos I worked on yesterday, were for 1.5 weeks away from now. The videos I need to create now are for days in between that video and now. You can never sit back and say… Look what I did and kick up your feet!
Once your video is done and ready to go, I already have the next one in production or it's already sitting there in queue ready to go.
So the success for me is rarely ever felt. As I am striving for the next video while a current video is being pushed out.
The speed and time I spend create tutorials is based on personal drive. I love this part of the job. I enjoy inspiring others.
Sofa Quarterbacks
Some people call those who don't offer constructive advice and are literally there to run a bus over you as Cyber Trolls. I hate that term. My team and I call them as Sofa Quarterbacks. Most of the really nasty crap we face in Social Media comes from people who would most likely not say the crap they say online to someone else in person.
I confronted one person recently for apologizing for being alive and ruining her education of crochet. She wrote back a huge apology with telling me that she didn't expect me to read her comments. So why write it? Some people truly get off hurting others or having opinions without knowing the whole stories or interested in any type of research before spewing off.
So the constant need to create with self pressure and then facing off with these types of individuals is exhausting. This for me, will lead to burn out. This is not unique to me, but to most of the YouTube Creators and fellow hosts on YouTube in the same field.
Support Team
Luckily for me, I have a sound support team. My team are my girls for allowing me to vent of the hurt, anger and frustrations I have without letting the audience know I am facing off with things. Also, our partnerships also have amazing people who get the frustrations.
Feeling Accomplished
At the end of a Crochet Cruise, I generally break down with overwhelming emotions. The cruise is rounding up. Things I feel and the new friendships in the moment are surreal. There's a sense of finishing. Most of the cruisers had the time of their lives and you feel empowered you were there to make a difference. The next cruises are already in planning mode but the end of a cruise is a definitive keystone to mark the end.
For YouTube, there is no ending. It's continuous. I have no shortage of ideas and love to try new things. However, there's no definitive ending to it. So there's never a time to sit back and say… "Look what I was able to do!" At times, I think of the tutorials created and remember my head space at the time of filming. Some has significant pressure but you don't get that when you watch me.
Training the Crocheters
Like starting the first day of school when growing up. A new teacher. A new personality. It takes a week or more to come to understand the teacher. Their mannerisms, humour and teaching style. Some teachers, you realize immediately you will not have a great year. I had two teachers growing up that really impacted me in such a negative way. The two teachers were a bully in every sense of the word. As a student in that realm, there's not much you can do but to get through it. Tears and heart sinking moments constantly with these two. With YouTube, I'm not the only teacher to connect with.
Some YouTube hosts, you can connect with. Their stories and personality. Others, you cannot get past whatever the road block is. For me, I am not going to connect with everyone. Luckily, the YouTube platform is free for anyone to use, so people can move on to find a host that best suits their personalities. It would be a different monster if people paid for the tutorials, it's why we have not invested in paid online classes with me.
Unfortunately, there are some people who feel their advice or criticism needs to be followed or they will unfollow you if you don't change. People have this unrealistic of me having to change to suit their needs. To wipe my personality out and be what they want me to be. Such a sad world as individuality is what makes the world goes round.
Finding Work Life Balance
Part of moving to Nova Scotia was to find work-life balance. I can easily spend every day on YouTube and doing make work projects in programming and such. Living in a region where there are community things to do makes such a huge difference. In fact, since moving to Nova Scotia, I have been more creative personally then ever before.
I have a reason to walk away from my computer or leave my phone on the countertop as I create new things. Before, with living in a region where there is nothing happening that matches my interests, I found myself working manically just to fill in time. Today, I am not as manic but I have been far more open to new ideas.
While creating new things, or enjoying something else, my mind can process my business thoughts and come back to the office with new insight or goals.
Recognizing Lessons
With YouTube, I will never be done. Not everything I film will be successful. I film some things knowing they won't really be anything big but they are meant to help people who are specifically looking. It's not about trying to get a viral video, it's about helping people in the end.
There are some projects where I expected to take off, which died a terrible metric death. Complete surprise miscalculation. If you plan for big things, usually it doesn't happen. When you plan on low response, you can be utterly surprised.
Playing on YouTube is like rolling a dice.
Misconceptions of YouTube
For our level on YouTube, the chances of getting to our level is a fraction of less than 1%. We were lucky but also because I am driven to educate and to provide as much video help as people want to accept.
Advertising all over the internet suggestions to make a ton of money through what we do, those days are over. However, it's like luring a carrot in front of a hungry rabbit. You constantly want to get the carrot but the pole keeps being pulled further from you. You may be able to get a lick. It's a tough living, especially when most of the creators do everything by themselves.