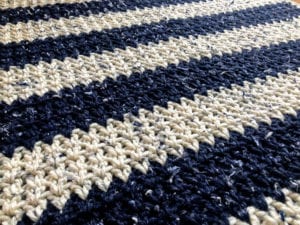 Crochet Chunky Tweeds Blanket
The Crochet Chunky Tweeds Blanket pattern is probably the faster blanket I've ever crocheted.  Those looking for a really quick project, I hooked this one up in just under 5 hours.
I found this different type of V-Stitch in one of my many crochet stitch books.  It creates a V by working the stitches in between the double crochets of the previous row and splitting them about.  Most commonly V-stitch is has a chain in between but this way creates a tighter fabric with fewer gaps.
My blanket is nice lap size or would be perfect for someone in a wheelchair.  It can be easily adjusted to any size you need by simply chaining an even number and off you go!  The Bernat Softee Chunky Tweeds yarn just makes it super quick and the tweeds are beautiful for home decor.
When you upload your project to The Crochet Crowd Stitch Social Group or Instagram, feel free to tag me so I can see what you have crocheted.  Follow me on Instagram @ jeannestein or on Facebook.  My designs can also be saved in your Ravelry favorites by following me HERE.

Tutorial
---
Yarn
Bernat Softee Chunky Tweeds 180 g/6.4 oz, 226 m/247 yds
Color A - 6 Balls Midnight White
Color B - 6 Balls Blue Tweed
Abbreviations
Beg - Beginning
Ch - Chain
Dc - Double crochet
Hdc - Half double crochet
Rep - Repeat
Sk - Skip
Sl st - Slip stitch
Sp - Space
St(s) - Stitch, stitches
Hook
8.0 mm / L Hook
Sizing
37" x 45"
Instructions
With color A - ch 72.
Row 1: In 4th ch from hook, 2 dc, *sk 1 ch, 2 dc in next ch; rep from * until 2 chs remain, 1 dc in last ch. Turn. - 70 dc
Row 2: Ch 3, (counts as dc here and throughout), *2 dc in between next pair of dc's; rep from * to end, dc in top of ch 3. Turn.
Rows 3 - 5: Rep row 2, changing to color B at the end of row 5.
Rows 6 - 10: Rep row 2, changing to color A at the end of row 10.
Continue with row 2, changing colors every 5 rows, ending with color A and you have 55 rows.
Border
Attach color B in the corner with sl st, ch 1, 2 hdc in same spot, *2 hdc in between the next pair of dc's; rep from * to end, 2 hdc in last st, turn to work along side, 2 hdc in end of each row, 2 hdc in corner, 2 hdc in ch sp along beg ch, 2 hdc in corner, 2 hdc in end of row to beg, sl st to first hdc. Fasten off.
Crochet Diagram of the Body of Blanket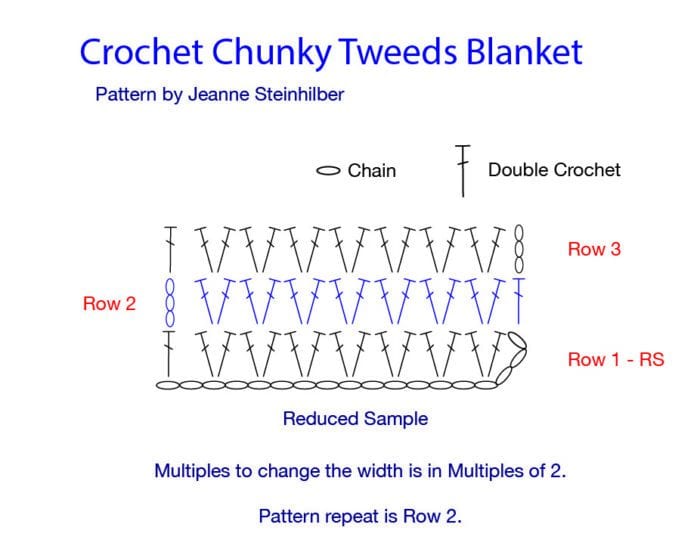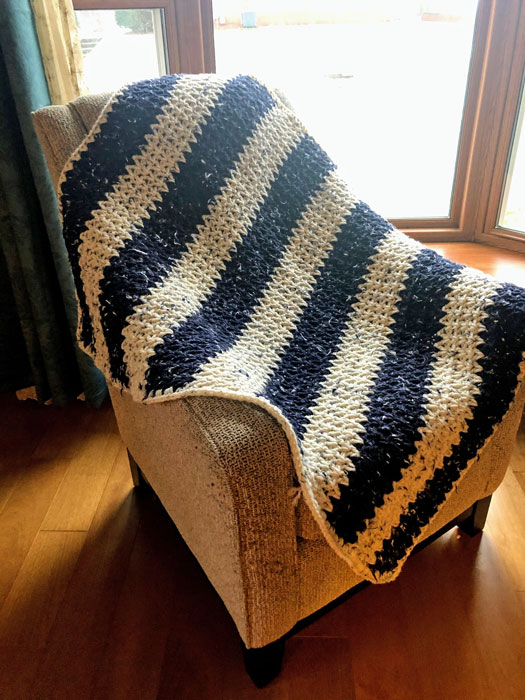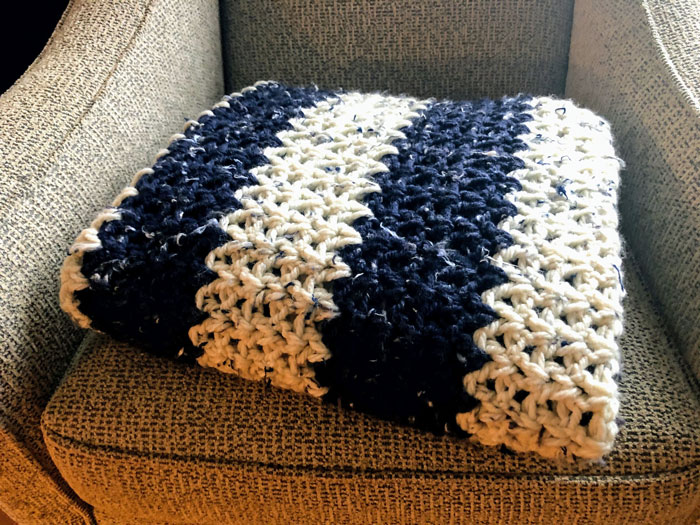 Designs by Jeanne