DOWNLOAD LATTICE WEAVE FREE PATTERN
---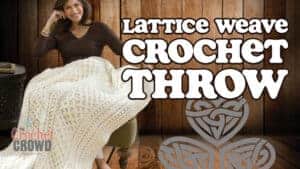 The Lattice Weave Crochet Throw is spectacular. From the Celtic weave, look to cables. It's a yummy stitch sampler.
There are two sizes suggested in the pattern; the first is smaller at Ch 144 = 40" x 60" long. The second is Ch 176 = 49" x 70" long.
I think there are plenty of opportunities here for blue ribbons for those who love friendly competition at the county fair. I think there is room for mental growth and keeping your mind busy when you crochet.
For me, this is the kind of stitch work that brings me joy.
---
YouTube Membership Deciding
The YouTube Membership Holders are voting on this pattern this should be filmed up. I will need to make the crochet diagrams which may take about 10 hours. Then another 20 to 30 hours for production. So I want to ensure interest with the Membership Holders before I invest the time.
The membership may tell me to pass on this, work on smaller projects, and save time for more options than investing so much time into one production. I'll leave this in their hands.
If you are interested, at no pressure, for a monthly subscription to our YouTube Memberships where you have advanced access to videos and more personal updates. You can click here to see more and possibly join. Please note there are two levels. The Journey Membership has early access to videos and voting of future tutorial concepts.
---
Crochet Diagrams
If you would like to download or print the diagram worksheets, please click on each sheet you want. There are seven pages in all. I decided to split the diagrams so you can cut the paper to make a blueprint of this vibrant textured pattern to keep an eye out for the pattern.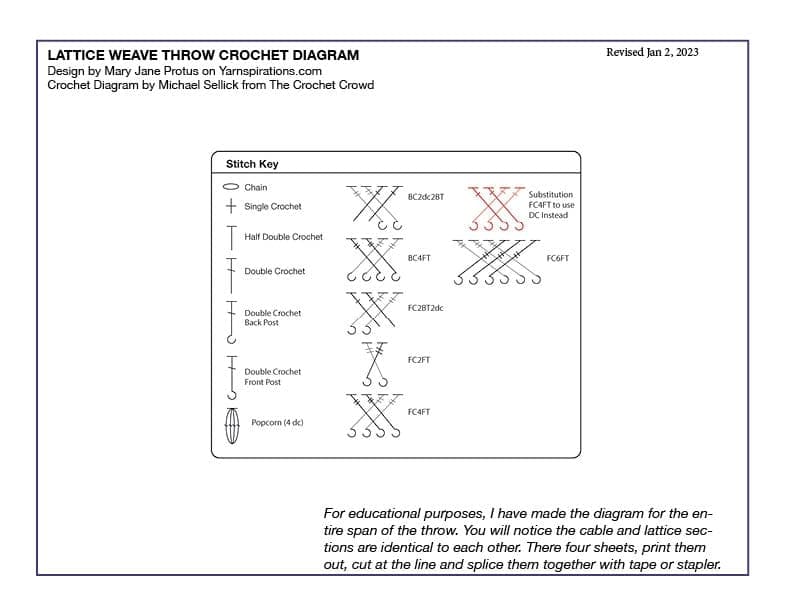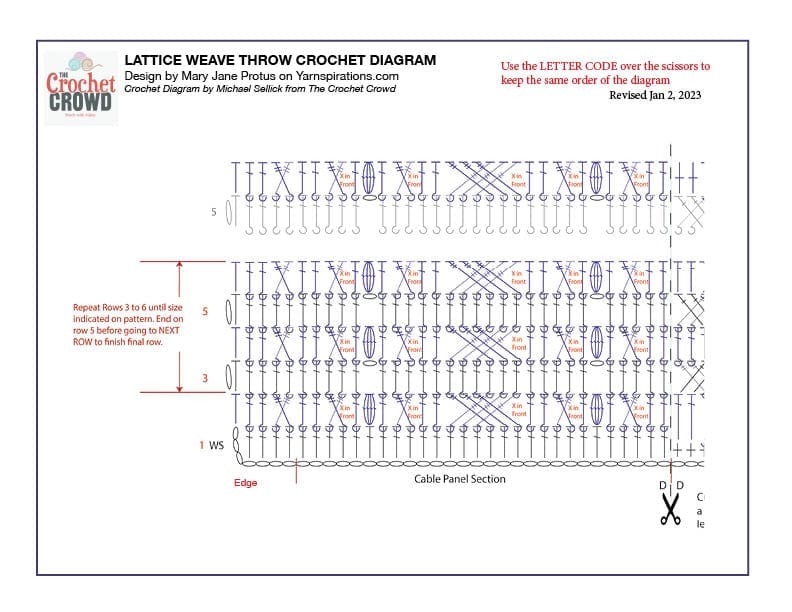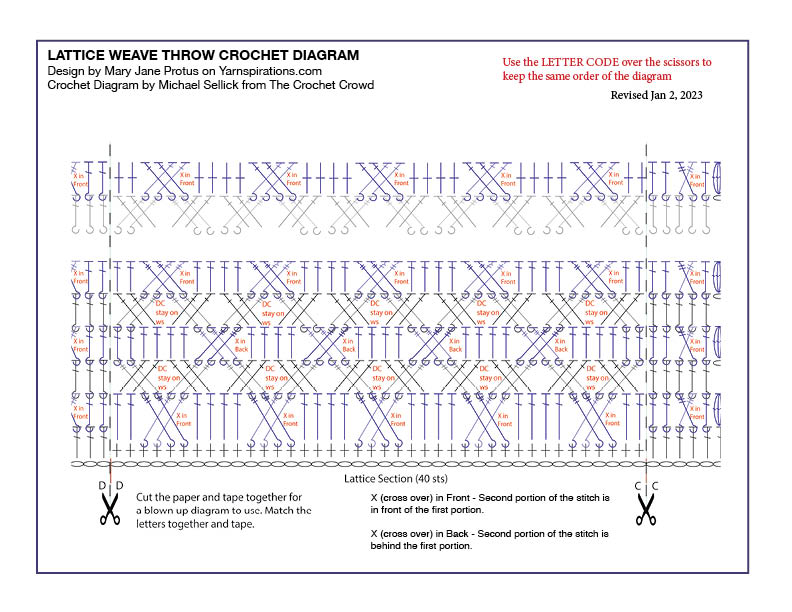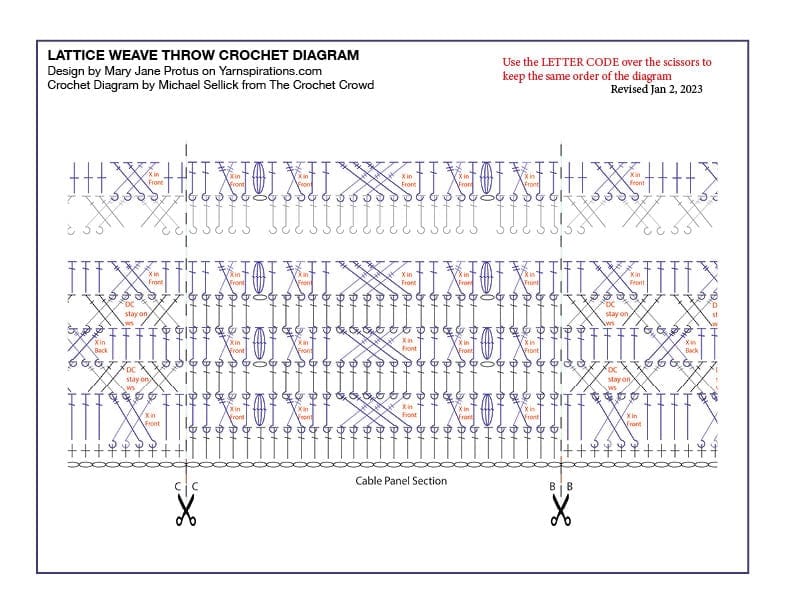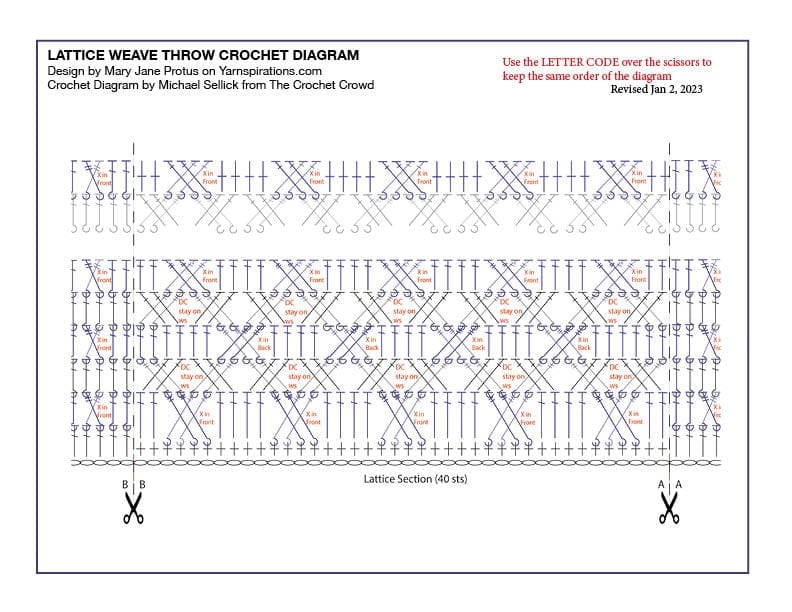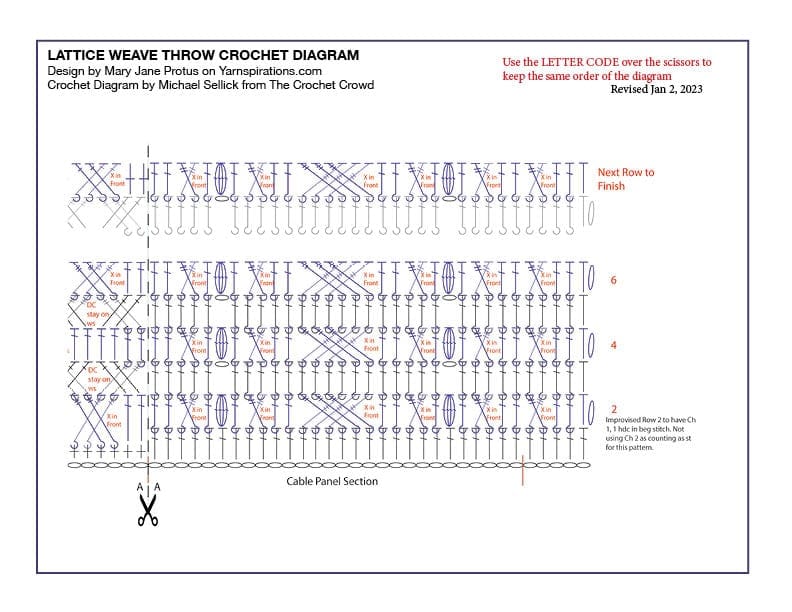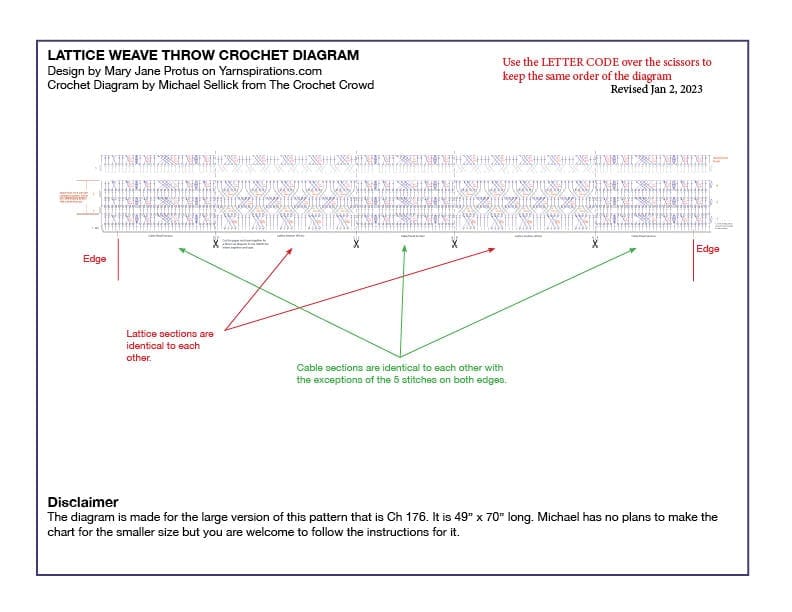 ---
Pattern Details
Project Size: Two sizes, 40" x 60" or 49" x 70"
Gauge: 14 sts and 8.5 rows = 4" of the pattern.
Designer: Yarnspirations Design Team
Stitch Multiple is unknown.
Hook Size on Pattern: 6 mm / K/10.5
Yarn In Pattern: Red Heart Super Saver
Pattern Date or Last Revision Known: October 26, 2022
Please use the pattern for details on yarn quantities, gauge and other details not listed here. This pattern may have been updated since the creation of this tutorial, and the information or presentation of the printable PDF may have been changed without notice.
---
More Ideas
The Aran Isle Crochet Throw was an adorable blanket filmed a few years ago. It's popular due to the simplicity and elegance of the pattern itself.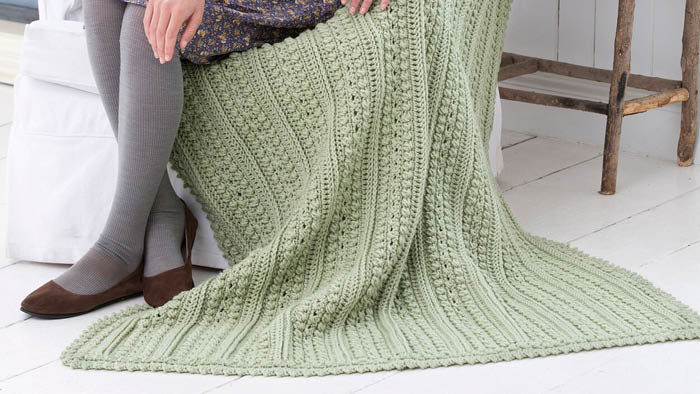 The Crochet Aran Hearts was also a fantastic stitch sampler in this same category of texture work. There is also a tutorial to follow if you need help.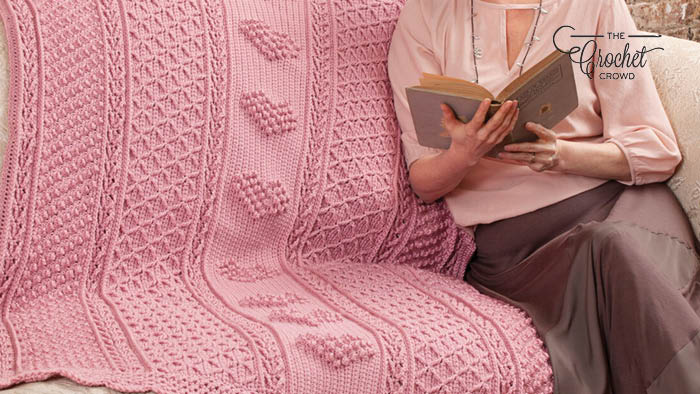 ---
Tutorial
Not done at this time.
---
More Crochet Blankets