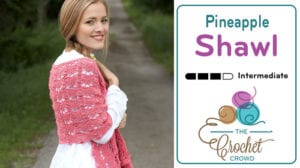 Crochet Pineapple Lace Shawl
Using Crochet Thread by Handicrafter, you can crochet this incredible Pineapple Lace Shawl. This is elegant and perfect for special occasions. You know, when you want to dress to impress.
The tutorial is showing you how to do this stitch. For tutorial reasons, I have substituted using Caron Simple Soft Yarn as it's difficult to film a really thin thread. For me, I have a small shake in my hand and being zoomed in so closely, it's obvious.
If you love thread and are looking to make an impression, the Pineapple Lace Shawl should be your next project.


Pattern Suggestions
Tutorial
Crochet Shawl Pattern Ideas