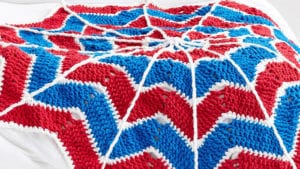 Crochet Spiderweb Blanket
Introducing the playful and kid-friendly blanket called Spiderweb Blanket from Jo-Ann Fabrics and Crafts.
This is a 12 point ripple afghan coloured to appear like a spiderweb. With an added overlay afterwards to create the lines that jet out from the center.
This afghan is 55" diameter and has 3 sections of blue, 3 sections of red with white rounds to separate them out to create the illusion of a web. Then top off with finishing touches. This is using the new Bernat Blanket Brights Yarn. It is vibrant and super soft. These would make nice gifts for someone you love.
Get hooked up with details and begin your project when you are ready!


Pattern Suggestions
Tutorial
Comic Pattern Ideas