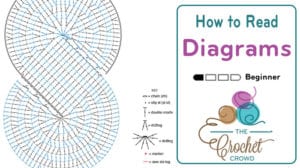 How to Read Crochet Diagrams
The art of reading a crochet diagram is a method I prefer over reading written words. For myself, my first crochet book when I was 14 had written words but also diagrams for each pattern.
Reading isn't my strong suit and it's still not today. Look at my grammar and you can see I am not kidding.
I learned to crochet through reading the diagrams as I came to understand what the symbols meant. Using a stitch key, I taught myself pretty quickly.
TIP: Give yourself time to develop the skill to read the diagrams. Once you get it, patterns across the globe will open up to you without ever having to know the language the designer is speaking. 
More Pattern Ideas
The video below is a comprehensive look at learning how to read crochet diagrams. I start back at the very beginning and work towards getting more complicated. Everything from how to read them, symbols, and so much more. The video has 15 segments. I provide the minute marker near the beginning of the tutorial so you can fast forward if you want to see particular elements and learn specific information.
Video Tutorial
Learning crochet is not a race, enjoy the journey.