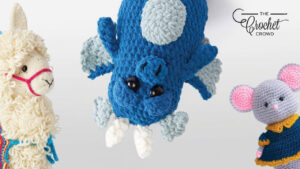 The 100 Cute Break the Internet Patterns are a mix of stuffies and wearables for you and your fur babies too! Simple to complex.
From hats, scarves, wraps, cowls, sweaters, amigurumi, booties, wall hangings and more. A fun fresh spring feels to many of them. Something more to do with your crochet hook and knitting needles.
Giftable for you, for family or friends. Maybe think about easter and there are some crafting ideas too! Oh my, so much to consider.
Did you see that ridiculous cute alpaca crochet pillow or that triceratops crochet blanket! It's a sprinkle of this and that.
More Ideas

More Collections