11 Crochet Hat Pattern Ideas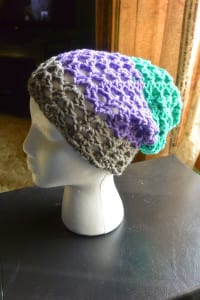 Crochet Hats
I'm a lover of crochet hats. I love the speed of them and the tens of thousands of designs to play with. Of course, I can inject my own creative edge with choosing colours that mean something to me.
I was recently looking for a new design to play with. These are some of the considerations I had but ended up settling for the Grayscale Ombre Slouchy. Enjoy the selections I found.
Use my Hat Sizing Reference Guide to help you make the perfect fit!
Tri-Color Cloche

 rows of colorful cluster stitches highlight this easy pattern.

I Feel Pretty – Women's Crochet Hat

 basic beanie with a pretty pop of color.

Ridge Hat with Brim

 I love this one.  The texture is nice and makes for a warm hat.

Ups and Downs Slouchy Beanie

 slouchy hats are fun to wear and this one has lots of interesting stitches.

Grayscale Ombre Slouchy

  I made 3 of these for my daughter-in-law and 2 grand daughters.

Crochet Ribbed Beanie

 a different look sure to keep you toasty warm.

Saguaro Beanie

 shell stitches and Caron Simply Soft makes this hat a winner.

Miss Downtown Abby

 super bulky yarn makes this stylish one fast work.

Snug with Clusters

 nice and easy 2 color hat.

Winter Chunky Slouch

 another fast one done with super bulky yarn.

The Roxi Slouchy

 the hibiscus bloom on this one makes it a real lovely hat.
Be creative! 🙂 – Jeanne – The Crochet Crowd