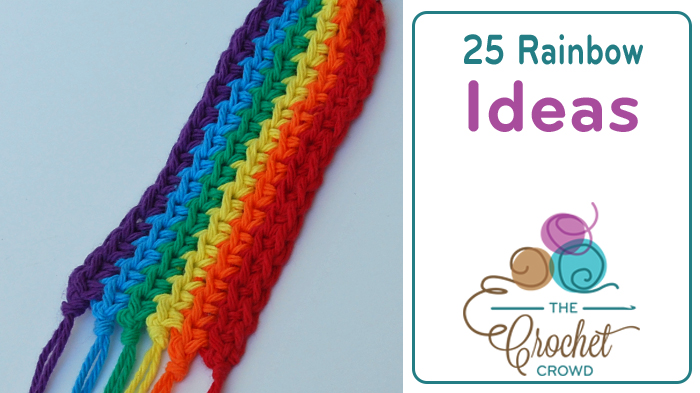 25 Crochet Rainbow Pattern Ideas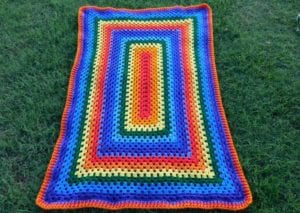 Crochet Rainbow of Colors
Who doesn't love a pretty and colorful rainbow?  To crochet with rainbow colors just makes the whole world brighter and happier.  Wouldn't you agree?
Here in the U.S., the rainbow has also become an important symbol in our culture, representing Gay Pride.  I was curious has to how that come to be, so me being me, I started Googling.
Back as early as the 19th century, Oscar Wilde, an Irish novelist, was said to wear a green carnation on his label to signal to other closeted gays his orientation.  In Australia, yellow was the significant colors and it was said that a bright pair of yellow socks would attract the attention of the same sex.  During the Holocaust, gay men were forced to wear pink triangles, and that symbol has since been reclaimed by the gay community.  In the 1960's, purple became the popular color in San Francisco as they used a symbol of and purple hand, while in Boston posters of a purple rhino were displayed.
The rainbow, however, wasn't popularized as an official symbol of the gay community until the 1970s. In 1978, San Francisco artist Gilbert Baker designed what is believed to be the first modern gay pride flag by combining eight stripes, each a different color with its own symbolism: pink for sex, red for life, orange for healing, yellow for sunlight, green for nature, blue for art, indigo for harmony, and violet for the human spirit. When he wanted to manufacture the flag for sale, he found that hot pink wasn't as available as the other colors, and so the flag dropped to seven colors. Baker later dropped indigo to maintain an even number, and the flag arrived at its contemporary six colors. When San Francisco gay activists marched to protest the 1978 assassination of city supervisor Harvey Milk, they marched with Baker's flags.  source: Slate.com
Here are some fun crochet rainbow ideas to inspire you!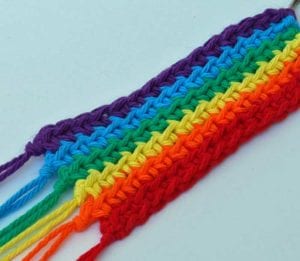 Rainbow Applique – simple applique to attach to any project.
Nesting Baskets – sweet set of nested basket to brighten up your home.
Rumpled Ripple Baby Afghan – uses a cobble stitch for a nice texture.
Bountiful Butterflies – cute little applique that would have many uses.  Make a full rainbow of colors.
Rainbow Slipper Socks – happiness for your feet.
Cat Toy – would you believe I found another jellyfish pattern?!
Rainbow Vermicelli Mandala – because I'm always mesmerized by a pretty mandala.
Rainbow Too Dreadlock Tam – a bright and sunny hat that works up very quickly.
Rainbow After The Storm Shawlette – this uses self-striping yarn for a beautiful wrap.
Rainbow Shells Baby Blanket – this one uses soft tones, but feel free to brighten it up with bold colors.
Cute and Simple Hearts – another applique to show your love for rainbows.
Somewhere Over The Rainbow Throw – super quick using 3 strand of yarn held together for a really pretty ombre effect.
Color Me Crochet Blanket – this adorable blanket is a rainbow of crayons!  I love crayons. 😉  *note, you have to register to see the free pattern.
Rainbow Stripes Tablet Cover – pretty way to protect your tablet, with a matching phone cover too.
Rainbow Scarf – I love how the designer freely uses different types of yarn for this super simple project.  Cute story how she whips them out while watching her kids play.
Rainbow Necklace – fun for playing dress-up for the little ones.
Colorful Carryall – it's a crochet hook case… beautiful!
Over The Rainbow Dishcloth – Mikey's did a great tutorial for this little pretty.
Rainbow Granny Stripe Blanket – notice that this is written in UK terms first with US in italics.
Rainbow Chain Headband – nice way to use up some of your colorful scraps.
Rainy Day Scarf – don't let the name fool you.  This is a very cheery piece.
Gay Pride Striped Beanie Hat – sizes from pre-teen to adult male on this simple hat pattern.
Rainbow Bear – cute amigurumi uses Caron Simply Soft for a cuddly friend.
Rainbow Spikes Bag – oh, I do think this one is going on my to-do list!
Rainbow Kitten Hat – practice your Tunisian skills on this sweet hat!  Love the added ears.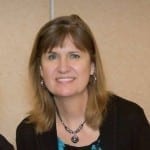 Be creative! 🙂 – Jeanne – The Crochet Crowd