Crochet Wedded Bliss Patterns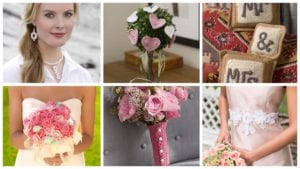 I really wish I had of known how to crochet when I got married, there are so many fun patterns I have found that I would have loved to have made for my wedding. I pulled together a collection of a few of my favourite wedded bliss items that I would have made. There were so many more that I liked I had a really hard time narrowing it down to just a couple. It definitely leaves me with future blog ideas!
I love weddings, and I really enjoy planning them I'm probably in the 1% there but its the creative side in me, I get so excited when the final picture comes together and everything looks so sparkly and pretty put together, the more creative unique and personal the better!
---
Crochet Mr & Mrs. Pillows Pattern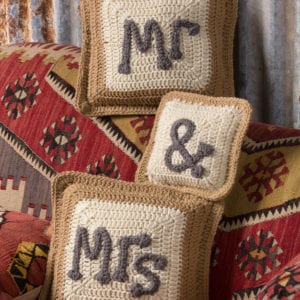 You'll see in a lot of Pinterest photos or photos of people's weddings in general, the use of the wooden Mr & Mrs signs they are very popular, the Crochet Mr & Mrs Pillows is a more personal touch as well as a wonderful accent piece when you take it home. It's a lovely reminder of your special day.
If your wedding is a rustic theme which is very popular, and why not! these pillows will fit right in. The Crochet Mr & Mrs. Pillows would be a great gift for a wedding or anniversary.
Designed by Michele Wilcox these pillows are made using Red Heart With Love. Make the pillows in the wedding colours and have a fun little keepsake of a memorable day in your life!

---
Crochet Bridal Nosegay Patterns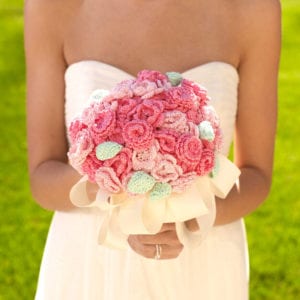 I love the thought of the bouquet that lasts forever so when I saw this Crochet Bridal Nosegay Pattern I absolutely loved it. My best friend is getting married this summer and I had mentioned making a crochet bouquet for her, mixed with flowers that she had found that she liked, at first she wasn't sure about the idea all she knew of yarn-related items was the slippers that her grandmother used to make out of Phentex, I'm pretty sure that's what she pictured when I said it. I made a rose up in her wedding colour and she absolutely loved it, not only because it was stinking pretty but because her best friend made it for her which made her bouquet a little more special to her. what I didn't see coming however was that she now wants the boutonnieres and the rest of our bouquets to have them too… whoops!
Designed by Nazanin S. Fard these beautiful flowers are made using AUNT LYDIA'S® Classic Crochet Thread. These are a great way to get your flowers in the colours you want!

---
Crochet Bridal Bouquet Wrap Pattern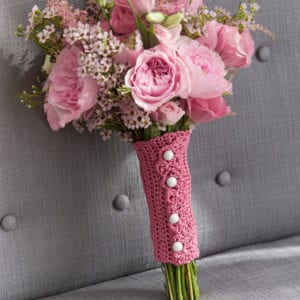 Whether you are choosing to use real, fake or crochet flowers, the Crochet Bridal Bouquet Wrap Pattern is a delightful way to dress up the stems of your bouquet adding your wedding colour or colours. For mine when I had gotten married I had wrapped the stems in Toule and ribbon as pretty as it looked this is a much easier method and I'm sure causing less cussing when wrapped the fifth time and it still doesn't look quite right to me(yay OCD). Make this to the size you need wrap and move on to the next one,  I find it gives it a bit of a vintage feel which I really like.
The Crochet Bridal Bouquet Wrap Pattern was Designed by Amanda Saladin, made using Aunt Lydia's Fashion Crochet Thread. Use this pretty Bouquet Wrap for the wedding party's bouquet for something a little different and elegant!

---
Crochet Stunning Bridal Belt Pattern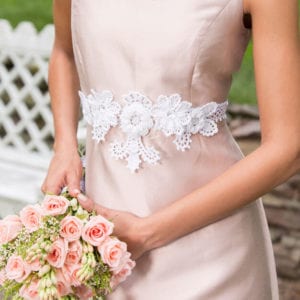 This belt is appropriately named the Crochet Stunning Bridal Belt Pattern is so pretty! If you are looking for a little something but can't quite put your finger on what it is you're looking for this belt is perfect! Make it in your wedding colour for either your self or your wedding party in your colours for that polished look you were hunting for.
Designed by Kathryn A. White made using Aunt Lydia's Metallic Crochet
Thread.  This belt will for sure make a beautiful accent piece to your outfit while being unique, which I'm all about being unique!

---
Crochet Pearly Jewelry Pattern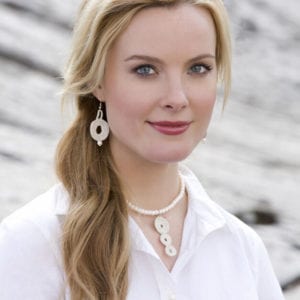 If you are looking for something simple yet elegant and will go with the Stunning Bridal Belt this Crochet Pearly Jewelry Pattern would make the perfect set. Or if you are looking for the mother of the Bride or the mother in law to be a gift. This set would also be great to give to the bridal party to wear this set would be a wonderful set to give any one of them, again you could have them in your wedding colours as pretty accent pieces making picking what to wear so much easier.
This pretty set was designed by Kristen Stoltzfus. The set was made using Aunt Lydia's Classic Crochet Thread. This simple yet pretty Pearly Jewelry set will look lovely no matter how you choose to use it. It's also a nice set to have for a special occasion that you want to get a little dressy for.

---
Crochet Affaire Of The Heart Topiary Pattern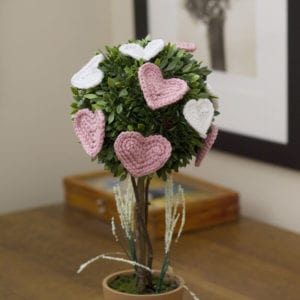 This is the final pattern for this collection, I found it too cute to not to include! The Affaire Of The Heart Topiary is great for decorating any venue, Make the hearts in your wedding colours and put the topiary anywhere, in the chapel or whatever location you go with, mine was an outdoor wedding this would have definitely worked there too. You could have a small little one to use as centrepieces or larger ones to use as decor around the room, any way you would like to use the Affaire Of The Heart Topiary it would make a great decoration!
This adorable Affaire of the Heart Topiary was Designed by Linda Cyr. Made using Red Heart Soft Yarn, that yarn is so pretty to start with. This would also be a cute little decoration if you have a child, like mine, who wants a plant in her room, but you know its life expectancy wouldn't be that great, much like me with goldfish, this would be perfect.