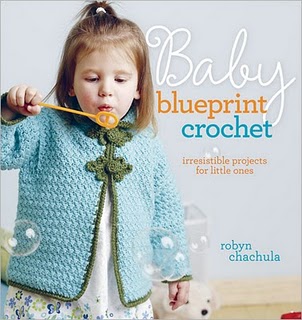 Baby Blueprint Crochet
Irresistible, Darling, & Super Cute are what I would describe when surfing through this Fabulous Book. I think the "Blueprint" in the name really is a great indication for what a reader will see inside this book. Like any successful crochet book, Robyn really has given you the blueprints to be successful everything from written help to matching diagrams and incredibly clear photographs.
The focuses on many ideas that go from the simple of baby items to pullovers and jackets. The Pea Pod Slider Slippers and Popsicle Boots are super precious. I found myself staring at the patterns thinking of all the colour possibilities that I could make. Diaper Covers are in high demand for getting patterns for them. This book has it.
Check out Andy Cap on Page 105. Crochet doesn't need to look homemade or cheap. To me, Robyn has really made patterns that are practical that will "wow" your friends. Check out the elephant mobile and the afghan with the froggie motifs.
This is a practical and highly useful book to add to your collection.