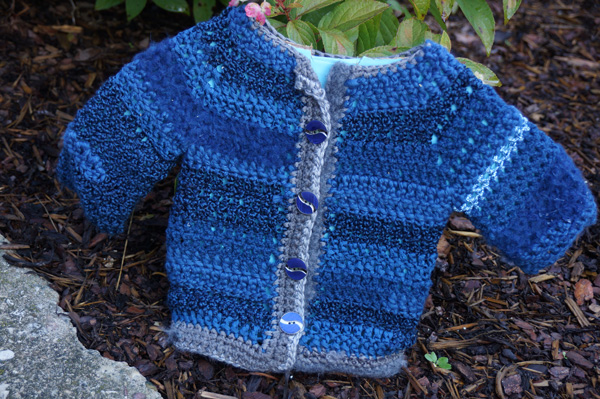 Baby Jacket Crochet Pattern
Baby's Cardigan Sweater
Mikey created a little jacket that that is adorable. He used Red Heart Boutique Changes yarn. This yarn changes is textures and style throughout the yarn ball. You can substitute the yarn for Red Heart Super Saver or something you prefer. This little jacket will fit a child between 6 months – 1.5 years old.
You can safely substitute with Red Heart Super Saver or Red Heart With Love.
Written By: Michael Sellick, Fall 2012
©2012 The Crochet Crowd, Size 6 months – 1.5 years.
I'm a firm believer of allowing the yarn to have the artistic approach to sweaters. For example, the yarn shown here is the Red Heart Boutique Changes, Aqua Marine & Granite Colours. I chose this yarn because each ball has 6 different yarn types/textures that transition on their own. You could do this sweater multiple times and each sweater will have it's own unique look as the yarn transitions will never be at the same spot.
In my experience, i know some crocheters are stuck on not using changing textured yarns as they prefer a more uniform look. You can use this pattern for regular 4 ply, medium 4 levels of yarn.
If you are really creative, you can try adding a hook to this as well. This is a relatively quick project and will steal hearts if ever presenting this as a baby shower or gift to a new mother.
Materials:
Size J or 6.0 mm Crochet Hook
2 Ball 3.5 oz or 100 g Red Heart Boutique Changes, Aqua Marine Colour
1 Ball 3.5 oz or 100 g Red Heart Boutique Changes, Granite Colour
4 Silver Buttons
You will use 1 full ball of Aqua Marine and a bit of the 2nd. Granite is just strictly for the the trim.
Directions
Order of Construction:
Body of jacket, starting at the neck and working down.
Both sleeves.
Trim.
Add buttons if desired.
Abbreviations:
CH – Chain, DC – Double Crochet, V ST- DC, CH1, DC in same stitch, SC – Single Crochet
Body of Jacket:
Using Boutique Changes Yarn, Aqua Marine, Ch 43, working from the next down.
DC in 4th chain from hook, DC in next 7 chains, V ST in next DC, 4 DC, V ST, 12 DC, V ST, 4 DC, V ST, 8 dc (40 stitches across).
Next 6 Rows: CH 3, DC in each DC and V stitch in each V stitch. (the sweater will have a hexagonal look as the next step will form the arm holes.)
CH 3, DC into each stitch until the first V-ST. Fold so that both V-ST are together and treat as 1 DC Stitch. This will form the arm hole. Then DC as normal until the next V-ST and fold together as 1 DC. DC the remaining stitches. Your jacket will now appear to have its shape on the top.
Next 10 Rows, CH 3, DC into each DC. Fasten off and weave in ends.
Optional: If you desire a longer jacket, just add more rows using step 5.
Sleeves:
Important Notes: Please read before starting your sleeves.
You will start at the under arms where the V-ST was folded. You will notice there aren't enough stitches going around the opening. You will need to add extra at both sides of the V-ST.
It is very critical to count your starting stitches, if you are off by one stitch, your sleeves will appear to be a different size and is very noticeable.
Also, I don't slip stitch after each revolution, I go in a continuous round to avoid slip stitches to be seen on the sleeves.
Begin Sleeves:
Fasten Boutique Changes  Yarn, Aqua Marine, at the V-ST under the underarm region. CH 1, DC 19 around the arm hole. If you don't have 20 stitches to DC into, Add extra on either side of the V-ST where you started.
DC Over top of the last stitches without slip stitches for 7 rounds and continue to go in a continous round. You will want to count your revolutions to ensure you have the right length each.
Final two stitches, to even off the rounds, will be SC and then fasten off and weave in ends.
Trim:
Using Red Heart Boutique Changes, Granite. Starting at top corner on front , you choose the side. Fasten on and SC all the way around the edging from the front, top collar and along the bottom edge. On corners, 2 SC, CH 2, 2 SC into the same hole. For front button edge, evenly space your SC between rows as you will not have official stitches to go into. I have 1 SC between rows and then 1 SC on the row.
When you get all the way around back to the top corner, SL ST, CH 3, then DC all the way down the front button edge, along the bottom and back up the other side button edge. For corners, 3 DC, 2 CH 2, 3 DC into each. Once back up on the opposite side corner collar, fasten off and weave in ends.
Buttons:
I have added 4 Silver Buttons to the jacket. They are spaced about 2 " apart from each other. Start 1.5″ down from the top collar area.
Sew on buttons.
Get buttons that can be slid through the DC stitches.