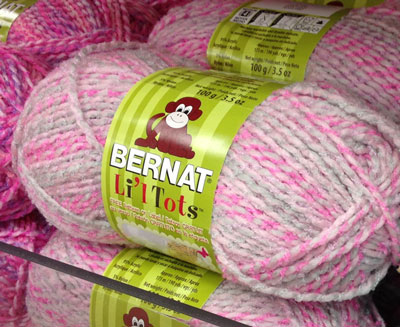 Bernat Li'l Tots Yarn

Okay, I have to admit I am sucker for slow variegated and soft yarn. This yarn is no exception. New to Bernat is Li'l Tots Yarn. It appears to me that Bernat is freshening up their baby yarns with new choices for today's knitters and crocheters. I can appreciate that yarn like this could often be a bit feminime but it is not the case. There's some nuetral colours as well for those who might be on the fence being unsure if a boy or girl is on the way. The Daffodils colour would be perfect.
At the time of publishing my review, there are 8 different colours within this yarn line. I will be nice to see new patterns come out with this yarn to know exactly how it will turn out. The All Pink colour ball has my curiousity.

This yarn is made up of 95% Acrylic and 5% Nylon. It is recommending a 5 mm Knitting Needl or Crochet Hook. Mothers would be glad to know it is machine washable and dryable. The yarn is priced around the $5.00 level and you will get 100 g or 3.5 oz in each ball. I think it's very reasonably priced and will sell really well.

For a fresh, modern look project for baby, Li'l Tots maybe the yarn of choice.