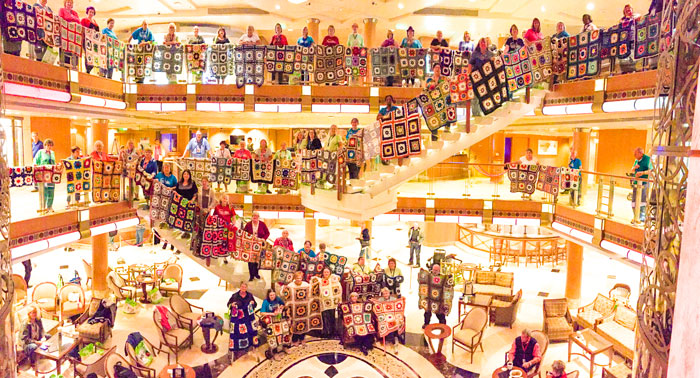 How We Completed Project Linus on the Crochet Cruise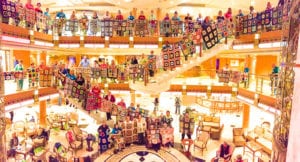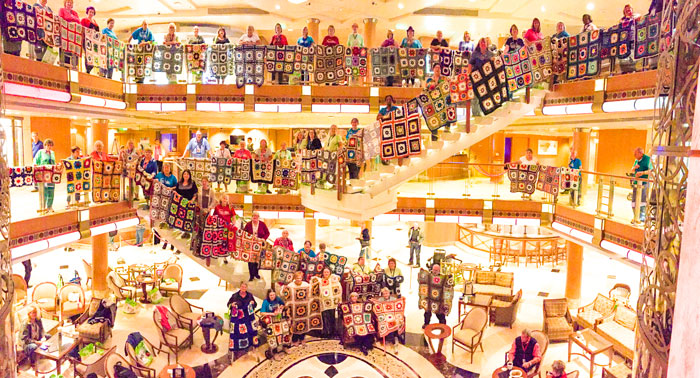 Importance of Project Linus
Since the conception of the Crochet Cruises with our company, we have been supporting Project Linus in demonstrating our ability to work together as a community to make a difference on a cruise ship. Supporting the charity on the cruise ship comes with added benefits such as:
Gives us Goals to work together as a community.
Builds friendships and creates ice breakers for our community.
Raises awareness for Project Linus by the non-crocheters who see so many of the afghans floating around the ship.
We build up inventory of a local chapter when the afghans are delivered at the end of the cruise.
There is a demand for these afghans and we are glad to participate.
In choosing a charity, it's very personal. Seeing we are a global company, it's important we support charities that many people can receive from and also many chapters that are located throughout main audience. Project Linus is North American Based, as far as I know. Seeing this is a personal choice for most people, ensure you choose the charity that most speaks so your heart.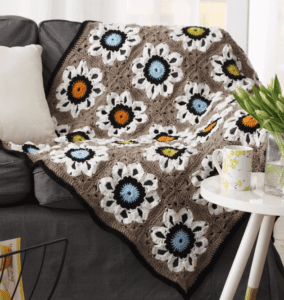 Our Mission
Obviously was to create afghans but for the first time, how can crocheters on board the ship go that extra step for skill building, ice breaking and much more.
Inspired by the vibrant and fragrant flowers of Hawaii, for this Aloha Crochet Cruise, this Solarium City Throw seemed to be the perfect project to work on. Crocheters had to bring them onto the ship with them:
Crocheters were to make a minimum of 9 squares.
They were to stop at the final of each square and not assemble them together.
For this particular project, we wanted to go beyond the square and see how we can build the squares to be bigger using a fabulous resource.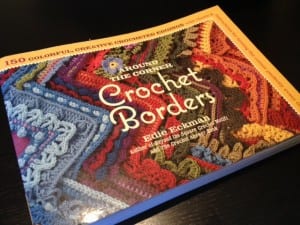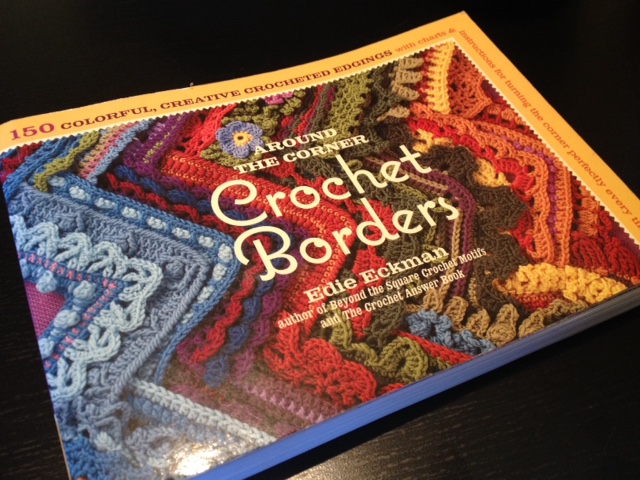 We bought each crocheter an incredible book called Around the Corner by Edie Eckman.
One of the best books of all time, in my opinion. Every crocheter should own a copy of this book. There are many reasons for this being one of my top favourites which initiated me buying a copy for everyone:
You can easily learn to read patterns.
You can learn how to read diagrams.
You can clearly see the photography on how it relates to written and diagram instructions.
You can also learn about multiples.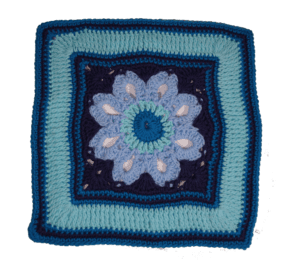 Example of Square Expansion
Here is an example of what can be done with a square once the main section is completed. I added 7 additional rounds to the existing square with the help of Edie's book. I had made examples completed from her book to show crocheters.
In respect of her copyright, I won't show you the up close versions of the other squares. This is how I did my finished one on the ship as well.
So here was the plan that got us through our crochet cruise.
Everyone that participated put their squares onto one of three massive tables. Each table was a different size square based on the individuals personal tension or gauge to make it easier for people to find squares that matched their gauge.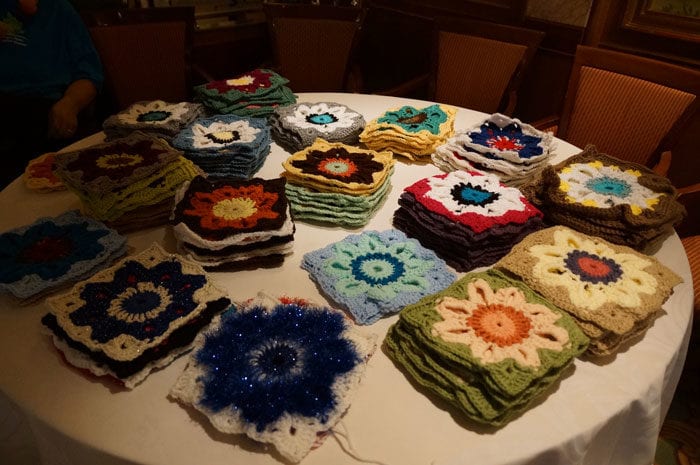 Each crocheter than selected 9 squares. Usually 1 square was their own and 8 different squares from other people. This would be the community element of these squares. Some people chose to make all 9 squares the same, others mixed up the colours. The colours were up to the crocheter to what spoke to them the most.
Then, each crocheter was charged with the mission to make the squares bigger using Edie's Book.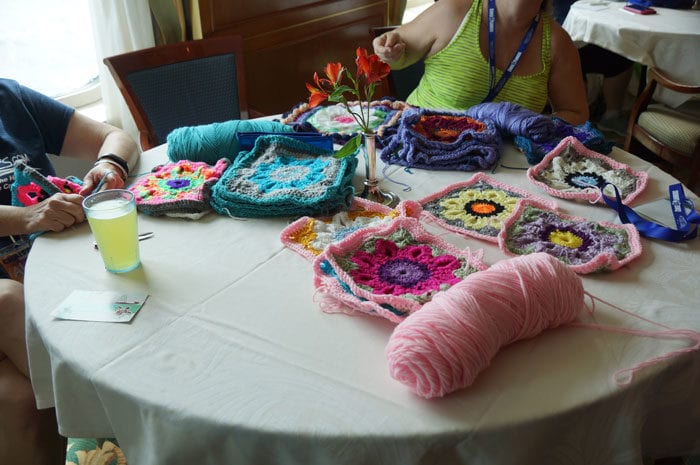 We used 2 Official Workshops to talk about building and expansion and how to use Edie's Book. Also, two additional stitch social sessions were used for people to get a kick start before moving onto more learning on the ship.
Once this was done, crocheters spent the rest of the time on the ship crocheting during informal get togethers and some used other classroom time to continue making their project. We are easy going on a cruise ship. Work on whatever you want, even if I am teaching something different.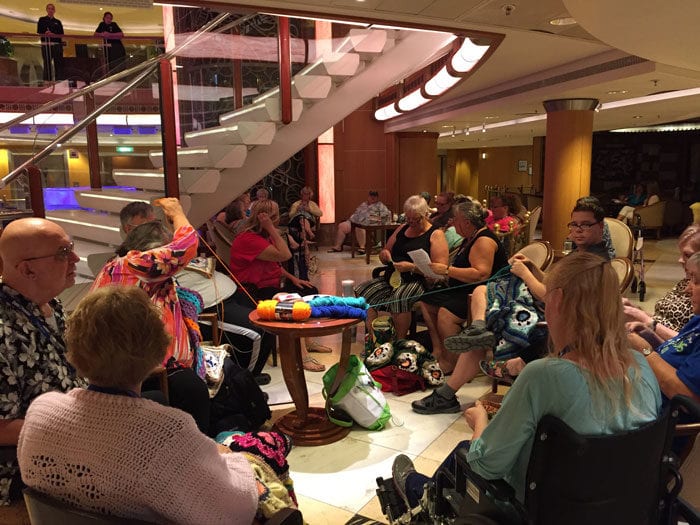 Throughout the cruise, we really didn't get to see the afghans finished too much. Crocheters finished them and tucked them into their cabins when done for the final ship reveal on the last sea day before returning home.
I spread out a few examples before the final photo shoot to illustrate how the simple center of the pattern changed into something different for each crocheter. Mine i the grey and blue example in the middle. You can tell I am a loose crocheter.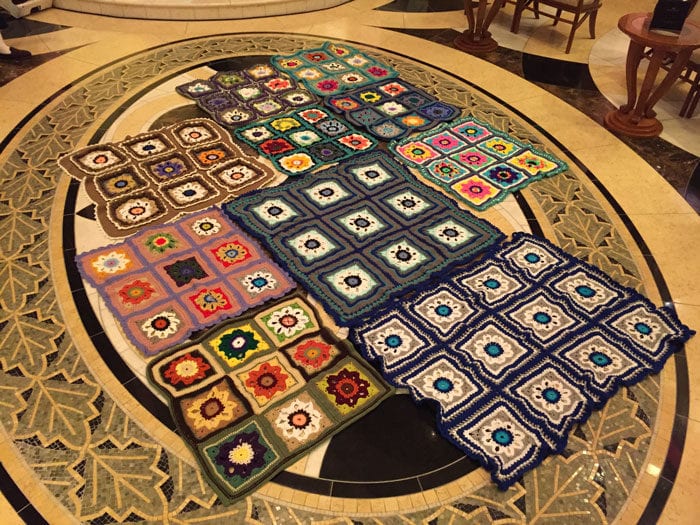 Crocheters assembled together between 7:30 – 8:00 am on the final day and folded up their afghans showcasing a flower on the table. Crocheters stepped in to help fold and lay up the projects onto the table. Not all are on the table as some crocheters were still finishing up.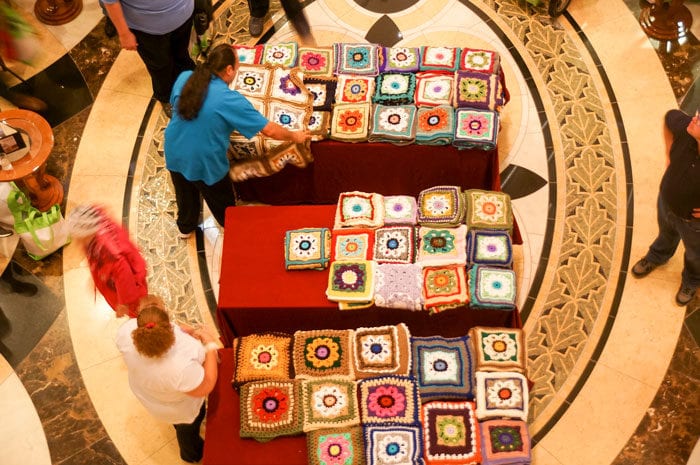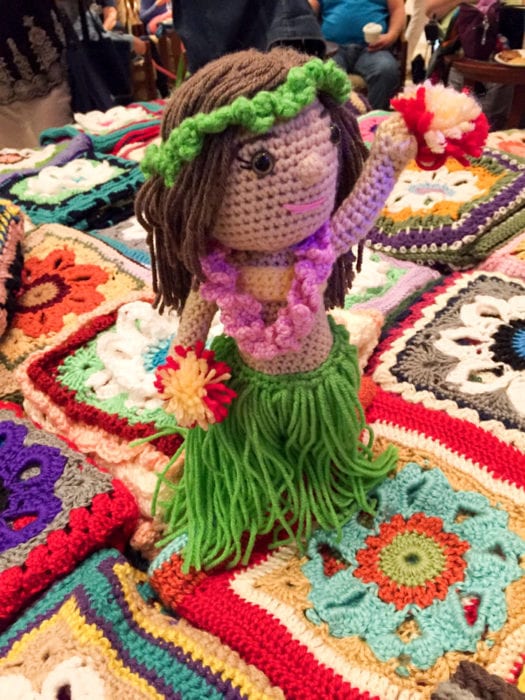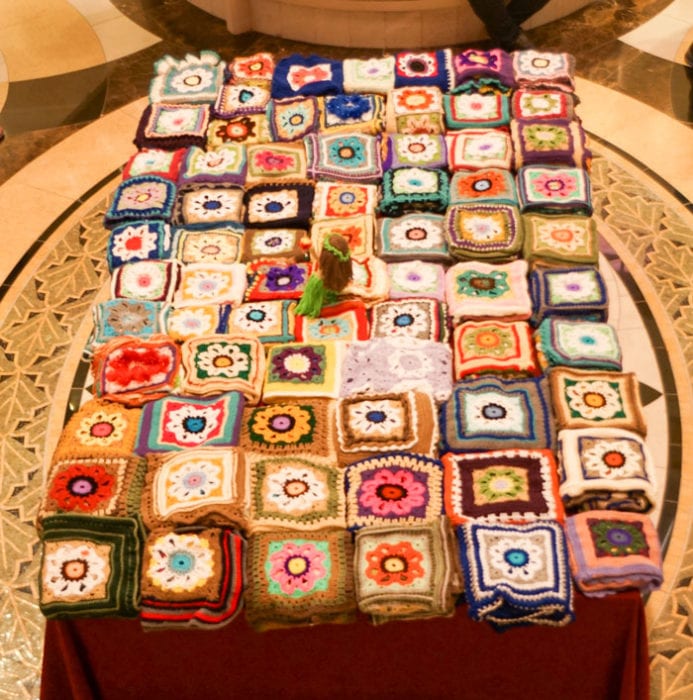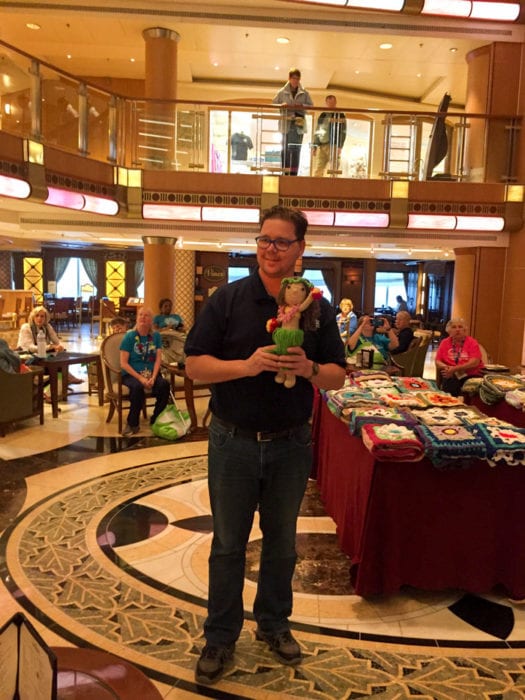 Once the photos were taken on the table. Crocheters then filled the Piazza from Deck 5 – Deck 7 with their afghans draped over the rails. From here, we seen the true magic. Crew members and non-crocheters looked on with amazement. They had been seeing us all week crocheting and knew it was a charity project. To see them all laid out for the first time was incredible.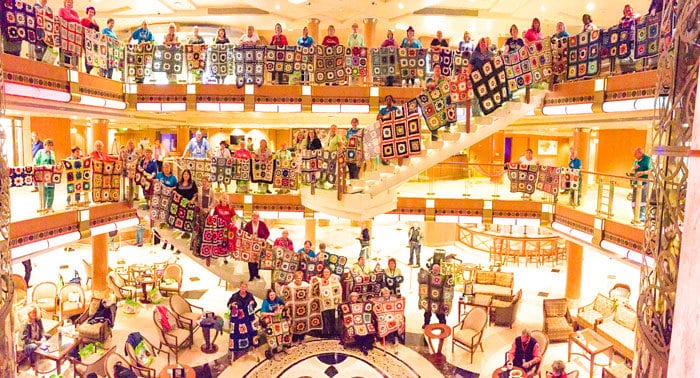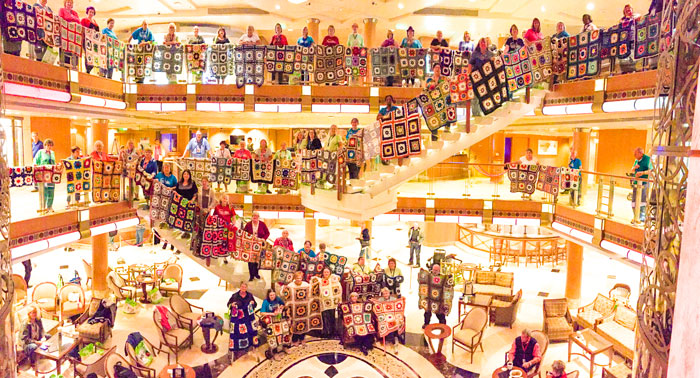 After the photo shoot, we returned back to our classroom and each crocheter laid down their afghans onto all of the dining room tables leaving their name tags with their afghan. It reminded me of science fairs. The idea was not to judge but to see everyone's work and stitches. See how people choose different borders and colours to make this square incredible.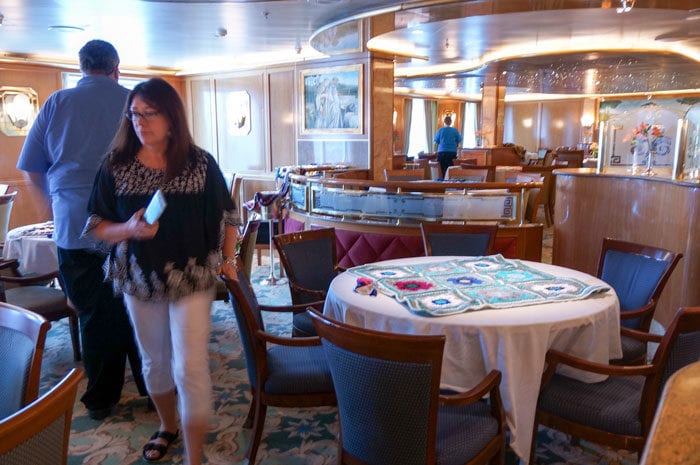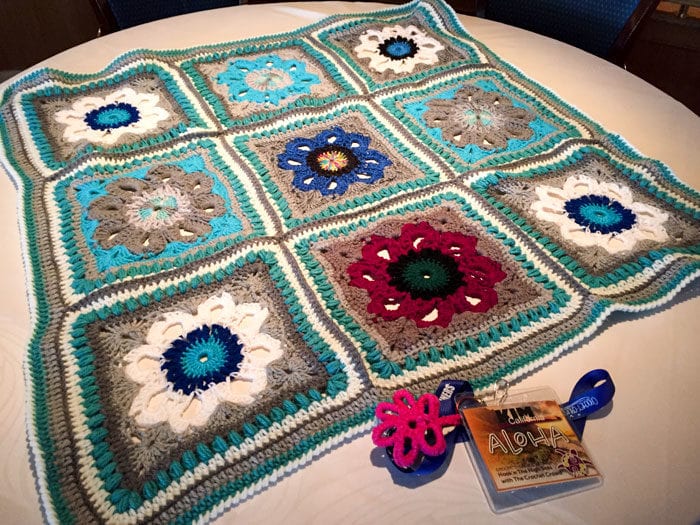 After all was said and done. Crocheters gathered their afghans and refolded them. Blanketeers, who participate with Project Linus made arrangements to have them boxed up and removed from the ship to benefit the Project Linus Chapter of San Francisco.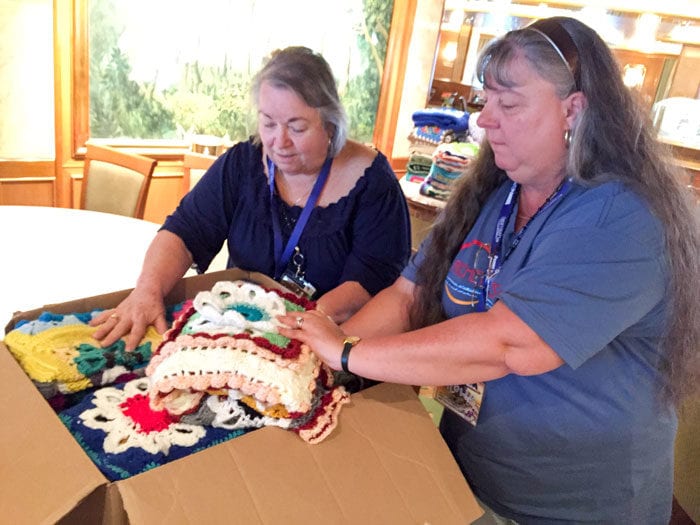 Here are 3 Blanketeers Who Were on the Ship
From left to right. Donna, Barbara and Mary Ann. 
Official Gallery
We have 215 Photographs taken from this journey on the ship. From conception to final completion and reveal.
Thank you for everyone who got involved. We have two crocheters that were not on our party but were on the ship to help us make more afghans while on board.