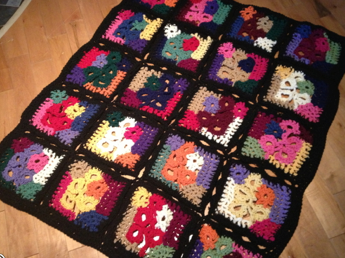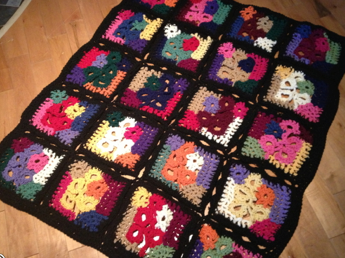 Crazy Patchwork Afghan
by Melody Griffiths, Crocheted Afghans: 25 Throws, Wraps & Blankets to Crochet
Goal:
Complete a throw using motifs that are joined together to create 1 solid square. 
Give the afghan a scrap buster / free form look. 
Review this Book and/or Buy This Book. 

I just stated above that it's a "Free Form Look". What is meant by that is that this isn't free form. We are following a pattern and each box shape will be attached as you go and will be identical. What makes it free forming looking is that you can use an assortment of different yarns to pull of a free form look. 
Review this book and/or Purchase Now
. This is my Progress Report of the Crazy Patchwork Afghan inside this book. Unfortunately, I have not been able to find a picture of this afghan online to show you what it looks like in this book. I am taking pictures of my progress and steps I have taken to make this afghan. 
 Upon starting this afghan and completing one square, I realized this is a really small throw. Only 22″ wide by 30″ high. I never read the instructions ahead of time and I might not have not done this because it is really small. Only 12 motifs are needed but I have already adjusted myself to use 20 motifs instead. I may add more if I think it's not big enough. 
 What appeals to me is the mix of colours within this afghan. It's irratic and crazy. I was able to find 20 colours of Red Heart With Love to do my afghan. I have ensured that every component is done in only one colour. 
Day 1 – Saturday December 1, 2012
I have been looking at this pattern for a year but really scared by the level of complexity. 

Each time I look at it with awe, I wish I could do it. 

In 2012, I have really strengthened my reading patterns skill and decided to take a chance on creating this afghan. 

To ensure I understood the directions, like I do with any patterns I follow, I create a sample motif to ensure I know what the author is asking. 

The biggest challenge so far is the large leaf flower. It's really not that bad but isn't as quick as the rest of the motifs. 
The instructions don't tell you when you need to attach the motifs together to make the solid square formation. It does say to sew them together. 

Upon closer look of the sample, I noticed that strands from motifs directly beside each other are joining the motifs together. 

To save time, I made a decision to attach these as I crochet and not wait to have 120 motifs in a basket and hand sewing them together at the end. 

The challenge is to figure out what needs to be attached together first to save time and logistically makes sense. 
When I crochet motifs that have different steps and/or colours, I crochet like an assembly line. This helps me to remember the pattern without having to constantly read the pattern. 
On Day 1, I was able to crochet the upper left motif, all 20 of them. Then I started on the bottom left fan shape. I ensured when doing the bottom left fan shape that was I attaching it to the upper left at the same time. 
Day 2, Sunday December 2nd, 2012
I am energized by the speed of this project and patiently sitting at my dining room table creating new motifs and joining them as I go. 
I finished all the small fans at the bottom left of the motif pattern. I decided to do the bottom right motif that is an L Shape. Upon starting to do this, I realized that I could do the flowers at the same time. So if I used a dark blue, I would create a L Shape Motif with the blue and then 2 Flowers at the same time without having to scramble for a new colour. I ensured that when I I attached the flowers as I went that I was randomly grabbing motifs that were a completely different colour when attaching. 

The Challenge with the flowers is that sometimes the flower likes to turn around and/or you think a petal is the middle of the flower. Once I found my comfort level, I was able to whip these off really quickly. 
By the end of Day 2, I was able to get all 20 motifs up to the same level. The only thing now missing is the huge leafy flower in the middle which joins two sides together to form the square. Truth be told that I am not looking forward to this process. The flower needs to be attached at several points that requires a lot of counting. I've not yet done it but I think once I get to it, it won't be so bad. 
I've been attaching colours at random, so I have to ensure the middle flower isn't the same flower as anything on either side of it. That could prove to be a challenge without having to duplicate a colour for a centre.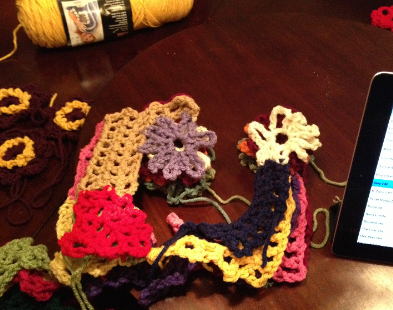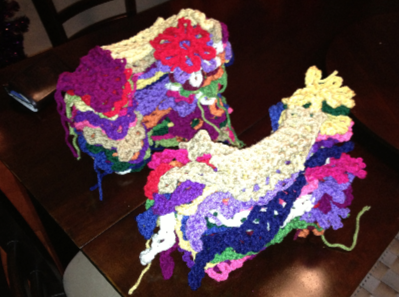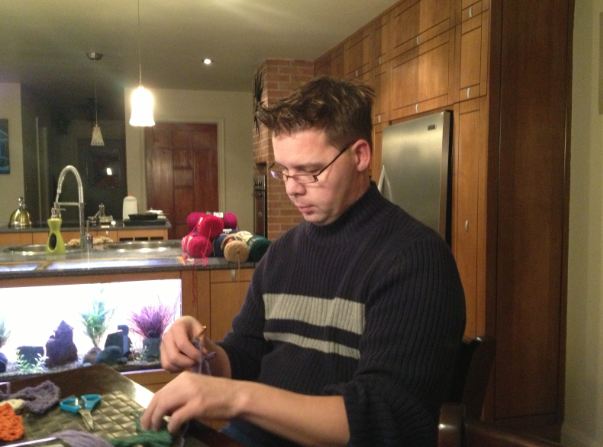 Day 3 – Monday December 3rd, 2012
I didn't have a lot of time today. I was busy working on my website, content creation and future ideas for The Crochet Crowd. 
I was able to find time to get one motif done (on the left) and completed it all the way to see what it will look like. Yes, my sample looks different from the original pattern as my yarn is thicker than the recommended yarn. I truly used what I had instead of buying yarn to make a scrap looking afghan.
After further thought, I completed a second motif. With this afghan, you need to attach your motifs in the final rotation because of the stitch work. You cannot go back afterwards and put them together. 
What I found most challenging is to ensure that the two motif panels that are joined together with the leaf plant in the middle have unique colours. I found myself mixing and matching to find the right combination. It's almost like a puzzle game. After placing two motifs together, I got thinking about colour strategy… "What if I get a motif that looks out of place?" If I continue the same method right now, I am not going to be able to juggle the motifs afterwards to find the right colour balance if it is a problem.
So now here comes the strategy… I am continuing to put the motifs together but going to wait on the final black borders until all motifs are done. This way I can strategize where each motif should go and permanently put them into place on the afghan. 
Yeah I know what you are thinking… as much as it appears scrappy and artistic. There still needs to be a plan involved.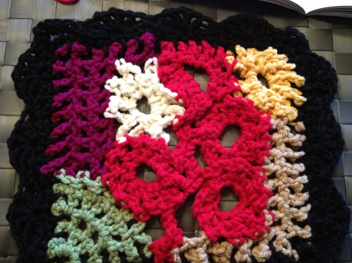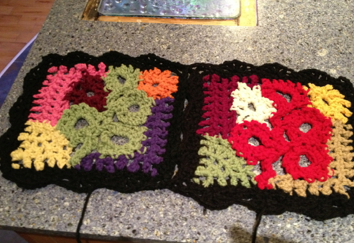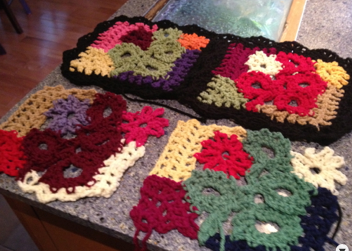 Day 4 – Tuesday December 4th, 2012
Today I was able to get a lot more motifs done. I stayed up until Midnight to push myself. I only have 4 more to complete do before I do the borders around them. Once I get these motifs done, I will feel like the afghan is nearly completed. 

I'm amazing that the colours are striking my ugly chord a bit. I know I just need the borders around them before I am 100% convinced. Man, I wished I had foresight in designing to visualize the final. 
This has given me the idea of doing a project once a month where I give people notice on a project we can do together and each morning post our WIP report into a gallery of their work. My friend Kristen says that inside the black borders, these look like movie film. 

Day 5 – Wednesday December 5th, 2012
I was able to get the 4 final motifs assembled early this morning. I was also able to get 1 row of squares fastened to each other. Today I had to go on a road trip. Not a problem because I just packed up all my squares and took my hook and yarn with me.
The black borders around each square have several lines of crochet. The final line is the one that attaches them to each other. So to save time and not worry about trying to attach them in the car ride, I did all borders around each motif to the line before the final rotation. Essentially what you are looking at is the squares nearly completed with only one revolution around the final of each. 
I have been following this pattern to the letter, with exception to the yarn choice and yarn hook size. I am debating on putting on a more significant border around this entire afghan than what Melody Griffiths has done. Just a personal preference, there's nothing wrong with her design. 
If I get my act together, tomorrow will be the final day on this afghan.

Day 6 – Thursday December 6th, 2012

I didn't have a lot of time today and was able to get two more rows put together. I was really struggling in the sense of liking this afghan. The edging has been done as per the instructions but isn't sitting very nicely. I have noticed some of the motifs are puckering up. 
I was close to consider unattaching them and doing a solid border around each motif instead. I had to step away from this project to think further about this.
I was definitely convinced something needs to be done to the edge to make this suit my vision for this afghan.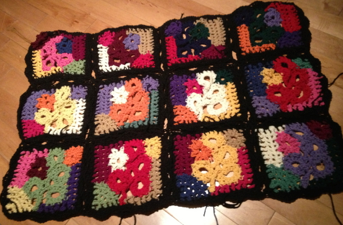 Day 7 – Friday Decemeber 7th, 2012
I was still upset with how this afghan looked and decided to take a day off. I was considering just scraping this project. I had come so far and near to the end. I had to be patient to give it at chance.  
Day 8 – Finish Day, December 8th, 2012
I decided enough of wishing this afghan be done and I finally took 3 hours to buckle down and get this done. 
I got all of the squares attached. As you see it to the right, the afghan doesn't look like it's sitting properly. It's on the right track but now I have to add some of my own design to bring this together to match what I thought. 

One major aspect that was bugging me about this afghan was the number of cut strings tha I still had to remove. I had weaved in my strings as I went but didn't cut them. So I went through this afghan carefully on both sides to trim off all the loose ends hanging out. This helped me a lot to gain momentum. 
With my own thoughts now, I decided to finally deviate from the pattern. I believe this afghan needs a border to bring it together a lot more nicer. With that thought, I double crocheted 3 rounds around this afghan to strengthen the final edging. 
Once I did the edging, I was feeling a lot more better. I was able to finish this afghan and feel good about it. 
I've never crocheted anything like this before where I was feeling ready to quit in mid project. The motifs coming together weren't so bad, it was the perimeteres of each of the squares that were throwing me for a loop. I learned many lessons about my own proferences of afghan making. 
I'm glad to be done. I have my sights on a new afghan design that I would like to try. In the next one I hope not to change yarn so often and keep the counting required to a minimum. 
Thanks for following my journey. If you are in for a challenge, this afghan is definitely a must. It looks good and is one you won't forget. Happy Hooking!