13 Ridiculously Cute Crochet Friends
Sweet Creatures by Stacey Trock
Our newest mystery challenge has been designed by Stacey Trock, designer of Fresh Stitches. I've been working on the mystery challenge behind the scenes to prepare for the 'Who's in Your Closet' mystery crochet along. Other than her incredible designs, I really like how she takes her time in the patterns and explains things through words and photography. Her attention to details makes it easy to be successful.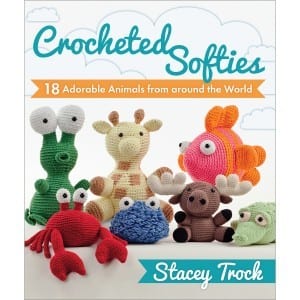 Stacey has three books out. Her books are incredible and a worthy investment for your crochet collection. If you would like to see more of her books, you can visit her Book Library to see them. I bought one of the books at a massive book retailer, Chapters, here in Canada. You can also order the books online as well.
On her website, you can purchase individual patterns that are so ridiculously cute. I have taken the time to pick out my favourite top 10 of her 111 patterns that are available. Again I emphasize that her instructions are incredible and worth every penny to have a unique and fun character.
I'm going to start you off with a free pattern so you may see the instructions and attention to detail. You will be astounded! Check out Burnie the Bee!
As mentioned above, Stacey is our designer for our next mystery challenge. If you think any of the above are super adorable, just you wait until you see what our mystery project is. It is going to tug at your heart and I can bet that if you give it to one child in your family, the rest are going to be begging for one too. If you tell your child in advance, I bet they will be watching you put it together eagerly waiting for you to finish.
Thank you Stacey for joining in on the fun with us.