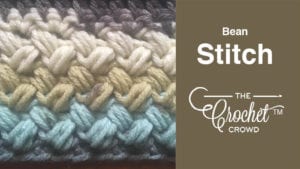 Crochet Bean Stitch
The Crochet Bean Stitch has been around a long time. So for the crochet world, it's nothing new. Jeanne has a new series coming out, called Beans and Bobbles that utilizes this old stitch because it has something that the Hugs & Kisses series didn't have. It has texture on both sides of the project.
The bean stitch resembles the idea of a the Puff Stuff but is much easier to manage due to the wrapping technique.
You can download the Bean Stitch Swatch Pattern Here. It has the instructions written down for the bean stuff. The tutorial also shows that as well.
Crochet Bean Stitch Swatch Pattern
Tutorial
More B&B (Beans and Bobbles)