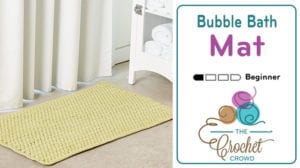 Crochet Bubble Bathmat
A beginner level crochet project, introducing the Crochet Bubble Bathmat. This mat is filled with crochet bubbles. It's a very quick technique that is explained in the written pattern but also demonstrated in the video tutorial below.
For seasoned crocheters, this is a very quick project and you will love the texture. The bubbles will provide that extra cushion for stepping out of the bath or shower.


More Rugs
The yarn of choice is Bernat Maker Home Dec. It is designed for users such as mats and general home decoration items such as afghans, ottomans or even placemats. You may really enjoy this yarn as I do.
Follow the easy pattern and start making your rug today. Just because it says bathmat doesn't mean you cannot do one for your kitchen or even front entrance to your home.
Video Tutorial
More Pattern Ideas
# 4 Yarn Weight
,
Crochet Video
,
Easy
,
Kitchen & Bath
,
#4 Yarn
,
Bath
,
Bath Loofah
,
Bathroom
,
Bernat Handicrafter
,
Cleaning
,
Crochet
,
Crochet Bath Loofah Pattern
,
Crochet Bathroom Decor
,
Crochet Tutorial
,
Crochet Washroom
,
Crochet Washroom Decor
,
Easy Crochet
,
Lily Sugar'n Cream
,
Loofah
,
Shower
,
spa
,
The Crochet Crowd
,
Washroom
,
Yarnspirations
# 4 Yarn Weight
,
Crochet Video
,
Easy
,
Kitchen & Bath
,
#4 Yarn
,
Bathroom
,
Cleaning
,
Crochet
,
Crochet Bathroom Decor
,
Crochet Reusable Duster Pattern
,
Crochet Tutorial
,
Crochet Washroom
,
Crochet Washroom Decor
,
duster
,
Easy Crochet
,
floor
,
Lily Sugar'n Cream
,
mop
,
pattern
,
reusable
,
Reusable Duster
,
swiffer replacement
,
The Crochet Crowd
,
Washroom
,
Yarnspirations
# 4 Yarn Weight
,
Crochet Video
,
Easy
,
Kitchen & Bath
,
#4 Yarn
,
Bathroom
,
Bernat Handicrafter
,
Crochet
,
Crochet Bathroom Decor
,
Crochet Spa Facecloth Pattern
,
Crochet Tutorial
,
Crochet Washroom
,
Crochet Washroom Decor
,
Easy Crochet
,
facecloth
,
Gift Idea
,
Lily Sugar'n Cream
,
pattern
,
spa set
,
The Crochet Crowd
,
Washroom
,
Yarnspirations