Crochet Country Window Snow Afghan Kit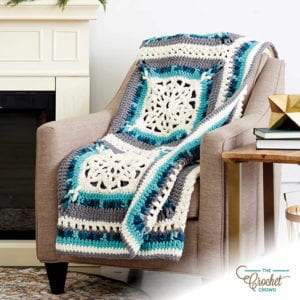 Crochet Country Window Snow Afghan Kit
Introducing my second ever exclusive kit with Yarnspirations, this is the Crochet Country Window Snow Afghan Kit. This year, I have been trending on an idea of bigger is bigger. Let me tell you a bit about that.
This kit came to be in June when Yarnspirations asked I could design a project for the winter / Christmas season. I put my thinking cap on. A kit wasn't the intention but after the design was presented, it morphed into this kit. I'll tell you more about that later.
SOLD OUT!
Only 350 kits available. This kit is on 20% off for Crochet Crowd exclusively till Sunday, Feb 25th. Please use coupon code TCC20.

Questions I Had During Preliminary Design
Many people love to do Granny Square Concepts and I do too but if there are too many squares, I can lose interest in the projects because it feels like you just never seem to make a dent in how many you need. What if I designed granny squares that are massive so there are less to do? 
I haven't seen too many projects featuring Bernat Blanket where there are motifs that change colours often. What if I designed colour changing motifs with this yarn featuring the rich colours that exist in Bernat Blanket? 
Specific calendar afghans are great but if they are too specific to calendar event such as Christmas, they force people to put them away as they become out of season for display. What if I designed an afghan that would be on display or used during a large section of a season such as winter? 
Grey is trending generally. You can never go wrong with blues. In this concept, the grey representing the window edges. What if I combined Grey and Blue together in an afghan?
Most afghans using Bernat Blanket are generally smaller to throw sizes. What if I put that generalization aside and designed a bigger than normal afghan? 
If I use Bernat Blanket Yarn, crocheters can speed through process. What if I use this yarn so crocheters don't have to do a lot of time commitment?
Crocheters prefer Join-As-You-Go concept verses sewing squares together. What if I designed this to avoid the tapestry needle?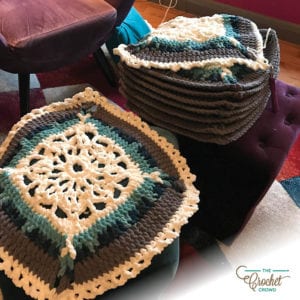 The Testing and Time Frame
With a pencil and paper in hand. Hook and yarn in the other. I began to make one square as a sample. I drew a diagram and had my laptop out to write the pattern as I had went. I frogged several times and simplified areas to make it easier to follow.
I made one square that was used as a model and then began to work on the actual project once I was satisfied with the look.
I'm an assembly line crocheter. This means, I crochet in stages so I can easily remember the pattern. The picture beside shows you the 9 squares. The ones in the pile are still waiting for the next step. Eventually, all 9 squares are ready at the same time and you can begin to assemble the afghan.
The afghan was designed as a Join-As-You-Go concept. So you see the one while round is done with a border to the square. The next square will join to this one square and so forth. This satisfies the need to not have to use a tapestry needle to sew anything together… You're Welcome! haha
Once all squares are put together, the border settles down all of the sides. I purposely tried to use as much as the yarn balls as I could without using too many extras.
The squares took me 2 days to make. So about 18 hours in all. So it wasn't too bad for timing. I was pretty happy with that.
Presentation
I was given the assignment to come up with many ideas for the Winter / Christmas Season by Yarnspirations. I went to meet up with the Yarnspirations Design Team to present my ideas. You see, when you have a meeting like this, you have to have more than one idea. Not all of the ideas flew as the concept wasn't matching exactly the plan.
I laid out the sample on the floor. I was proud of this afghan, I won't deny it. I loved it myself. The one designer said, "We really don't do afghan motifs for this yarn, that really turned out nice!" Nicest comment ever if you ask me! I felt a lot of pride.
I finalized up the pattern, recording my notes, yarn usages and much more and did final submissions. Photography was done in September and I received a phone call.
How would you like an Exclusive Kit for your afghan. Everything a crocheter needs in one kit with your pattern?
Do you think you could provide a complimentary Crochet Crowd Pin inside the kits?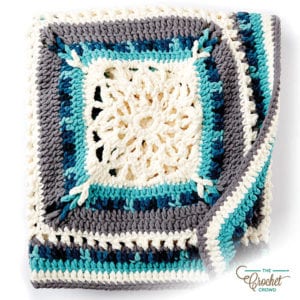 The Kit
The kit has been assembled in a limited quantity. Yarn Box Packagers at Yarnspirations have been preparing kits by assembling the yarn balls together. To cut down on packaging which helps keeps the costs lower. The balls will be assembled into 1 Big Box instead of being bagged with official printed packaging label. Inside the box will be the Official Printed Pattern.
Included with the box is the official Crochet Crowd Lapel Pin. Pin it to your lapel of your jacket or even put it on your favourite yarn tote bag. These pins are usually only ever given out in live shows.
So the kit will included the following:
All Yarn Needed
Written Instructions
The Crochet Crowd Official Pin
As mentioned, there is a limited quantity available on this exclusive kit, so be sure to order asap before they are sold out. Tutorial is not provided due to the kit being exclusive.
Finished size of the afghan is 65″ x 65″.
SOLD OUT!
Only 350 kits available. This kit is on 20% off for Crochet Crowd exclusively till Sunday, Feb 25th. Please use coupon code TCC20.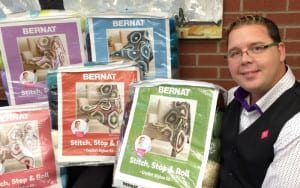 Stitch Stop & Roll Afghan
Last time we did a kit, it was the Stitch, Stop & Roll Afghan Kit with our friends at Yarnspirations.
The exclusive kits are sold out for this one but you can still get the free pattern and pick up the yarn through Yarnspirations or your local store. The kit had 10 balls of Bernat Super Value inside.