The Crochet Crowd – Coming in 2018
Coming Ahead in 2018
Welcome to 2018. Daniel and I are now settled in Nova Scotia. We are ready to kick off another year of crochet. A fresh start in every sense of the journey.
We were already in pre-planning mode prior to this year to bring forth some new adventures.
Here are some previews of what you can expect:
We try to keep crochet fun and relevant as it's a hobby that lasts a lifetime.
Yarn Giveaways
As usual, we will be hosting some yarn giveaways during the year. Some just comment to enter and others are crochet challenges where you can submit a picture of your finished for our official photo galleries.
New Yarn Releases
Every year, there's always new yarn by our friends at Yarnspirations. I only know of one that is coming up really shortly and you will learn about it first here at The Crochet Crowd. I usually find out about new yarns a week or two before they released to the public. So I am excited to see what more is coming down the pipeline. So you can wait along with me to see what's brewing.
Stitch Alongs
For those who enjoy Stitch Alongs, we are joining our friends again at JOANN Fabrics & Crafts again this spring for another mystery. The designer is currently working on the concept. I only know the concept and haven't seen a finished design of it yet. The yarn will not be in Bernat Blanket this time around. You have to wait and see. This design is set to challenge you but leave with you feeling proud of yourself too! I'm kinda jittery about it myself, I've not done anything like this before! I love when it's new for you and I at the same time.
Fun Community Activities
We will have challenges coming up with prizes for lucky people who participate. We enjoy the community environment on Facebook and will be engaged with you.
2 Crochet Cruises
We will have 2 crochet cruises this year. One is completely booked for the Southern Seas for an 11 day crochet cruise. To the deep southern Caribbean. A relaxed paced cruise. Departing in February 2018. Next up, and may still have space is the Alaskan Nautical Twilight Crochet Cruise. Paired with 24-7 twilight as it never gets dark in June.
We have planned the next 3 cruises after these two. New Orleans Crochet Cruise, Bermuda Crochet Cruise and Panama Canal Crochet Cruise. Consider cruising with us.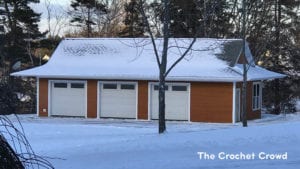 The Yarn Studio with The Crochet Crowd
New for Fall 2018 is The Yarn Studio with The Crochet Crowd. This is a studio that is apart from our home here in Greenwich, Nova Scotia. We have plans to invite the public for stitch socials and for exhibit creations together as a community.
We are planning to launching in the Fall 2018. We need time to paint and prepare the studio with workshop supplies, tables and more. You can read more about this endeavour here.
We've Moved & Ready To Serve
We managed to unpack our moving truck in only 4 hours. It took us 2 days to unpack the entire house, yarn included. Listen, when we have goals, we power through the process. My new working space has plenty of light which I didn't have before.
I know for many people, the amount of yarn I have is crazy. Yarn, to me, is like a painter with paint. You cannot paint if you don't have the right colours or products to play with. So I have a variety of yarns. More popular yarns, I have more of. I'm not stranger to doing giveaways, so I have the yarn here to be able to box up yarns for giveaways.
And no, the yarn isn't for sale. It's my personal collection. Daniel complained while moving in about how much yarn I brought with me. I did remind him about his landscaping equipment. Suddenly we were even. His stuff was heavier to boot!
Creativity sparks at any time. You have to have the yarn on hand to suddenly film a tutorial or two. Yarnspirations can holler and ask me to push something into my schedule, so chances are I have the stock already instead of worrying about finding the yarn and waiting for delivery.