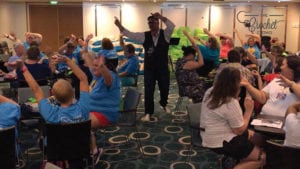 Crochet Cruises 2022
Crochet Friends! Let's hook on the high seas once last time with The Crochet Crowd. Over the years we have had amazing times and met amazing people, And in all honesty, we feel deeply fortunate that hundreds of crocheters have developed long-lasting friendships and gain the confidence and love for crochet. As we wrap our hosting and event planning, we want previous crochet cruises and a whole lot of new crochet cruisers to join us for a BIG celebration.
Last 15 Seats are Available for July 2020 for Alaska
https://www.youtube.com/watch?v=P69EeN1bC_0
We have final space available on the Fiji Crochet Cruise
https://www.youtube.com/watch?v=rsCttWeb0Mk
We have picked two, 7-day cruise, both in the Caribbean. You can do a Back to Back if you wish. Our first ever Crochet Crowd Cruise was in the Caribbean and we felt it would be a great finale to do the same. Also personally, we love the new Edge series from Celebrity Cruises. The food is outstanding, the spaces are amazing and the vibe is perfect for a wonderful bunch of laughing and happy crocheters stitching' their fun in a cruise ship on the tropical sea.
We have lots planned for these events. Plenty of yarn, lots of gifts, lots of specials gatherings and most importantly the open arms and kindness that all of you bring and will share with each other.  So let's hook! Let's party! & let's show that we are truly a wonderful and giving crochet community!
CFFC (Crochet Friends Forever Cruise)
The Crochet Cruises, since 2014 has been hosting between 2 – 3 Crochet Cruises a year. What sets our cruises apart from other events is the level of excitement mixed with a structured event where skids and skids and skids of yarn have been shipped to the cruise ship ahead of time.
Over the years, cruisers have labelled themselves with their newfound, sometimes long last new friendship as the CFF's (Cruise Friends Forever). This is our last year to ship so much to the ship ahead of time and calling this chapter of our arranging to a close. This is not farewell, but let's see what else we can do in the future. We have future plans for other events.
CFFC
The two final voyages are back to back. What that means is simple, you can stay on board and go again as our team does. We have flown to Florida already, why not stay on the ship for a second run to see the other side of the Caribbean? For back to back cruises of our past. When back to back is offered, about 30+ people stay on board, we expect it could be more in this journey. At the end of the first cruise, regular passengers stress out in having to leave, but a back to back cruiser is relaxed and gets literally an extra day to be on vacation without having to rush. It's awesome. About 100 – 200 passengers stay onboard a cruise ship between cruises.
For back to back cruisers who are staying on board for the second week, we are offering a $100 USD discount from your activity package. So back to back cruisers it is $800 USD.
Pricing
Our agent books all levels of cabins for our party. We have allotted space on the ship to fill with our blocked cabins. Once inventory is gone, we can request more, but the price is most likely affected. The quicker a cruise ship sells, the more costly it can get. It's best to book early. 
Locking in your booking with a deposit guarantees your rate. Please note, different levels of cabins have different perk opportunities, those perks can change at anytime so once you book, your perk is locked in.
Our pricing includes everything. The pricing is per guest. Pricing that you see will be for your cruise, all taxes, gratuities and the classroom fee. Please note that if your travelling companion will not be doing the classes we will deduct the fee from their cost. This includes family or friends who are coming along for the ride. Our workshops are about 1.5 hours long, so we don't occupy all of your time onboard.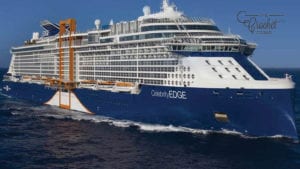 Celebrity Apex is our Home
Celebrity Apex will be our cruise ship for this duration. In fact, it doesn't begin service until April 2020. At the time of publishing, it's still in the final stages of being made.
Daniel and I have travelled on Celebrity Edge. With a patented new haul design that looks unusual, the ship glided through the water as if we weren't even moving.
Cabins that used to be balconies are now fully closable. So if you want a balcony, lower the automatic window. During rain, the ship will automatically close all windows on the ship. The ship is more efficient in aerodynamic design due to the new structure of the windows being able to close.
Your room is controlled by your cell phone. From ambient lighting, closing the window, temperature and even TV controls. It's pretty awesome.
The ship has more air space such as the grand buffet, almost double the height of a normal ship's ceiling height. You feel more relaxed in an open space. It's really an incredible ship.
Celebrity Edge (Sister to Apex)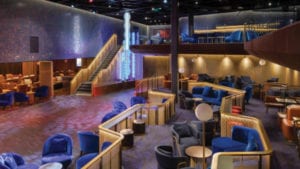 Crochet Cruise Conference Space
With newer ships, conference spaces have been omitted or significantly downsized. The conference space on board in this ship is too close to the performing stages. During a ship tour, we noticed that would be a problem for our group. Also, the room is too small. There are always solutions.
We have rented the Club. A multi-level, multi-functional space on board. It will be one of the biggest venues we have ever hosted.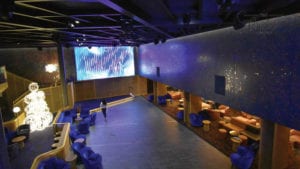 Complete with the mega screen, space can convert to workshop tables on the open spaces, plus, we can use the entire space from the lounging sofas.
We are super excited and we hope you will be as well.
Keep in mind, Celebrity Cruise Lines is a non-smoking vessel (on the interior of the ship), so while the club is a night club in the evenings, there is no smoking inside this space that will linger during our time.
Join us for the CFFC Cruise. We are going to be changing gears for something new starting in 2023.