Cruise Questions
These are frequently asked questions and extra information you may need to consider this event. Of course, if you have any specific questions for our agent, she is happy to help.
---
How does the pricing work? 
Crochet Cruises Charity Projects

During the initial launch of an event, all cabin levels are pre-assigned to our party by the Cruise Line. This means you can choose the level of the cabin that matches your budget the best. It also means, there is no flat rate for each person as your cabin level is the determining factor.

We are limited by the inventory on the ship. As our event is selling, agents are also selling cabins on the same vessel. This means, the earlier you book, the better chances you will get a cabin level you most prefer.
As inventory runs out on the ship, any remaining unsold cabins have to be returned to general booking. In past events, sometimes our event is closed for booking when cabins are no longer available. We cannot take you if you do not have a place to sleep.
---
Who pays for the airfare and pre or post-cruise hotel if needed?
Crochet Cruise Airflight

For most of our events, Sherry will work to securing a dedicated meet-up hotel location where passengers will gather. Sometimes 1 - 2 days ahead of the cruise. Most people come in on the day before the cruise and stay at the hotel overnight to go to the cruise terminal together as a group. 

Not all passengers require airline tickets and some passengers are local to the cruise terminal where they don't require hotel stays. We do not include this in the cost of our event for this purpose. Depending on where you live will dictate the cost of the airfare.
You are responsible to book and pay for your airfare.

Crochet Cruise Hotel

Dedicated hotel and transportation to the cruise terminal is an add-on if you wish to take advantage of it. You will need to book through our dedicated portal to secure our discounted hotel group corporate rates.

Like the cabins on the ship, there are only so many hotel rooms available and will be only offered until the rooms are sold out.
Due to corporate rates for the hotel, a minimum of 30 days notice is required for cancellation without penalties.
To gather information about the cost of the airfare, use the internet to look up general pricing to get an idea of budgeting this cost.
Strong Recommendation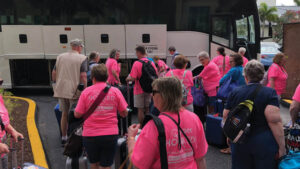 The cost of the pre-cruise hotel is peace of mind. Booking air flights for the same day of departure leaves you at the risk of any air flight delays and missed connections. Also, if your luggage goes missing, there is no time for getting your luggage located and redirected. There is no time to go shopping for new clothes.
We have had passengers miss connections and be stuck in an airport as we have left on the cruise already. We've had luggage go missing. This isn't hypothetical, but a reality of travelling, especially during the winter months.
We do not make arrangements to pick you up at the airport. So you have to factor in time to gather your luggage and get transportation to take you to the cruise terminal.
---
What time should I book the airfare to arrive and depart?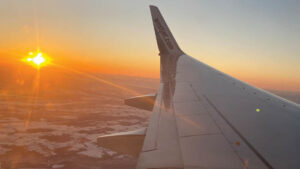 If you are arriving on the day of the cruise departure and the cruise line departs around 4 pm. You should get to the destination airport no later than 11 am. This will give you enough time to collect your luggage and get to the cruise terminal. The cruise terminal will be busy.
If arriving the day before the cruise, you can arrive anytime.
When departing at the end of the cruise, your flights should be no earlier than 1 pm for departure.
Keep in mind that we are not the only cruise ship trying to offload at the same location. There can be literally 10's of thousands of guests trying to get to the airport, checked in and trying to get onto the flights.
I have seen people miss flights as they booked way too early and didn't get off the ship and transferred on time. This is your responsibility and you will see people losing their minds realizing they booked too early and they aren't getting off the ship fast enough to make their departure time.
---
How do I search for pricing and/or book?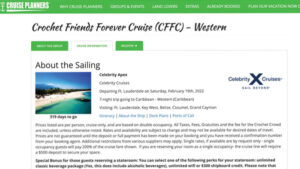 Each event has a booking button to forward you to our agent's booking page. It looks similar to this but for the actual event, you are looking into it.
The bookings are transparent in actual true costs to go. The pricing includes taxes, fees and gratuities. Generally speaking, cruise lines advertise a lower price but when you book, you get the reality that they didn't include the extra fees required to go.
For Cruise Cruises, we have an activity fee that goes towards the operation of the event that covers the expenses. We are transparent about this fee and aren't buried into the cost of the ticket.
However, if you have a friend or family member coming with you that has no intention of crocheting, the price you see includes the activity fee. Those non-participating members will have their cruise tickets discounted back down to eliminate the activity fee.
Keep in mind these guests will not be receiving any swag, eligible for the raffles and may not sit in the conference workshops during our meet-up times. They are welcome to join you any other time. If we have T-Shirts for the party, you may purchase an extra shirt for your guests directly from our agent.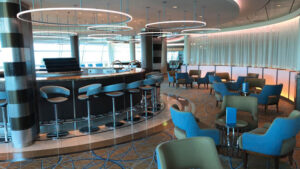 Once You Have Decided To Go
Fill out the Registration Form with all details.
Sherry will receive your booking registration and call you on the phone to speak to you directly.
Your credit card will not be charged until Sherry speaks with you to confirm your booking and go through the cruise ticket booking with you.
Once done, you are considered booked and will be asked to join a private group on Facebook for communications between us and all registered guests.
Rates are per person based on two people cabin. Cabins can hold up to 4 people but it does get crowded.
Single Supplement Rate applies to those travelling solo.
Cabins are subject to first-come, first-serve basis. Act quickly to secure the cabin you want.
There are modified cabins for wheelchair/scooter-accessible cabins that range from inside cabins to sky suites. First come, first serve. Please advise the agent immediately to reserve a modified cabin if required. We cannot guarantee these rooms will be available as we are no allowed to block these rooms in advance without a concrete booking.
Please note that pricing includes all taxes, fees, gratuities and the activity fee to The Crochet Crowd. If your roommate is not participating in the activities a deduction will be taken off their cruise ticket price.
Rates do not include travel insurance. Our agent needs your birthday and cabin choice to customize the quote for travel insurance if you wish.
Rates are subject to change without notice. Rates on the Cruise Planner Form are final.
When speaking to our agent, you can opt to change your deck levels but be advised it can change your room rates.
Prices are in USD.
---
Do I need to buy travel insurance?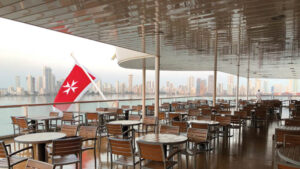 If you are going to buy travel insurance, it needs to be confirmed during the time of booking. You cannot add this on afterwards.
Technically, you can say no. In some cases, it will be mandatory to purchase.
Having done this for years, we have had to leave guests in a foreign country who had an illness happen while on the ship. This means the costs to get medical treatment, transportation and get yourself home are on your shoulders.
Our agent, Sherry, will assist to connect you with your insurance company and make arrangements to be able to call home from the ship and more. If you do not have insurance, Sherry will assist the best she can but the costs of the incident will be up to you to cover in real-time. 
---
How do I handle a cancellation?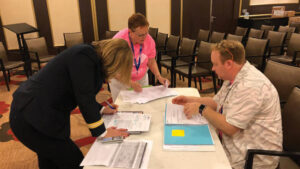 When signing up for this event, a contract between you and the cruise line is established with our agent.
There are no penalties for a limited time before the deadlines start. You need to contact our agent directly to arrange cancellation but note the cancellation fee, if applicable, is beyond her power to override.
Should a medical emergency occur and it prevents you from going but past the deadline, you will still be on the hook for the cruise ticket. Having purchased travel insurance with an approved doctor's note will be beneficial.
We also spend advanced preparation time to package up and prepare ourselves. In some cases, we cannot get our money back as there are advanced payments required which include ship services fees that our event will have to cover. They are paid in advance knowing you are committed to going and we have paid your portion knowing you are coming.
---
Are excursions included in the price?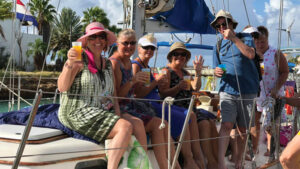 The quick answer is no.
Not everyone is interested in the same excursions. In some cases, many options are given at the same location to tour.
Bus transportation, snacks or meals and the tour itself are pre-booked for our party. We are usually kept apart from other tours as a private tour.
We started a new tradition of a Catamaran Tour that is very lovely. Involves drinks, dancing and just a fabulous time.
---
Do we guarantee a good time?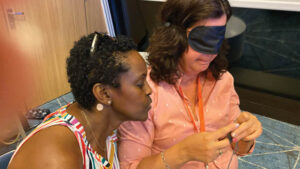 No, that would be silly.
Your attitude plays a strong factor in participation and acceptance from others.
We do game playing on board with the intention of it being a social mixer to get to know more people. To generally laugh and share creativity.
Several people come with a friend(s) and may stick together as a friendship circle on board. We've learned not to break up those circles on board unless they are open enough to split off once in a while for social engagements.
---
Can you find me a roommate?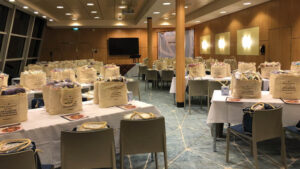 The quick answer is no.
We have learned through experience that not everyone is meant to be in the same cabin together and paired during meal times.
If a roommate that you don't know cancels, the burden of the entire cabin costs falls onto the remaining guest, which could be you. It can double your costs instantly. We have seen in the past people cancelling and leaving the fees onto the remaining person without much regard to the financial stress it puts on the person. It's better you know the person you play on sharing a cabin in advance so you are dependable and will communicate privately if there is an issue arising that may result in cancellations.
If there are medical considerations in play, you will already know about it before meeting each other for the first time.
---
Any other questions?
Please speak with our agent through email for documentation.
If you have special needs such as needing help renting a scooter or medical equipment she can help.
If you have special dietary needs, Sherry will ask you during the booking.
You will be assigned early dining around 6 pm each evening with our group.
Yes, you need to book through our agent to attend this event. She is coordinating this all for us and will keep you together with our booking.
---
Agent Contact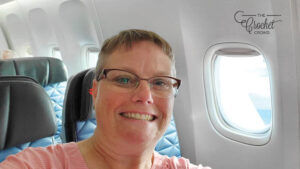 Sherry Leybovich ECCS, LCS, CTA. Sherry is in Florida & works on Eastern Standard Time Hours.
Toll Free 888-464-1827 ext 101
Local (Florida), 813-657-0844, fax 813-657-0854