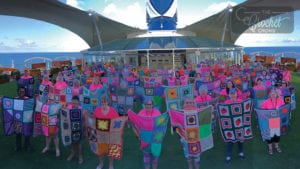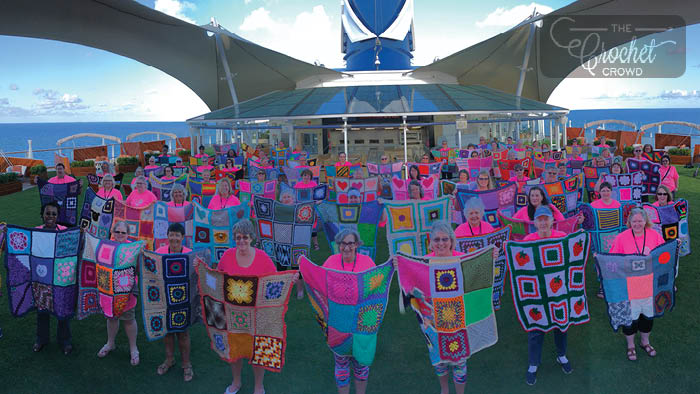 Crochet Cruises: Charity Project Goals
Cruising and crocheting go hand-in-hand, at least to us. While we all benefit from a vacation that is infused with crochet, we cannot forget others who cannot afford a vacation or even the basic necessities of life.
Since our conception in 2014, we have felt strongly that charity crochet is an integral part of our programming.
The charity project was the last session on the cruise. The cruisers were so engaged but were frantically running out of time to work together to finish. Hindsight is always 20-20. We are also learning better ways to present ideas as we grow.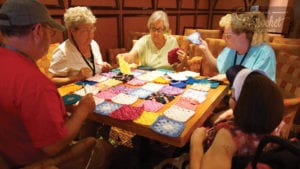 The cruisers made the charity project engaging and it captivated the spirit of our stitchwork. We realized at the end of our inaugural cruise that it was the charity project that really captivated the spirit of our stitchwork. In fact, we find our crocheters will be offering testimony all week to those who inquire about their projects while on board.
For each of the cruises, we hand out homework for the up & coming cruises about 4 – 6 months early so that cruisers can find time to make the homework to bring with them.
Some of the crocheters in our party can crochet from sun up to sun down. Others prefer their crochet be time fillers in between the ship's entertainment. Crocheting can be done quickly if you are not distracted but add in up to 100 crocheters into the same space. We know the limits of what a crocheter can actually get done on a ship.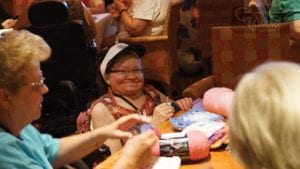 Importance of Pre-Cruise Homework
Doing advanced homework allows the crochet to cruise with a steady hand verses feeling rushed to get major crocheting done on board. The biggest labour intensive part of the project is already done.
It also creates pre-cruise conversations in private cruise groups to cross compare homework and assistance for help in advance.
It allows crocheters to exchange squares with each other to maximize the charity element of participation.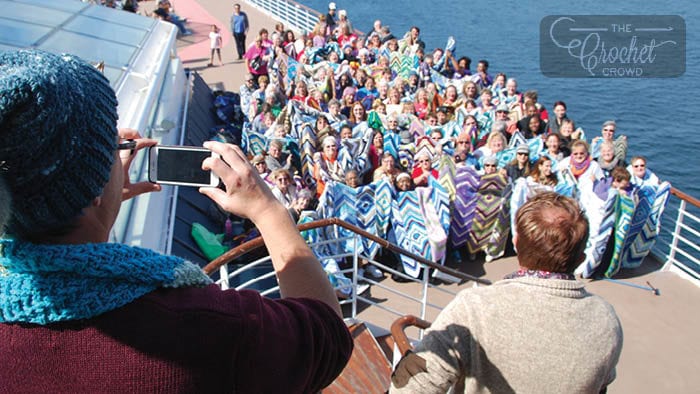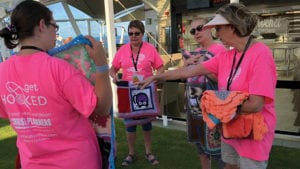 First Years of Crochet Cruising
Being on a cruise ship with 3 – 5,000 passengers means that each square foot of space is a hot commodity. Taking our group photos is done beginning at 7:45 am to 8:15 am while other passengers are still climbing out of bed.
Getting volunteers to want to be up that early for the photo was a challenge for many. Also, the crocheters worked on 1 blanket in mini-groups instead of each cruiser having their own afghan.
Other Cruise Charity Projects We've Done
While you can see all of the cruisers working on their charity blankets during the week, it's not until the photography day that you can see all of our stitchwork together as one unity project.
Cruisers are busy looking for their own charity squares as cruisers don't always know who takes their squares. Today's crochet cruisers are excited, generally speaking, about getting up early for the final photo. They want to see all of their work together. It's the main highlight of a crochet cruise.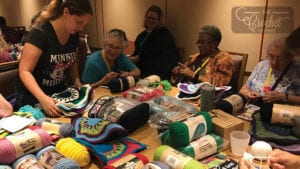 Coming Prepared to A Crochet Cruise
The pre-homework is designed to push boundaries to the crocheter who will be attending. A tutorial is filmed to show the crocheter who needs visual help.
Cruisers will be encouraged to exchange their squares with others on the ship to create a true community blanket.
Once the exchange happens, we will supply the yarn so you can finish your blanket.
It's so important that each cruiser completes their homework for the success of the program. 3 of the beginning meetups are solely focused on this project.
This project also is used as an ice breaker to get to know your neighbours as conversation and engagement between passengers is strongly encouraged.
In all cruises with exception to Mardi Gras 2019, we have had an abundance of squares so that crocheters could equally exchange their squares and participate. Exchanging can only happen if each cruiser brings their homework with them. It's important as the skills for the borders are part of the learning process.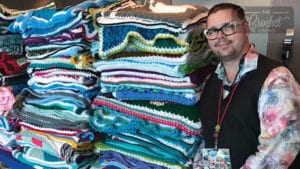 Giving The Option
For 2019 and beyond, cruisers no longer are required to leave us their afghan so they all go together in groups to designated charities. We have found that cruisers prefer to choose their charities or recipients. So each cruiser will take home their finished project.
We are no longer collecting blankets at the end of the cruise. Getting the boxes off in bulk is a big to do for the cruise lines. Also, we have struggled on several cruises to have a charity come meet with us to pick up the blankets.
With our new option, our blankets can get distributed internationally which benefits more charities and recipients than just one concentrated group.