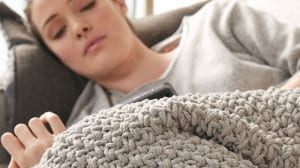 Crochet Hibernate Blanket
Hibernate yourself with a snuggly blanket to tuck yourself into the sofa. Using Bernat Blanket Yarn that is thick and quick to crochet, introducing the Hibernate Blanket by Yarnspirations.


The stitchwork demonstrated is called the Mesh Stitch. We have existing tutorials to show you the technique on how to achieve this look. Once you see the tutorial, you will learn how fast it is to crochet one of these blankets.
For the tutorial, I am demonstrating a baby size version, just use the pattern to substitute the starting chain width and follow the instructions for ball counts and more.
The advantage to Bernat Blanket Yarn is that you have the thickness and warmth without being buried under a lot of weight.
Pattern Suggestions
Video Tutorial
Crochet Afghan Pattern Ideas
1

2

3

4

5

6

7

8

9

10

11

12

13

14

15

16

17

18

19

20

21

22

23

24

25

26

27

28

29

30

31

32

33

34

35

36

37

38

39

40

41

42

43

44

45

46

47

48

49

50