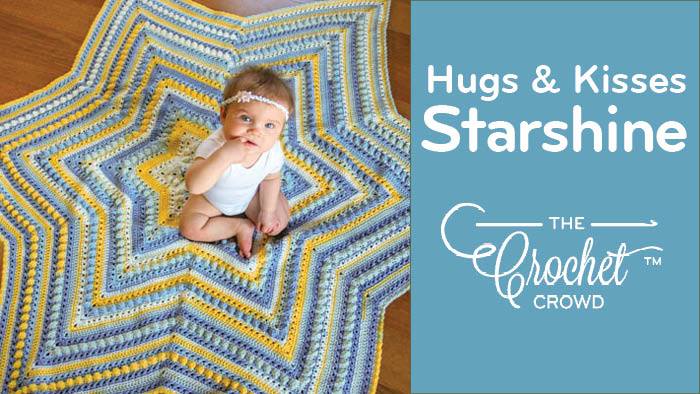 Crochet Hugs & Kisses Starshine + Tutorial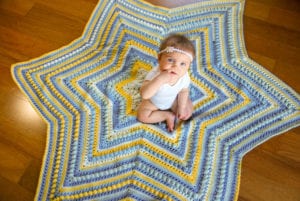 Crochet Hugs & Kisses Starshine Afghan + Tutorial
I am very proud to introduce to you the 7th in the Hugs & Kisses Series of patterns, Starshine!  This was very challenging for me to accomplish but I promise you, the pattern is not hard and it's fun because you change stitches enough to keep your interest.  Honestly, as it grows, you will not want to put your crochet hook down.
I went with a 6 point star based on how much I love the look of Mikey's Fluffy Unicorn Blanket and at the very beginning is started the same way.  But that's where is ends.  You will love the cross stitches and popcorns as it created a texture that you can't keep your hands off of.
I used 4 Caron Big Cakes in Jordan Almonds to crochet my blanket.  I let the colors just flow as they like, but you can stripe it in your favorite worsted weight yarn, or it would look lovely in a solid color also.  You are the artist!
Bernat POP! Yarn is another great option for crocheting this blanket.  You can see Mikey using it in the tutorial below.  Check out his lovely color changes as he hooks this up.  You would need 9 balls of this yarn.
TIPS
The pattern has a repeat of 7 rounds shown in the tutorial from round 6 – 12. Once you complete these rounds, go back to round 6 and begin again.
Watch for Rounds 10, 11 and 12. The points are different so the afghan remains laying flat.
This lovely yarn just made me so incredibly happy as I hooked along and I would lay the star-shaped blanket out and feel like it was more like a warm sunshine looking up at me, hence the name Starshine.  Once I completely finished it, the old song from the 60's kept rolling through my head, Good Morning Starshine, the Earth says, "Hello".
I can't wait to see your crocheted versions of this fun project.  Be sure to post them on our Facebook wall and Mikey just might share them.  And if you have any questions, ask away in our Facebook Stitch Social Group.  You can always tag me and I'm happy to help.
CLICK HERE to download a printable pattern.
Errata
4/28/18 – Round 37 should say:
Rnd 37: Sl st in next st, ch 3, X-st 19 times, (2 dc, ch 2, 2 dc)
in ch-2 sp, X-st 19 times, dc, dc2tog, *dc, X-st 19 times, (2 dc,
ch 2, 2 dc) in ch-2 sp, X-st 19 times, dc, dc2tog; rep from *
around, sl st to beg st. – 228 X-st, 42 dc
7/5/18 – Round 43 should say:
Rnd 43: Sl st in next st, ch 3, dc in next 47 st, (dc, ch 2, dc) in
ch-2 sp, dc in next 48 st, sk 2 sts, *dc in next 48 st, (dc, ch 2,
dc) in ch-2 sp, dc in next 48 st, sk 2 sts; rep from * around, sl
st to beg st. – 588 dc
Tutorial
Sample Pictures
More Hugs & Kisses Projects