Crochet Jewelled Snowflake + Tutorial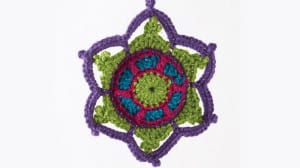 Jewelled Snowflake
This absolutely stunning Jewelled Snowflake Ornament is fabulous and one of the most exciting patterns I have done in a long time.
I love how this ornament sparkles with Caron Simply Soft Party Yarn but also that it is three dimensional. The interior circle has thickness as there are two centre motifs put together to give it weight and structure.
You could put pot pourri in between the two centre motifs for air scenting. I definitely wouldn't put Cat Nip in this as your cat make go rangy all over your Christmas Tree.
I felt in this patter that if you don't have the hanger made, it would be an amazing topper for prepackaged gifts like tin cookies or even hang from the neck of a bottle of wine or champagne.
This pattern isn't too complicated and I have made some slight changes to the pattern in finishing each round completely and re-attaching the yarn for cleaner looking lines. I get confused on counts and I find finishing rounds completely allow me to have a fresh restart. I will leave that to you and the video tutorial is taught in such a way as well.
Video Tutorials Below