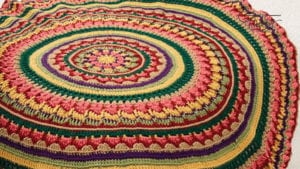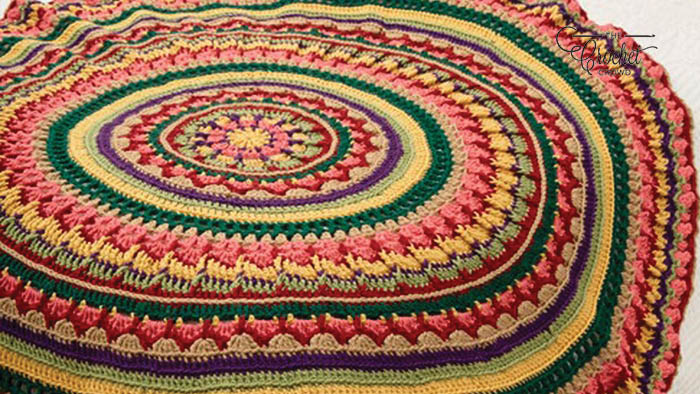 Crochet Mandala Stitch Along
We are kicking off 2020 just a week early on Boxing Day, Dec 26, 2019, with the Red Heart Mandala Throw Pattern.


Technically speaking, the pattern is already out in the public domain through Yarnspirations.com. So crocheters can start at any time but the video tutorials will be timed to match the crochet along schedule. We do larger projects in increments as more people can have a success story when we work as a community together.
Mikey's Version
Bernat Super Value, A – Topaz, B – Navy, C – Aqua, D – Lush, E – Teal, F – Taup & G – Forest Green.
Please note that I subbed round 48 using B instead as I ran out of C to be able to do that. It is the only round I substituted a colourway.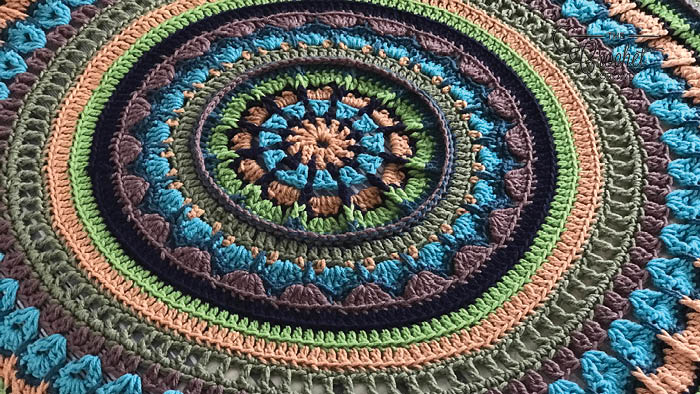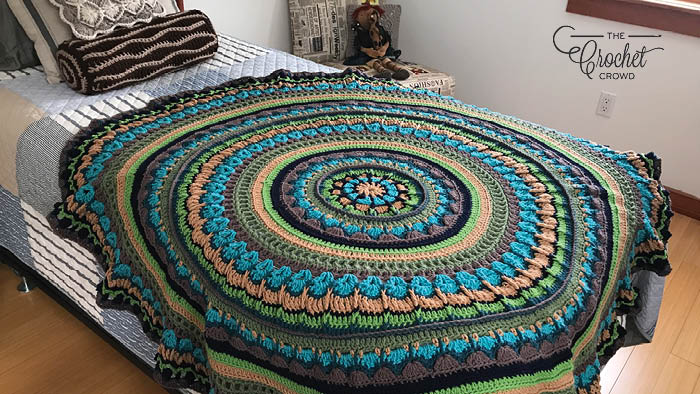 It's time now to choose your colours and get yourself ready. We will have prizes for finished examples. If you have already done this throw, you can still qualify as you put in the work already.
Playlist Tutorials for this Series
Mandala Worksheet – 2 Pages
To help with this amazing throw, I have made a worksheet that will help you get started. You can download/print the worksheet to use at any time. Page one has tips and marking in which colours you have selected. Page 2 has what Mikey will be using plus an empty colouring book-style option to draw in your own colours to test try ideas.
Alterations
I ran out of yarn using Bernat Super Value for Round 48. I frogged and

subbed C for B

. It's the only round I went out of colour sequence. I looked at remaining ball colours and the last two rounds left and determined I didn't need to buy more yarn, I just used what I had.

Colour B is actually Navy.

I have Marine on PDF but that is French for Navy.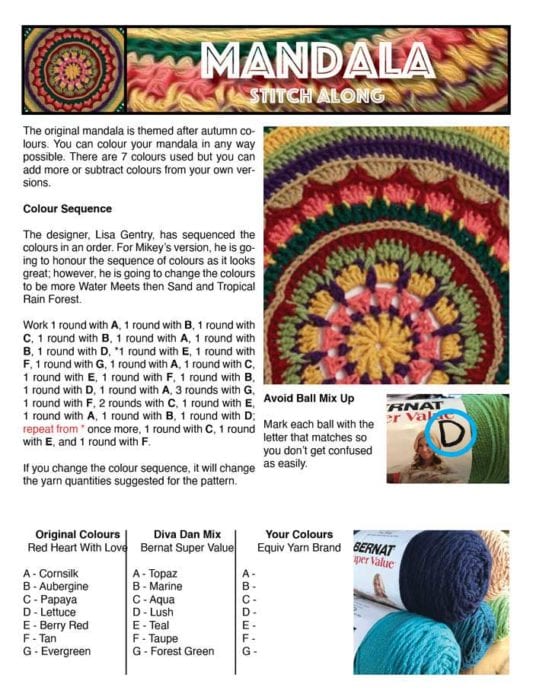 Tutorials
A brief introduction to what a mandala is.
Mikey will provide the tutorials in 4 weeks starting on Dec 26th. Crocheters will learn how to read the diagrams and be able to follow on camera.
Do yourself a favour and do the gauge test. If your afghan isn't sitting down at some point and you never ran a gauge test, you may just regret getting started. See the worksheet for tips. Mikey will have a gauge testing video in the future for this as well.
Rounds 1 – 10 Week 1
Rounds 11 – 25 Week 2
Rounds 26 – 40 Week 3
Rounds 41 – 50 Week 4 Final
This is intended for a fun community challenge only. We each are deserving of the highest praise possible for our own creativity. Let's have fun.
Photo Gallery

Pattern Suggestions
Past Stitch Alongs