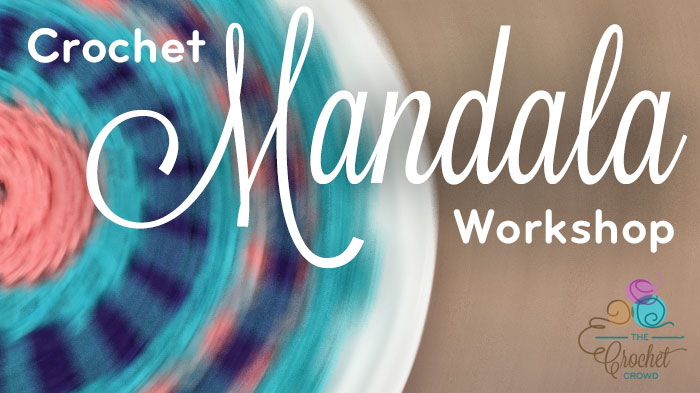 Crochet Mandalas Workshop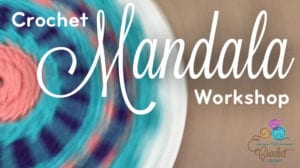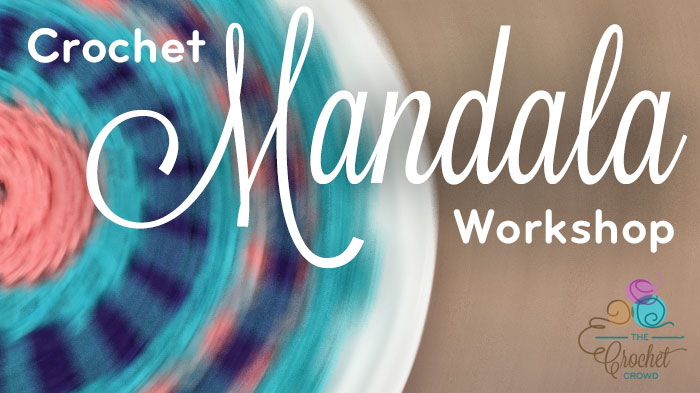 Crochet Mandalas
Beginning soon is the new Crochet Mandala Workshop by Mikey of The Crochet Crowd.
The Crochet Mandala Workshop will be an interactive course which will involve receiving free patterns designed by Mikey with free video tutorials to compliment the Mandalas so that crocheters can see the steps involved if reading patterns isn't a crocheter's specialty.
Crochet Mandalas are primarily circle in shape. They involve playful colours to create interesting geometric designs. The colours Mikey has chosen were something Diva Dan picked out from our collection of yarns. We expect crocheters will improvise and change the colours to suit their own personal tastes.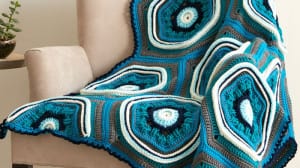 Last year, Mikey designed a new afghan that involved a large circle that would start off round and slowly convert into a hexagon shape. The afghan motif took about 14 hours to design the circle to hexagon shape. You may recognize this afghan as it's called Stitch, Stop and Roll Afghan.
Mikey over the years has made several free form sculptures which involve strategic math to customize a shape to an existing over lay. You may remember the Crochet Nutcrackers.
The Nutcrackers where Kevin, Karen, Daniel and Mikey created from scratch. Over a 3 month period the four crocheters crocheted a custom cover for the 12 foot tall nutcrackers. The math involved to make it work is something that achieved through experience. Over time, you get to learn how the hook and yarn work together to ensure the overlays will sit flat or achieve the custom shape that you want.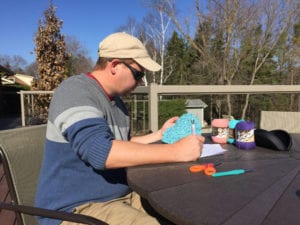 Crochet Mandalas are similar in concept of the sculptures and designs he has created in the past. It involves layering, texture and strategical calculations which can be easily duplicated when the steps are outlined in a patient and clear manner.
Yesterday, Mikey sat for 9 hours on the deck. He had created a sample done in a solid colour to understand the math involved. Using the sample and 28 years of crochet experience, he sat with his crochet hook and came up with 6 different Mandalas. Originally, the first one was considered intermediate level. The next one was an easy level. While sitting throughout the day, the idea came to be to create a potential free crochet learning workshop for those interested in learning how to do mandalas.
Throughout the day, he created all 4 levels of crochet mandalas from beginners to experienced. So the workshop would then have 4 levels of gradual progression of skills. The definitions of skills of crochet, as determined by the Craft Yarn Counsel of America defines each level with certain levels of knowledge and steps involved for the patterns. As soon as patterns behind to overlay, it then transitions to higher levels of skills.
Mikey had two goals. To teach Mandalas to all that are interested but the second goal is to not forget the beginners that would like to go to this level. The idea of doing progressive learning would make it easier for crocheters to get the ideas of repeating steps, understanding mandala growth and more. It is very possible through the workshop that crocheters will begin to improvise stitches within Mikey's patterns to design something unique. While Mikey has figured out the math in each to ensure the mandala sits flat. Crocheters, especially those who are determined, will have the ability to self create and venture out on their own. That's the point of learning.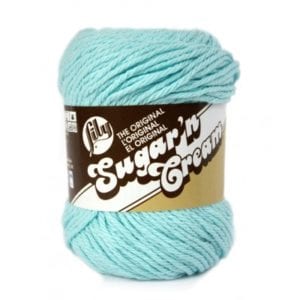 Let's Review the Patterns and Tutorials
Tutorials will be available in both right and left hand formats. I will be using Lily Sugar'n Cream throughout my series as all of these mandalas are amazing for kitchen decor for things like dishcloths and for pot holders. Lily Sugar'n Cream is 100% cotton, which makes it ideal for kitchen projects.

Crochet Mandala Workshop
Starting with a beginner mandala. We will do a simple round mandala. The idea of this mandala is to get comfortable in moving in a circle. As the circle gets bigger, repeats change to compensate for the sizing.
Mikey will be demonstrating ideas of trying to get rid of the spoke look when the growth is at the same place in every round.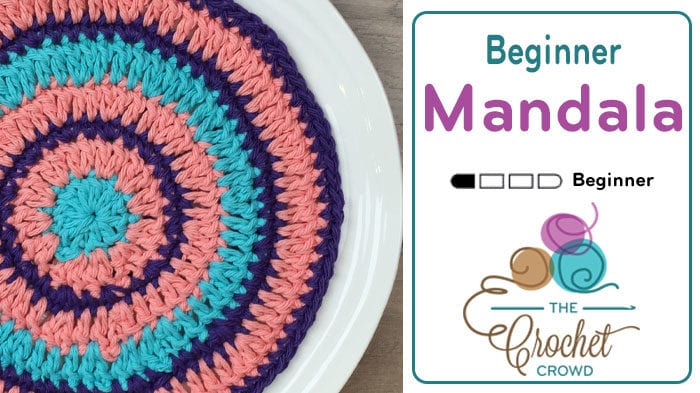 Course 2 – Easy
The next class will take you to start creating clusters to create gaps and more interesting visual effects. We will start experimenting with overlay work to create visual interest.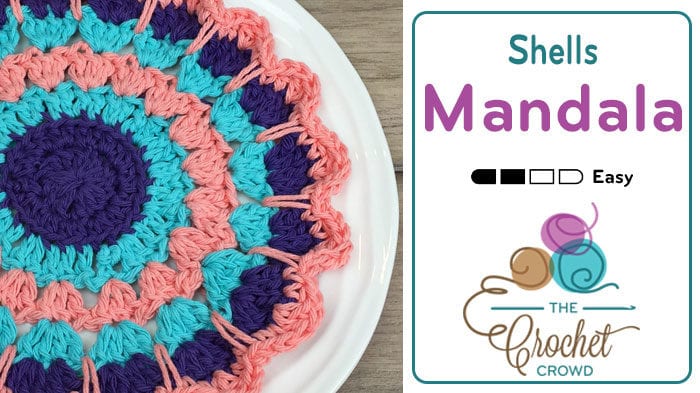 Course 3 – Easy
Still in the easy category, we are really going to break up the stitches into clusters to create the illusion of colour popping ideas. We will start doing chain overlays and experimenting with front post stitches.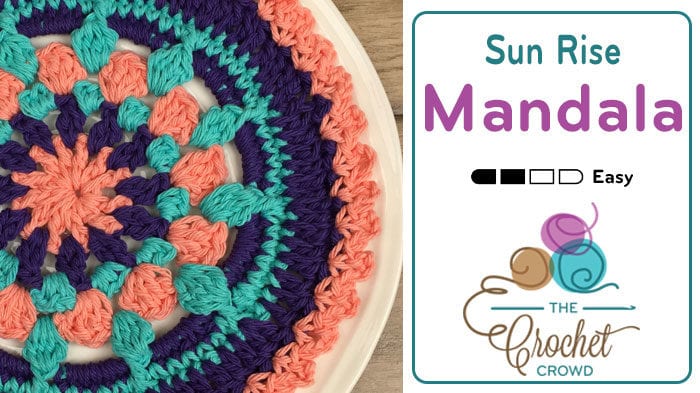 Course 4 – Intermediate
The overlaying really plays a part in this course as we really start to think about how overlays can carry out into spoke like visual effects that we can see below. In this pattern, we need to guess a little bit to get started and keep and eye on the stitch counts to remain in balance. There is significant front post work in this pattern that carry the yarn several rounds below to keep the look consistent. There is also back loop stitches going on in this pattern to help create the look.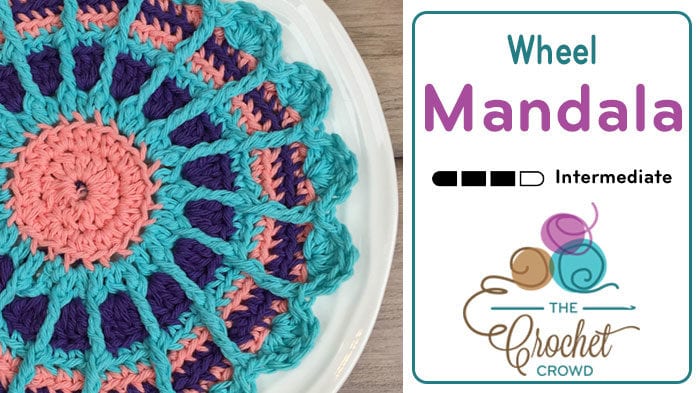 Course 5 – Experienced
Combining the idea of front post work, chain overlays and clusters, this particular design has an amazing raise ring effect in the middle. Though you cannot see it from this angle, the centre from the pink going to the very middle is pushed up flat by the stitches. A fluke in many ways in the design. The front post work in the last blue revolution gives the look of twisted fans before finishing off the mandala with the pink line and purple scallops.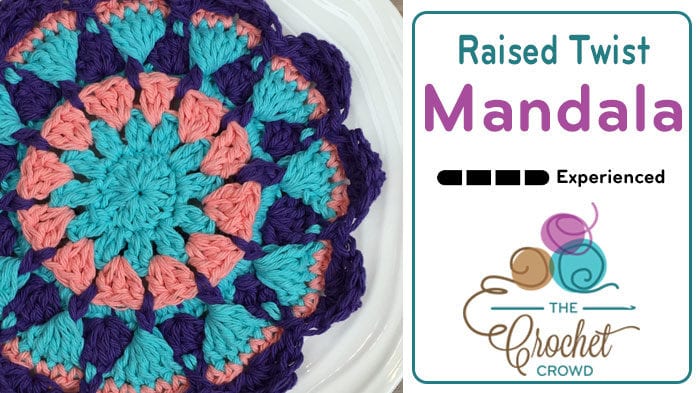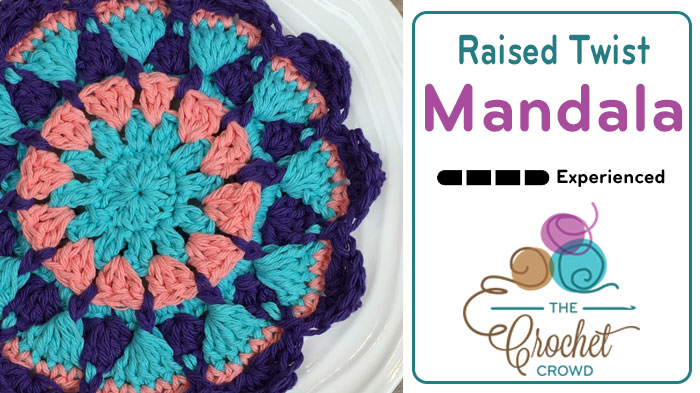 Course 6 – Experienced
Finally, the last mandala has the combinations of chain overlays, clusters, spokes, front post work and in this case modified front posts that work together to create the birthday cake piping effect seen in the pink. The playful nature of this of this design combines the classic look of mandalas.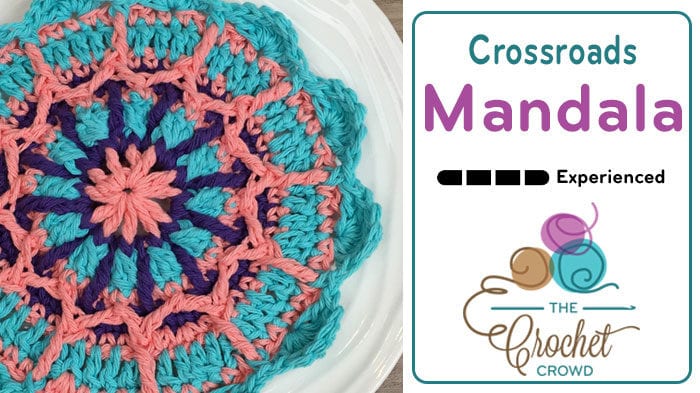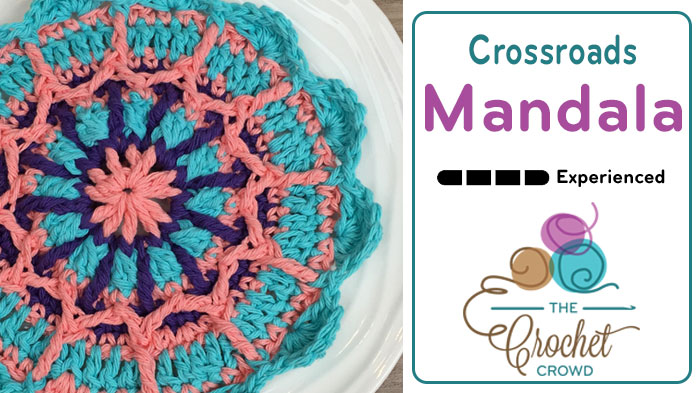 It is the goal that you will become comfortable with Mandalas as there are many great resources out there with patterns and ideas.