Crochet Mikey's Messy Bun Hat
Crochet Mikey's Messy Bun Hat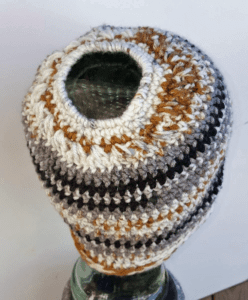 Bun Hats! Let's turn Mikey's Pom Pom into a Ponytail/ Messy Bun Hat. Are you ready?
Mikey's Pom Pom Hat  is  another hat that is modified to work as a messy bun hat.
This pattern is worked in the round, eliminating that joining seam. Nice right?
Here is what  Laura Jean  did to make that happen.
Materials Needed
Size H 5.00 mm Crochet Hook
Worsted Weight yarn  from your stash. It really doesn't take that much.
Darning Needle
Stitch Marker or length of yarn.
Instructions:
Round 1, 2 and 3 are not used. We use Round 4 as the foundation row
Round 4:  Ch 24 join with slip stitch to form a ring.
Round 5 – sc into loop  around join with slip stitch, 30 sc. Place a marker and move up every round.
Round 6 – *sc in each of next 4 sc, 2 sc in next sc; rep from * around, 36 sc.
Round 7 – *sc in each of next 5 sc, 2 sc in next sc; rep from * around, 42 sc.
Round 8 You will criss cross in this round. * Skip next stitch, double crochet (dc) into the next stitch, then dc into the skipped twice. (That makes the increase you will need) Repeat * all the way around. See tutorial below on how to criss cross.
Rounds 9 – 17, HDC in each stitch around.
Laura Jean skipped round 18 as the hat was snug enough.
Round 18, HDC around. Review your circle as a clock. At the 3pm, 6pm, 9 pm and 12 pm, do a 2 TOG DEC Stitch to give the brim a tighter feel.
For round 19:   I used the camel stitch to give a nice edge.  The camel stitch is simply crocheting not in the front or back loop but the "third" loop. The tutorial for that is here.  Optional Edging:  do alternating Fpdc and Bpdc  around for a couple of rounds.
Round 19 – Round 25, SC in each stitch around.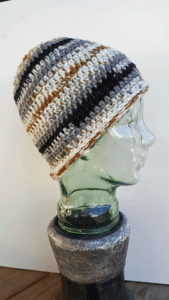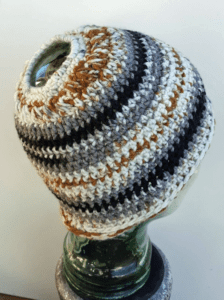 Inspire, Create and Celebrate ~ Laura Jean
Save