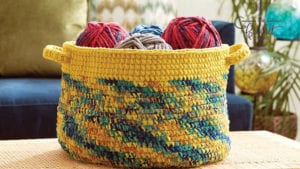 Variegated can be used for color pooling and just fun yarn projects like the Crochet Dipped Basket shown here.
Variegated yarns are great ideas for hiding things like dirt or imperfections in a crochet project. Maybe even things like pet hair or for a child, maybe some small stains.
I find them addictive to see how the colours will work together at the end of the project.
Variegated Yarn
---
Other Colours You Can Search By