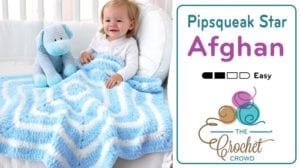 Crochet Pipsqueak Star Afghan
Introducing the Pipsqueak Star Afghan featuring Bernat Pipsqueak Yarn. This extra plush star afghan designed with baby in mind is wonderful and like the child his hugging a cloud.
Pipsqueak has been around a long time and is one of those yarns, in my opinion, that is a signature trademark of the Bernat family of yarn. Even without a label, I can easily identify it as Pipsqueak.
For crocheters, it's harder to use this yarn for those who are new to the craft as it requires you to feel your way through the project. Myself, because I look away from my project and use my fingertips to feel where my stitches are, to me, this is no obstacle for me. For those who love this yarn and like granny squares where you can use this yarn to crochet in gap spaces, this is very simply done, even for new crocheters.
Seeing that you cannot see the stitches, I substituted in this tutorial for Bernat Blanket Brights using an extra big hook. The stitchwork is identical, even though you cannot see the stitches within this project.
If you are looking for extra cuddly, extra soft and a memorable baby blanket, this may be the project for you. The tutorial below should help you get started in your project.

Video Tutorial