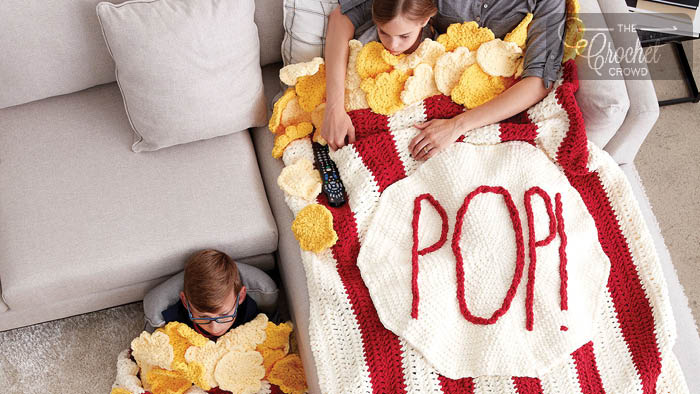 Crochet Popcorn Box Snuggle Sack + Tutorial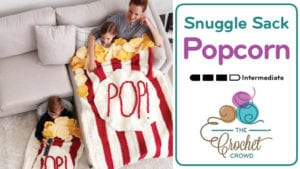 Crochet Popcorn Box Snuggle Sack
I flipped out the first time I saw the Crochet Popcorn Snuggle Sack by Yarnspirations. I mean seriously… how vintage is that! Totally perfect for a night on the couch to binge watch on Netflix or other cable tv programming.
More Snuggle Sack Ideas
I loved this so much, I did some extra embellishments that I shared in the tutorial. For example, I changed up the way the popcorn sits on the top of the box. I also added some extra yarn for the "Pop! Label" and made my version a little more over done. I was so inspired by this project… I just couldn't help myself.
It totally reminds me, and this is before my time going to the movies, but the "Let's All Go To The Lobby".
The project is made up of two panels that have the striping. There is a small taper in the red strips only. Making it very easy to remember. I show you how to cheat the pattern a bit too in the tutorial without excessive stitch counting. I made my version a bit bigger than the kid version by adding an extra red strip on both sides of the box.
I also added popcorn to the back of the box too! You will see at the end of the video my pictures of construction and changes I did. I did up 45 kernels and just loved this project!
To me, this snuggle sack is timeless. A perfect gift for children and there is an adult size for those would want to Curl up on the couch with someone else!
Tutorial