Reading Time:
< 1
minute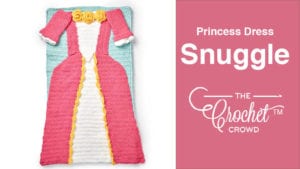 Crochet Princess Snuggle Sack
Strong in crochet trending right now are outfits that are worked into a blanket. In this case, the snuggle snack has an overlay of a Crochet Princess Dress.
Yes, the sleeves are useable for a child. The child crawls inside and it appears they are on the sofa with a full princess dress on.
I am guessing this is going to be much requested by kids to have for this coming Christmas.
More Snuggle Sack Ideas