Crochet Stars & Stripes Forever Wreath + Tutorial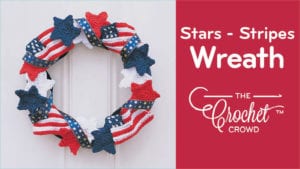 Crochet Stars & Stripes Forever Wreath
Being Canadian, it's well noticed, at least to me, that Americans really show their pride whether it's a flag, clothing, decor and more. Here is a Crochet Stars & Stripes Forever Wreath for you to make. It's using Lily Sugar'n Cream yarn which doesn't mind getting wet for your front door.
There are 4 sets of 3 stars. There are 4 American Flags. The tutorial below shows you how to make the star and flag. Either are pretty simple in construction.
More Patriotic Ideas
I left the decorating of the wreath to you but there are instructions in the pattern for how to attach the flags and stars to the wreath. If you look carefully, there's additional ribbon added that you can pick up at a crafting store.
Tutorial
More Wreath Ideas
More Patriotic Ideas