Crochet Twinkling Snowflake #1 + Tutorial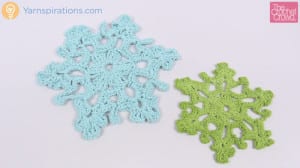 Twinkling Snowflake
Expand your crochet snowflake skills to include the new Twinkling Snowflake #1. There are 3 different snowflakes in the Twinkling Snowflake Collection. We will cover all three within the Snowflake Series but this article and tutorials are only for Snowflake #1.
This snowflake has only 4 rounds in all. It looks complicated but it's like the analogy of having to eat an elephant. "How do you eat an elephant… one piece at a time!"
So don't be afraid to look at this snowflake and not be overwhelmed with what you see. Use my tutorial below to help guide you.
The free pattern has written instructions but also a crochet diagram to follow as well. So with written instructions, a diagram and my video tutorial, you definitely have everything you possibly need.
Video Tutorial Below