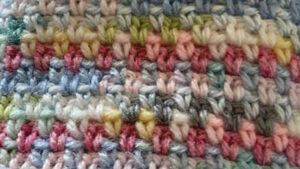 You bought it and let it sit, or you have some of it left over. Now what? Super hot trending of Variegated Moss Stitch Blankets is on fire! Let the yarn do its thang, sit back and enjoy. These are the Moss Stitch Variegated Patterns (Wave and Straight Rows).
---
---
The downloadable has many sizes of starting chains, from baby blankets to king-size bedspreads. Choose the chain to begin.
So I thought I would go to my yarn room and collect my Caron Jumbo yarn. Daniel reminded me that we had the moss stitch blanket already done in a pattern we did several years ago. He wondered about mixing it with the variegated concept. So my sample was born.
The idea is to mix as many variegated yarns as possible.
Change colour for every row (if you wish).
You can be strategic in having the same colours appears in the same order or be random.
Weave in the tails as you go to save you time.
For me, it gives me a sense of home and warmth. Growing up in a cottage with a wood stove to heat the house, the blankets on the bed were mismatched quilts my mother had made us. They resemble the look of these.
You can put that yarn that is collecting dust to create one-of-a-kind blankets.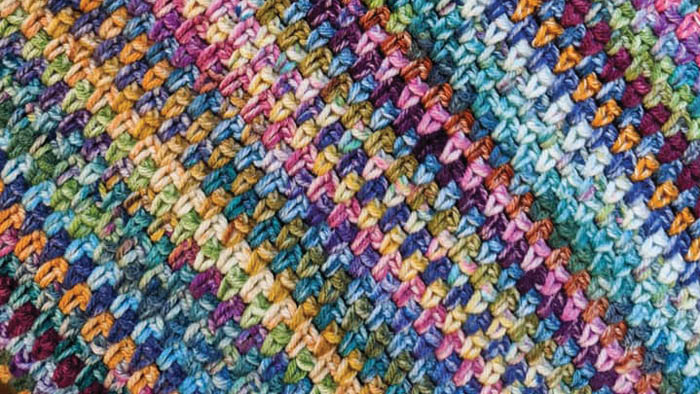 Lindsey's Example above is made from the following:
Yarn of choice was Hobby Lobby's I Love This Yarn
Meadow Dance
Fruit Punch
Paint Party
Blossomopolis
Blue Green Multi
Day Dreamery
Flapper Girl
Instant Class
Deep-Sea Diving
The Struggle is Real
Sea Muse
Cinnamon Cedar
Berry Stonewash Print
Deep Violet Stonewash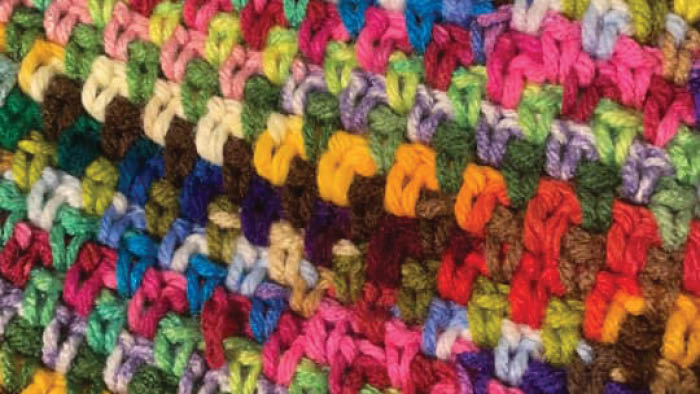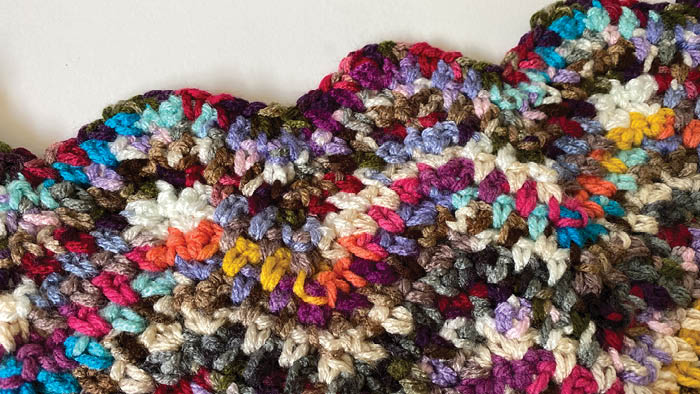 More Ideas
Tutorial
The tutorials used are old tutorials but with the exact same stitch. Change the yarns at the end of each row to something new for that variegated concept. The tutorials are older and don't do that, that's the only difference.
Use the downloadable above to get the chain counts for popular-size projects.
Moss Stitch in Waves
Moss Stitch In Straight Rows
How to Change Colours
More Afghans
1

2

3

4

5

6

7

8

9

10

11

12

13

14

15

16

17

18

19

20

21

22

23

24

25

26

27

28

29

30

31

32

33

34

35

36

37

38

39

40

41

42

43

44

45

46

47

48

49

50

51

52

53

54

55

56

57

58

59

60

61

62

63