Feel Better Friends
As you all know, we here at The Crochet Crowd believe it's important to give back and support charities.  Recently, Mikey and I were chatting about different charities and ones we both really liked.  One of those that ranks high on both of our lists is the organization called Feel Better Friends.  I researched and received a really nice email from them explaining who they are and how they help children with cancer and other illnesses.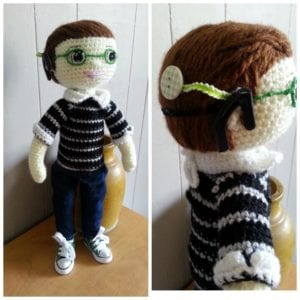 Feel Better Friends
Feel Better Friends is a 501(c)3 registered non-profit charity that makes handmade dolls stuffed with love and well wishes, custom crocheted by volunteers and donated to children with cancer and other illnesses.
Feel Better Friends (FBF) started with our Founder and CEO Shanon Fouquet in Kansas. Her first doll was for a little girl named Berkley that wanted to "twin" with her American Girl doll (AG)… except that AG dolls didn't come bald like Berkley was from her chemo treatments. From there the project grew steadily to where it is now, encompassing 8 teams of volunteers – 4 from the US (the Northeast, West, Midwest, and South), Canada, Holland, Australia, and our "Continental Crafters" who handle all other international requests. We've sent dolls around the world, from England to Germany, Denmark, Poland, Italy, Jordan, Lithuania, Mexico, and Portugal. Our most recent doll count puts us at over 2630 dolls.
FBF dolls are made to look like the children and incorporate any medical equipment and distinguishing features, and are provided free of charge. They have successfully completed dolls with many different types of medical equipment, including wheelchairs, walkers, G-tubes, wigs, AFOs, Mic-Key buttons, Markell boots and bars, shoe lifts, hearing aids, glasses, trachs, body casts, and nasogastric tubes, among others. They also incorporate unique physical characteristics such as dimples, scars, curly hair, birthmarks, freckles, etc.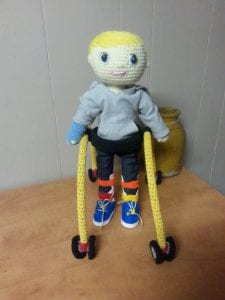 In recent months, the demand for the Feel Better Friends dolls has skyrocketed, and they are looking to recruit more talented crafters to our group. They have a lovely assembly of very welcoming crafters from all around the world, and would love to be able to provide comfort to even more children facing big battles. They have helped children with everything from the rarest of cancers, to autism, to third degree burns, to heart defects, and more. Every child is a both a heartbreaking story of adversity and stacked odds, and a tale of hope and love. They have been fortunate to see firsthand what a difference Feel Better Friend dolls can make. They take the scary and big world of hospitals and doctors, and make children feel like they're not alone. They help autistic children classified as "runners" – often darting away from parents or guardians at a moment's notice – find a grounding presence to help keep them safe. They help children growing up feeling different and isolated to know that they're not alone, and that there is someone out there that doesn't know them, but loves them all the same.
I'd encourage everyone to check us out on our official page at www.fbfdolls.org and our public Facebook page. Parents that give us permission to post photos of their children with their dolls are featured here: https://www.facebook.com/FeelBetterFriends/
To get involved, we have a Volunteer-In-Training group that they ask new crafters to join (https://www.facebook.com/groups/728473613934259/). There, the crafters are asked to complete a test doll for a child of their choice using our standard pattern. That way if they have any questions or concerns about crochet stitches, etc they can help offer some guidance. Once they're done and show them some pictures of the completed doll, their lovely admin welcomes them into our official doll makers group and they should quickly receive their first request.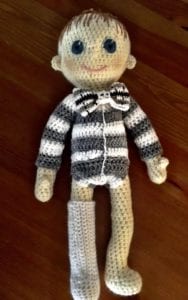 On a personal note, I think this organization is doing amazing work and the smiles I see on their Facebook page of the children who receive these awesome dolls really melts my heart.  I heard about this a little over a year ago when a friend showed me photos of the dolls she had made for other children and I knew I wanted to try it too.  Alas, amigurumi is not my talent.  So I have chosen to give through my Amazon Smile Account, and trust me, it's my most used store.  ~ Jeanne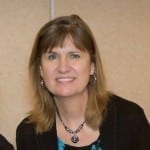 Be creative! 🙂 – Jeanne – The Crochet Crowd