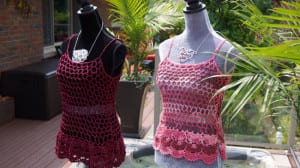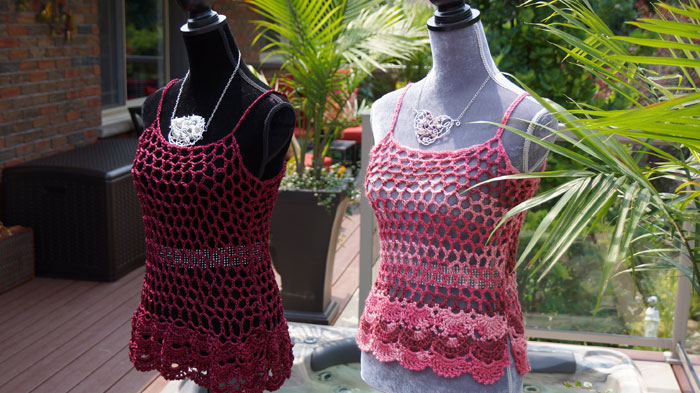 Floral Cami Tops
This Floral Cami Top comes in 3 sizes such as Small, Medium and Large. BUT WAIT, I have put my calculator in hand to figure out what you need to do to customize your own Floral Cami Top if you don't fit into these sizes.
I have figured out the sizes based on mathematical calculations. We are each shaped differently. The information below is being provided to you to customize.

Crochet Top Ideas
You can follow the same directions and substitute with the information I am providing to you below. Get the free written instructions, the pattern is called Floral Cami.
For the small sizes seen in the photograph. The one on the left is 2 balls of Patons Metallic. I used only 1.5 balls for that top. The one on the right is the Caron Simply Soft Ombres. We used less than 2 balls for that one too. If substituting your sizes, you will need to figure out your own yarn amounts you will need.
Sizing Considerations
Staring Mesh Chain Counts
82 Chains = Small 36″ Bust
94 Chains = Medium 40″ Bust
106 Chains = Large 44″ Bust
To make this in larger sizes, the multiple chain counts are 12. The 12 must be honoured as the fans and feathers detail must match in the bottom part of the camisole.
Next sizes in chains would be:
118 Chains = XL 48″ Bust
130 Chains = XXL 52″ Bust
142 Chains = 3XL 54″ Bust
154 Chains = 4XL 58″ Bust
166 Chains = 5XL 62″ Bust
You will do the mesh as stated in the pattern. You just have more chains to do across.
Length of Mesh Laying Down on Table
9″ – Small – When Wearing = 14″ Drop
9″ – Medium – When Wearing = 14″ Drop
10″ – Large – When Wearing = 16″ Drop
For larger sizes, you will need to hold it up over your bust and see how far it drapes down. Once the bottom is added, it will pull down on it's own.
Be sure the mesh it's too long.
Once you do one mesh, when doing the second, ensure you count the number of rows in mesh in the first one to ensure you match it for the second one.
If you want to make a dress, you can increase your mesh or even increase the number of fans and feathers rows.
Strap Spaces in the Upper Edging Instructions
For the small – large size, the location of the strap space changes. Below is from the instructions.
Upper Edging: (RS) Ch 1, sc in first dc, work 3 sc in first ch-4 space, [sc in next dc, work 3 sc in next ch-4 space] 3 (4, 5) times; * ch 2, dc in next ch-4 space, ch 4 (strap space), dc in next ch-4 space, ch 2 *; repeat [ to ] 7 (8, 9) times; repeat * to * once for second strap space; repeat [ to ] to last ch-space, end last repeat, work 3 sc in turning ch.
See the 3 (4, 5) times. Each of those numbers represent Small, Medium and large. Same things the 7 (8, 9).
I will add the number required for the XL – 5 XL to this. So you are looking at S – 5 XL. Substitute with the information below.
3 (4, 5, 6, 7, 8, 9, 10) times
7 (8, 9, 10, 11, 12, 13, 14) Times

Fans and Feathers Bottom
There are 3 layers of Fans and Feathers regardless of the small, medium or large sizes. The length of 3 layers of Fans and Feathers = 4″. This doesn't change in the sizes. You can easily add more rows if you want to. You can make it into a dress length if you wish.
The fans and feathers heavily rely on the starting mesh to be in the chain counts stated above. Each fans and feather consists of 12 stitches in the starting chain. Each of the meshes are crocheted separately as the back and front are not joined together.
By following allow with the mesh, for whatever size you decided. This is the number of fans and feathers you will have per mesh.
Small – 6 Fans and Feathers
Medium – 7 Fans and Feathers
Large – 8 Fans and Feathers
XL – 9 Fans and Feathers
2XL – 10 Fans and Feathers
3 XL – 11 Fans and Feathers
4 XL – 12 Fans and Feathers
5 XL – 13 Fans and Feathers
Strap Length
You can customize your strap length if any of the dimensions don't work for you. Just ensure you do both straps exactly the same if you are customizing.
Small – Ch 35
Medium – Ch 35
Large – Ch 41
XL – Ch 47
2XL – Ch 53
3 XL – Ch 59
4 XL – Ch 65
5 XL – Ch 71
Video Tutorial