Free Weatherghan Creator Afghan Maker
Weatherghan Creator Afghan Maker
Take the guessing out of the temperature with this new free Weatherghan Creator Afghan Maker Program that is online. If you live in the United States or Canada, this program will show you the weather in colour format to be able to make your own Temperature Afghan.
The results show you a complete year except if the year is this year. It shows up up until yesterday. So you can choose to crochet an entire year or select months. The website has suggested patterns and more.
How it Works
It's so simple, anyone can do this.
Enter in your Zip Code.
Enter the year. If this is the current year, it will show up until today's date.
Click Submit and it will go to the data base and pull your temperatures. It will then match the colours to the temperature ranges.
For example, I entered in the zip codes of 10001 for 2015 and I entered in zip codes for 20145 for 2014. Both results are different as the locations of where they are in the United States are different. 
For Canadians, you can enter your Postal Code. You can put the space between your 3 digit letter or put them together like a Zip Code. For example, L3y 1a1 (is for Newmarket, Ontario or you can put L3Y1A1. Either way, it will work.
Previewing
It takes a few seconds and will generate a preview of what your afghan would look like. You have two options:
You can click to download a PDF for your new afghan pattern. It will be large print for you to easily read and check off the boxes as you go.
OR, you can just open it on a tab to see what it would look like.
So when looking at the PDF, you will see large print and showing you your colour temperature guide. I would use a strand of the colours you have in your collection and tape a sample strand with the exact name of the yarn. In the event you run out of yarn, you know exactly which brand and colour you used so the afghan can be consistent for the complete year.
So if you are looking for something unique, even maybe your birth year or anniversary year or some special year in your life. Enter in the zip code and year and see what your afghan looked like that year.
Try It Now
Tips for Making a Temperature Afghan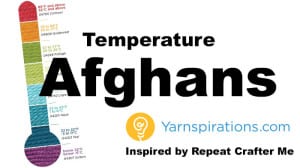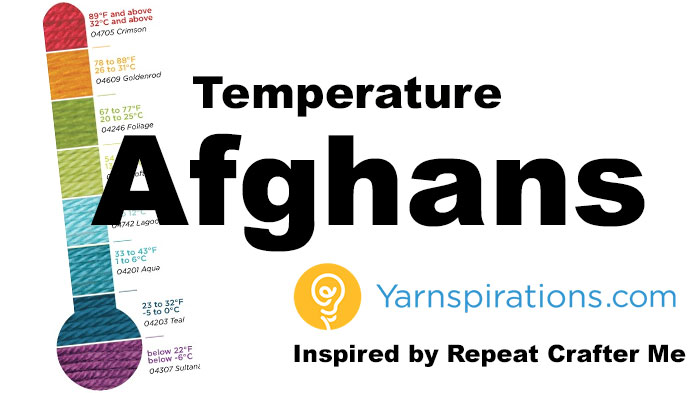 We have an informative article for getting a temperature yarn temperature gauge, a tutorial on how to make a temperature blanket and other suggestions on free patterns you can use to do a Temperature Afghan. Read more on our Temperature Afghans Article.