Hooked On Hats – Annies Attic Patterns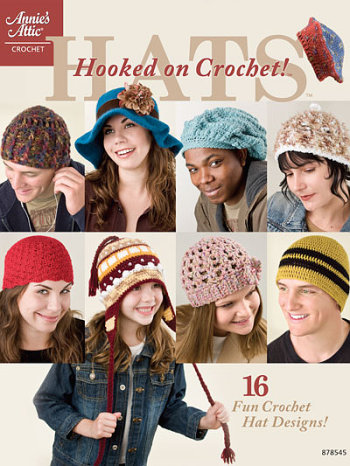 Hats – Hooked On Crochet
Hats, Hats, and More Hats in this Annie's Attic book filled with 16 different patterns. There's something for everyone in this book.
Right off the bat you will notice the large print and fabulous photography inside. If you have forgotten a stitch or two, the back has a refresher course on what you need to in order to complete projects inside this book. I wouldn't say this book is difficult by any means.
I enjoyed how this book ranges in simplistic hats to the popular slouch hats that celebrities are currently wearing. Having hats with ear flaps seems to be a popular thing. You won't miss that fun loving girl on the cover with her ear flap hat with the long draping tassels.
Other than afghans in crochet, hats appear to be a top favorite project to make due to the speed that a project can be made. Hats are ideal for donating to charities and don't require a huge investment in yarn to complete.
This book ranges from Patons Yarns to Red Heart yarns. It celebrates yarn diversity with not focusing on a certain brand of yarn.
I'm a hat person and especially the cold winters, there's something in this book for those who enjoy the challenge of making hats and have use for them too!